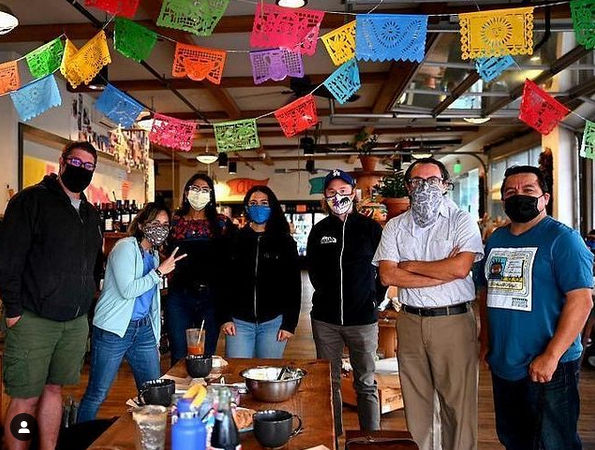 Gentle cabrones:
The spring semester for Orange Coast College is over, so I turned in my grades this week.
Good class! Mix of experienced writers and newbies, older students and not, people who are fans of mine and people who had no idea who I was until their professors for another class told them I was some sort of big shot.
Damn.
We did the class via Zoom because it started in the depths of the pandemic. But the pandemic's at a better-enough stage that a couple of students were able to meet at my wifey's store right before finals. This group is so close that they're starting their own alumni group to help each other conquer journalism.
They should call themselves the Disciples of Guti — but I digress.
The guy who thought of the idea is the person I've known the longest from this class. We've been Facebook friends for over a decade, and had met a couple of times in that time. He's an accomplished writer in his own write, so I had no idea why he enrolled in my class.
His final, of course, was brilliant – you'll see it in Bloomberg BusinessWeek in the future, I'm sure. But I really didn't think he got anything from my class, until he talked to me.
He was the last student to hang up on our last Zoom call, because he wanted to share a story. Almost a decade ago, he went to an event at the Smithsonian where I was the cheap booze to the fine wine that was the keynote speaker. I must've gotten out of him then that he would've loved a free subscription to the paper I used to edit to remind him of his OC home, which I proceeded to do for years.
I remembered that meeting, but not a subscription conversation – and that was the point of him bringing up that anecdote. He said I didn't have to do such a kind gesture to a relative stranger back then — and yet I did.
He said it spoke volumes about my character – that I obviously do kind gestures like that so much that I forget most of them because it's like breathing air for me. And so thank you for being the same great guy all these years later.
"Sasuga, Gustavo," he concluded — a Japanese term that roughly translates as "OF COURSE you and only you would do a great thing like that— because that's who you are."
Or something like that.
**
First time reading this newsletter? Subscribe here for more merriment! Buy me a Paypal taco here. Venmo: @gustavo-arellano-oc Feedback, thoughts, commentary, rants? Send them to mexicanwithglasses@gmail.com
The student's kind anecdote took me back to when I was a student at Orange Coast College over 20 years ago. I nearly became a philosopher because of my Philosophy 100 class — all about Kant's Categorical Imperative, fam!
And the debate about teleological versus deontological. In other words, do you do something because it'll lead to good results, or because it's right?
All these years later, it's a debate that continues to fascinate me.
I've always believed in deontology — do something out of obligation, because it's right. That gets me in trouble, because I don't support things I'm supposed to, or I'll attack people I think are doing wrong even though we should be allies. I also get in trouble because we're not supposed to believe in truth with a T anymore — it's all subjective, thanks to Sartre.
Beto Duran also texted me last week — well, we always text. But he sent me something to the effect about how I apparently do all this goodwill for mankind without ever expecting anything in return, and how incredible is that.
Um, am I going to do soon, and that' s why people are all saying nice things about me?
Between Beto and my student, it got me thinking about me — which, honestly, I rarely do because I'm always about the WERK.
I do believe in higher truths and doing things because they're right, not because I'll get something out of it. The latter philosophy is convenenciero, which just happens to be one of the three types of humans I despise.
Doing things just because good comes out of it leads you to a life of ultimately seeking out nothing but pleasure — a selfish approach. Doing things because they're the right things to do, whether you agree with it or not, forces you to live a life of discipline and will power and WERK to achieve a better life.
And here I am.
And that's what I told my student — or at least tried to, because his words were some of the kindest and most thoughtful I've heard in a while, and a validation of which I never seek but is nevertheless good to hear.
I just do what's right. Nothing more, nothing less. Wanna fight me about it? Go for it — I'm already off to the next WERK.
GRÍTALE A GUTI
This is the column where I take your questions about ANYTHING. And away we go…
Long time listener, first time caller, going back to your ¡Ask a Mexican! column in the OC Register…I realize I'm not calling in, but you get the point. Question I had is related to lack of Latinos getting production deals or running production companies – and I think you certainly could provide some interesting context on this. It boggles my mind how given the demographics, there isn't a Mexican Tyler Perry out there yet. And the current stuff out there being produced by the big studios is certifiable garbage, filled with nothing but stereotypes that are waaay too on the nose (and of course filled with a sub-current of amigo racism at its finest). Is this because the few Latino-oriented production companies out there are too comfy cashing the checks from Disney to really produce content that matters or challenges people beyond Coco sing-alongs? I may have a non-carnitas induced coronary if I have to see Eva Longoria or George Lopez one more time checking the box for a movie or TV show. Would love to hear your take on this.?
Easy: if you really were a longtime fan, you'd know the paper I worked at — and it wasn't the OC Register save for two concert reviews. First people to tell me who were the bands I reviewed gets $53 from me AND an autographed book!
Got a question for Guti? Email me here.
**
Enough rambling. This was the semana that was: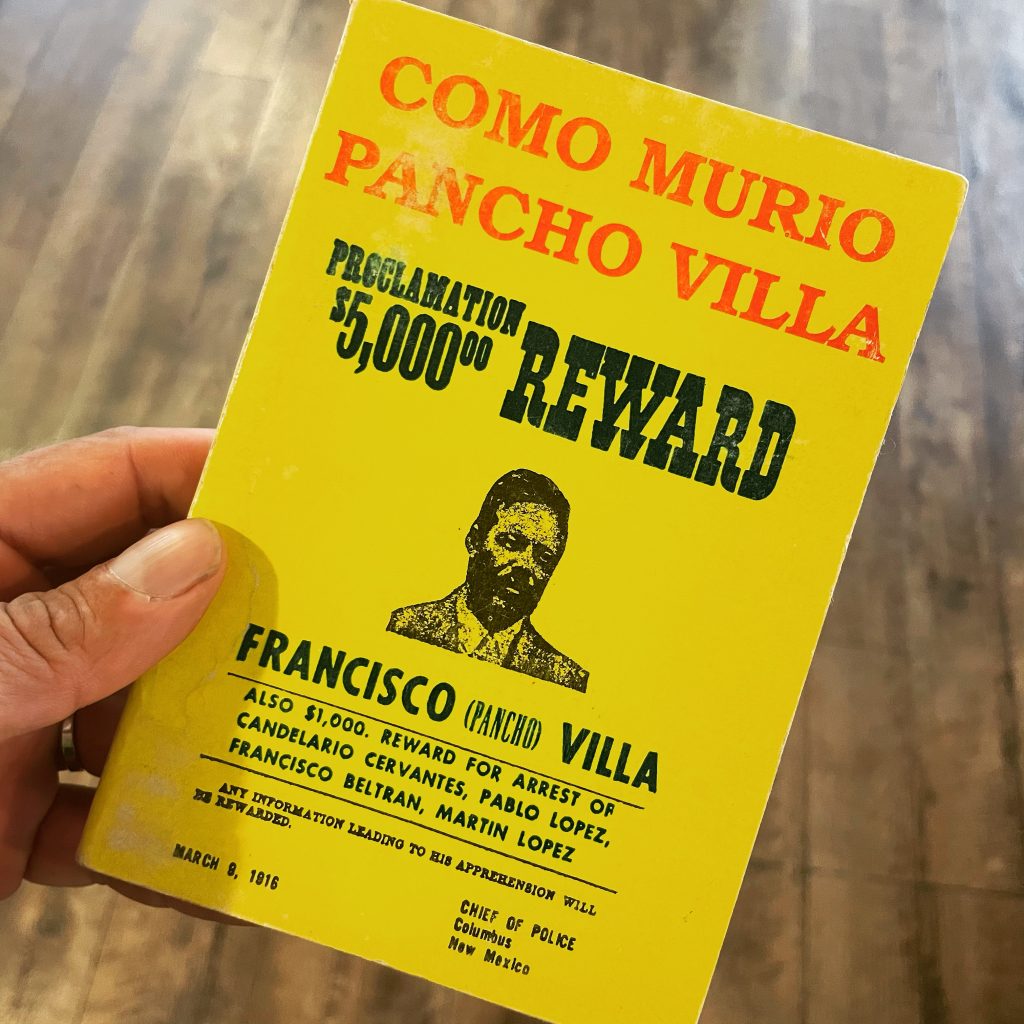 IMAGE OF THE WEEK: Book from LibroMobile, the SanTana bookstore that just reopened this week and is the only place where you can get an autographed copy of any of my books!
QUOTE OF THE WEEK: "On a personal note, I had nothing to do with any of this, but if you're a local politician, I sincerely suggest you not mess with our news dudes–Arellano, Moxley and Schou. Bob Dornan did, and now he's doing kids' birthday parties and first communions. Larry Agran is getting a little something-something right now. And, dude, if you're a politician from Huntington Beach, I would sincerely consider sending these boys a muffin basket, you know, and hope the Angel of Death passes you over. If they do come calling, you answer your question, cop to anything and thank them for their time. It's like I told this guy Jeff, who was getting his head rammed into a car bumper by my best friend Dom out by the convent. "Stay down," I told him. "Take your beating and stay down." It wasn't like he didn't have it coming. He clearly blew the palming call in the finals of the St. Raymond's intramural basketball league; Dom had to do something. We should have easily romped over the team of Dave Domenici, who everyone knew always took an extra step to the hoop, but Jeff conveniently missed that while calling palming when what he had seen was in fact an optical illusion stemming from my superior hand and foot speed, which I told Jeff before, after and during his beating. The point is Jeff was clearly responsible for slamming his head into the back of a car–which, in those days, were made of steel–his biggest mistake being trying to get up. And so it is for you, corrupt H.B. politico. When the Weekly boys come calling, answer their questions, please them any way you can, resistance is futile. Who knows? You may get lucky and catch us in a Best of OC cycle, when they'll be distracted. Otherwise, there's a bumper with your name on it."
–Steve Lowery in 2004 or so, on the OC Weekly news team then. LOWERY!
LISTENING:"Cuando Era Un Jovencito," Los Apson. Protean rock en español by the legendary chavos from Agua Prieta, Sonora right at the crossroads of SO MUCH: late '50s rock meets Positivist '60s Mexico, Everly Brothers vocals meets a wicked, languid sax. And the song! If it sounds doubly familiar to you, you'll know that conjunto norteño legend Ramón Ayala did a direct cover of the song — but you'll also know that it's a Spanish-language version of "Cotton Fields," the iconic Lead Belly song whose most famous cover is by Creedence Clearwater Revival. PS, to my friend who's moving to Tucson: Tacos Apson is one of the best taquerias in the U.S. Ah, the multitudes.
READING: "The Sacramental Love Songs of Bachata's Romeo Santos": Sometimes, publications try way too hard to do stories that will surprise readers, but this one ain't it. America, the Jesuit magazine, on the King of bachata? A natural home for the subject, and a magnificent treatise on the push and pull between sensuality and sin. Is it la dos de la mañana yet?
SHOUTOUT TO: M, who kindly donated 50 tacos to sponsor a full month of MailChango and is NOT Fritz Lang or Peter Lorre! M asked for no plugs — so I'll plug my former colleague/eternal compa Gabriel San Román's newsletter. Subscribe to Slingshot, as he's the last honest reporter in Orange County — and give him some Venmo or PayPal tacos, too!
Gustavo in the News
"Newsletter: Essential California Week in Review: Vaxxed and rich?": An LA Times letter you should subscribe to shouts out another columna of mine…
"Essential California: The pandemic and the scrub jays": …and here's the same newsletter, doing it again!
"Cody Bellinger hits grand slam, drives in six in first inning of 14-3 Dodgers rout": The LA Times' Dodgers blog randomly begins to talk about In-n-Out and OF COURSE brings up my name haha.
"Qui a inventé les Flamin' Hot Cheetos ? La question qui enflamme les Latino-Américains": A French publication takes on the Flamin' Hot Cheetos mass hysteria and refers to me as a "chroniqueur hispanique," perhaps the only time you'll ever read THAT.
Gustavo Podcast
This was Week 5 for "The Times: Daily news from the L.A. Times," the podcast that I host. So I'll be posting the episodes here — listen to them, and SUBSCRIBE. Don't let me become the Poochie of podcasts!
"Sandra Oh on being 'Asian enough'": My podcast siblings "Asian Enough" take over on Memorial Day to talk with the awesome actress.
"Las Vegas doubles down on reopening at full capacity": I speak with my LA Times colleague Kurtis Lee about Sin City, and offer a rant on loquats.
"Naomi Osaka drops out of French Open, stands up for mental health": Me and my fellow LA Times columnista, sportswriting legend Helene Elliott, talk tennis.
"A revolt in Northern California with national influence": Many voices in this one — my colleagues Anita Chabria and Hailey Branson-Potts, a satirist in Shasta County, and the militia member who threw a drink at him.
"Phone trees, Laotian immigrants and COVID-19": My colleague Tracy Brown takes over for me as she talks with Anh Do about her great story from northern California.
Gustavo Stories
"Coffee with CAFE – CAL-MEX: The Little-Known History of a Big Food Trend": A lecture I did about cheese!.
"Column: Will L.A. flatten a legendary Boyle Heights tortilla factory?": My latest LA Times columna is a visit to La Gloria Foods, one of the oldest tortillerías in Southern California and one at risk of closing due to an eminent domain dispute. KEY QUOTE: "L.A.'s Department of Public Works knows this — why else would it have originally offered La Gloria $3.1 million in relocation fees? To see the offer go from seven figures to none seems personal."
"Column: A long-shelved film about California's 2003 governor recall is ready for its close-up": My next latest LA Times columna find the three guys who did a documentary about the Gray Davis recall that got screened only twice. KEY QUOTE: ""Gubernatorious" is a brisk delight that public television stations across California should air for its entertainment value, but also its simultaneous lessons in history and decency."
"Column: In diverse Southern California, loquats are the real fruit MVPs": My most recent LA Times columna is an ode to a fruit that's simultaneously beloved and ignored. KEY QUOTE: "All of this was on my mind as my wife tossed loquats down to me as she reached higher and higher. Then it hit me: not just a stray fruit or five, but a realization. Loquats should be the lodestar of Southern California, the thing upon which we model our lives here."
You made it this far down? Gracias! Follow me on Twitter, Facebook, and Instagram while you're down here. Don't forget to forward this newsletter to your compadres y comadres! And, if you feel generous: Buy me a Paypal taco here. Venmo: @gustavo-arellano-oc