Gentle cabrones:

That was a week.

Three original columns and a quick explainer for the Los Angeles Times.

Three pieces for my KCRW #TortillaTournament.

My regular KCRW "Orange County Line" commentary.

Appearances in two episodes of the second season of Netflix's The Taco Chronicles.

I even appeared in a pinche play.

Wrote this newsletter.

Appeared in a one-hour podcast.

Did my three-hour Tuesday block of talking to the public about whatever they wanted.

My Tuesday-night "Grítale a Guti" free-for-all.

AND taught my Monday-night OCC journalism class.

AND went through an earthquake

I love to WERK.

But I also want to hear from YOU.

Because I don't enough.

**
First time reading this newsletter? Subscribe here for more merriment! Buy me a Paypal taco here. Venmo: @gustavo-arellano-oc Feedback, thoughts, commentary, rants? Send them to mexicanwithglasses@gmail.com
About once a year, I like to do a census of sorts for this newsletter.
You don't have to respond that you received this newsletter — MailChango tells me when you do.
But not nearly enough of you do–only about 37 percent on the regular.
MailChango says that's a great percentage. If I was a baseball player, I'd be a regular Rogers Hornsby, you know?
But if I was a field goal kicker, I'd be cut.
So tell me: How 'm I doing?
What else do you want to see in this newsletter to guarantee you'll open it every week? To read the stories I link, the stories that ensure my livelihood?
What do you want me to do more of? Morality lessons? Poems? Personal remembrances? Pictures? Random bullshit?
(Random bullshit is always fun. Expect a random CORRIDO soon)
Show me that you read me. Ultimately, these cantos are mine — but I'm ALWAYS open for ideas.
Let me know. Now, read my stories below. And tell me you did. I'd write more this week, but I still gotta WERK.
GRÍTALE A GUTI
This is the column where I take your questions about ANYTHING. And away we go…
Sometimes after ordering breakfast or lunch (but never dinner) at my favorite Mexican restaurant, Mariscos Uruapan in Irwindale, I would first be served a complimentary cup of sopa de fideo. Sometimes. Before I learned it was fideo I thought of it as Sea Serpent Soup because I never knew when it would pop up; there seemed to be no rhyme or reason to when it would mysteriously appear. … Or was there? Is it a culinary/cultural thing? And why didn't Sea Serpent Soup ever pop up at dinnertime? Did they simply run out by that time of day?
Fideo is one of those much-eaten Mexican treats, like avena (oatmeal) and panecitos that rarely show up in stateside menus. But in Mexico, the angel hair pasta soup is usually part of what's called comida corrida — a three-course meal where the soup could be of arroz (what gabas know as Spanish rice) or the angel-hair pasta you speak of.
Why down there and not up here? Sadly, too many Mexican restaurants gear their menus to gaba tastes, and gabas just aren't familiar with fideo. But imagine how much better food would be up here if fideo took over for chips and salsa? Imagine how much better Mexicans would be up here if we didn't bother with what gabas thought? Why, we would've never lost Aztlán!
Anyways, want fideo on the regular? Mitla Cafe in San Bernardino offers Fideo Friday. You're welcome.
Got a question for Guti? Email me here.
**
Enough rambling. This was the semana that was: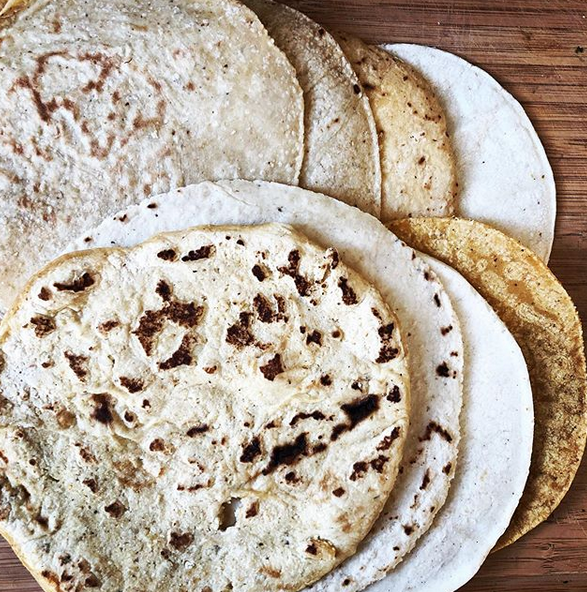 IMAGE OF THE WEEK: Eight different corn tortillas from across Southern California — it's time for my KCRW #TortillaTournament! Follow all the action here, porfas!
QUOTE OF THE WEEK: "Since you have chosen to elect a man with a timber toe to succeed me, you may all go to hell and I will go to Texas."
–Davy Crockett
LISTENING:"Christine's Tune (Devil in Disguise)," The Flying Burrito Brothers. This one goes out to the homie subscriber Jeffrey, who always goes to my food tours and was surprised AF that I knew my country rock, especially this gem by one of the best-named groups of them all. TRUE STORY: I once saw Chris Hillman play a living-room set at the home of the homie subscriber Jon one year. I know some cool people, I tell you what…
READING: "What Scars Say About Sex and Stereotypes" Great article about how different societies lionize or demonize scars that touches on everything from the namesake diva uncle in The Lion King to pregnancy stretch marks to more.
SHOUTOUT TO: The mensch who requested anonymity as they kindly donated 100 tacos to sponsor TWO months of MailChango! Gracias, kind, freelance-loving soul…
Gustavo Community Office Hours!
I'm rebooting my stint as scholar-in-residence at Occidental College's Institute for the Study of Los Angeles! Every Tuesday, from noon-3 p.m. people can book half an hour with me and we can Zoom (over a secure line, of course) one-on-one about WHATEVER. Interested? Email me to book your time NOW!
Gustavo Events
Glendale Public Library: I'll be in Zoom-y conversation with Eric Nusbaum, author of the excellent Stealing Home: Los Angeles, the Dodgers, and the Lives Caught in Between. Lecture is THIS THURSDAY at 6:30 p.m. and is FREE, but you have to register here.
Exclusive to Gustavo Arellano's Weekly
"The Fungus Brothers Bring Beautiful Oyster Mushrooms to Orange County": The latest original story to my website, this one sponsored by the Aztlán Journalism Fund!
Gustavo in the News
"Letters to the Editor: Latino representation in the media matters — especially here in Los Angeles": LA Times readers write in with their kind words for my new columna.
"'Diversity, Antiracism' Library Series Launches Sept. 24": A plug for my aforementioned Glendale Public Library.
"Nada Que Ver": I appear on Netflix's Spanish-language podcast to talk The Taco Chronicles.
"Essential California": My LA Times colleague Julia Wick plugs my columna debut in her newsletter.
"Coronavirus Today": So does my LA Times colleague Faith E. Pinho.
"World and Nation": So does another LA Times newsletter.
"TimesOC: Arellano is sixth Latino columnist in L.A. Times' history": So does yet another LA Times newsletter that I can't link to but to which you should subscribe.
"California Playbook": So does Politico's Golden State politics newsletter.
"California Playbook": So does Politico's Golden State politics newsletter.
"'Vivitos y Coleando': The Cultural Politics of the Paisa Periphery": UC Riverside professor (and fellow jerezano) Adrián Félix shouts me out in a book review for BOOM.
"Larry Interviews With LA Times's New California Columnist": I return to my old stomping grounds of AirTalk with Larry Mantle on KPCC-FM 89.3 to talk my new columna.
Gustavo Stories
"Dana Point harbor is getting a makeover. Not everyone's happy about it": My latest KCRW "Orange County Line" talks about a long-planned reboot to coastal OC's most-boring city.
"Grítale a Guti": My latest Tuesday-night free-for-all.
"The Ultimate Tortilleria Guide of Los Angeles and Southern California": A huge directory to every contestant ever in my KCRW #TortillaTournament.
"Tortillas in the time of coronavirus": An essay on the lunacy that was me going to 51 different spots in the middle of a pandemic for my KCRW #TortillaTournament. KEY QUOTE: "How do you buy and eat tortillas in the time of coronavirus? Very carefully."
"Tortilla Tournament 2020: How to Taste Tortillas": In which me and Evan Kleiman talk about eating tortillas for my KCRW #TortillaTournament. KEY QUOTE: "The problem with most corn tortillas is that they'll try to mess with perfection and add more ingredients than all that you need: corn, water, lime."
"Column: Wherever there's a fight for California's future, this Mexican nerd will be there": My columna manifesto for the LA Times. KEY QUOTE: "Think of me as a Mexican Tom Joad: Wherever there's a fight for our future, I'll be there — wearing a mask and socially distant for a while, of course."
"Column: One family's COVID-19 nightmare shows the pandemic's unjust burden on Latinos in California": My debut columna for the LA Times highlights the Gonzalezes of Montebello. KEY QUOTE: "What makes so many Latinos "essential" cogs in the ecosystem of jobs that help feed and serve America has put a big, fat crosshair for the coronavirus on our backs."
"Column: For decades, activists got free rent from a leftist landlord. His son is putting a stop to it": Another LA Times columna, this on LA's legendary Peace Center. KEY QUOTE: "But you know that old saying: If a millionaire Marxist promises you free rent for life, get it in writing."
"Why we made a Chicano Moratorium project zine": A short writeup on the awesome news that LA Times designer Martina Ibáñez-Baldor took most of the stories from our amazing Chicano Moratorium project and turned it into a zine you can download for FREE. KEY QUOTE: "Great journalism costs money, of course. But we also heard from high school teachers and college professors who asked whether we could make some articles available for their students."
"Want to honor Justice Ruth Bader Ginsburg? Show up to vote Nov. 3": And a hell of a writing week ends with a quick columna comparing the death of RGB to my drooping sunflowers. KEY QUOTE: "This will be the life of Ginsburg. Except don't wait for next year to see if her seeds will sprout. Your germination date is Nov. 3."
"10-dollar Taco": Probably the only time I'll appear in a play promoted by South Coast Repertory haha.
You made it this far down? Gracias! Follow me on Twitter, Facebook, and Instagram while you're down here. Don't forget to forward this newsletter to your compadres y comadres! And, if you feel generous: Buy me a Paypal taco here. Venmo: @gustavo-arellano-oc