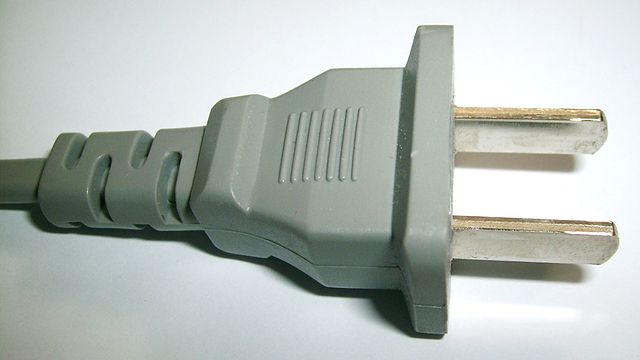 Gentle cabrones:
Is there something in your life that you always think you can do without and go off in life without it, something that just takes a little extra step to accomplish — then get screwed when you don't have it?
That's me and plugs.
I rely on them to WERK: one for my computer, one for my phone, one for my microphone, and yet another for my recorder.
I just need to grab them, put in my bag that I carry with me EVERYWHERE (carries the Holy Grail, dontcha know), and I'm good to go. Without them, I can't send my words to my jefes and jefas, so I should carry plugs with me wherever I go because news never sleeps.
But I don't.
Every morning, when I drop off my wife to work and spend some time at her store, I take my laptop without my plugs. I always tell myself that I have no need for it because I'm not going to stay that long.
But I do.
So my laptop runs out of energy hours later, right when I'm on a writing tear like Kermit in front of a typewriter.
If I had the plug, I'd continue on the road to brilliance.
I don't.
**
First time reading this newsletter? Subscribe here for more merriment! Buy me a Paypal taco here. Venmo: @gustavo-arellano-oc Feedback, thoughts, commentary, rants? Send them to mexicanwithglasses@gmail.com
Life is unpredictable, yet you can totally plan for it.
But we don't.
One of the biggest critiques those close to me have had throughout my LYFE is that I'm too prepared, too stiff. I don't let go and live free.
And yet I do.
Like with plugs. And many things, for that matter. My health (I don't work out — I get bored fast). My work (I can be even more productive if I didn't get so damn distracted by Bravo — Gary on Below Deck: Sailing Yacht is a DOG). My library (I can finally organize it if I actually start).
So why do I still insist on leaving home without plugs?
Arrogance.
I assume that things will turn out a certain way without doing anything. The irony is that I can guarantee things will if I just took an extra, simple step.
And yet I don't.
The extra step is key to succeed in life. The late Jonathan Gold once said, "The best choice is always the restaurant 15 minutes further than you are willing to go."
I'd say even five.
Something so effortless, yet too many of us are too stubborn to try.
So as we try to relax this Memorial Day weekend…don't relax TOO much.
Because there's always a plug you shouldn't have forgotten.
I won't.
So here's a plug: Subscribe to the podcast I host, "The Times: Daily news from the L.A. Times."
I did it!
GRÍTALE A GUTI
This is the column where I take your questions about ANYTHING. And away we go…
Why is El Paso your favorite Texas city? I have great memories of El Paso. I've been going there since I was little as I have cousins who live there. My dad was born in Santa Ana in 1923 he is 97 years old and a COVID survivor. So his family returned to Mexico (Durango) when he was little and he didn't return to CA until he was a married man looking for a better life for his family. My grandfather Precilliano Saldivar was born in Zacatecas. I feel we have similarities in our stories! Sorry about the long email just proud of my story and wanted to share with you! Thank you I really enjoy reading your emails!!
Gracias for sharing your story, and for the question. El Paso is awesome because they're fronchis with three main cultures — New Mexico, Texas, and Chihuahua. That creates a people who are fluid with identities, welcome to outsiders, and know how to EAT. I'll have more on this subject soon, in…something…
Got a question for Guti? Email me here.
**
Enough rambling. This was the semana that was: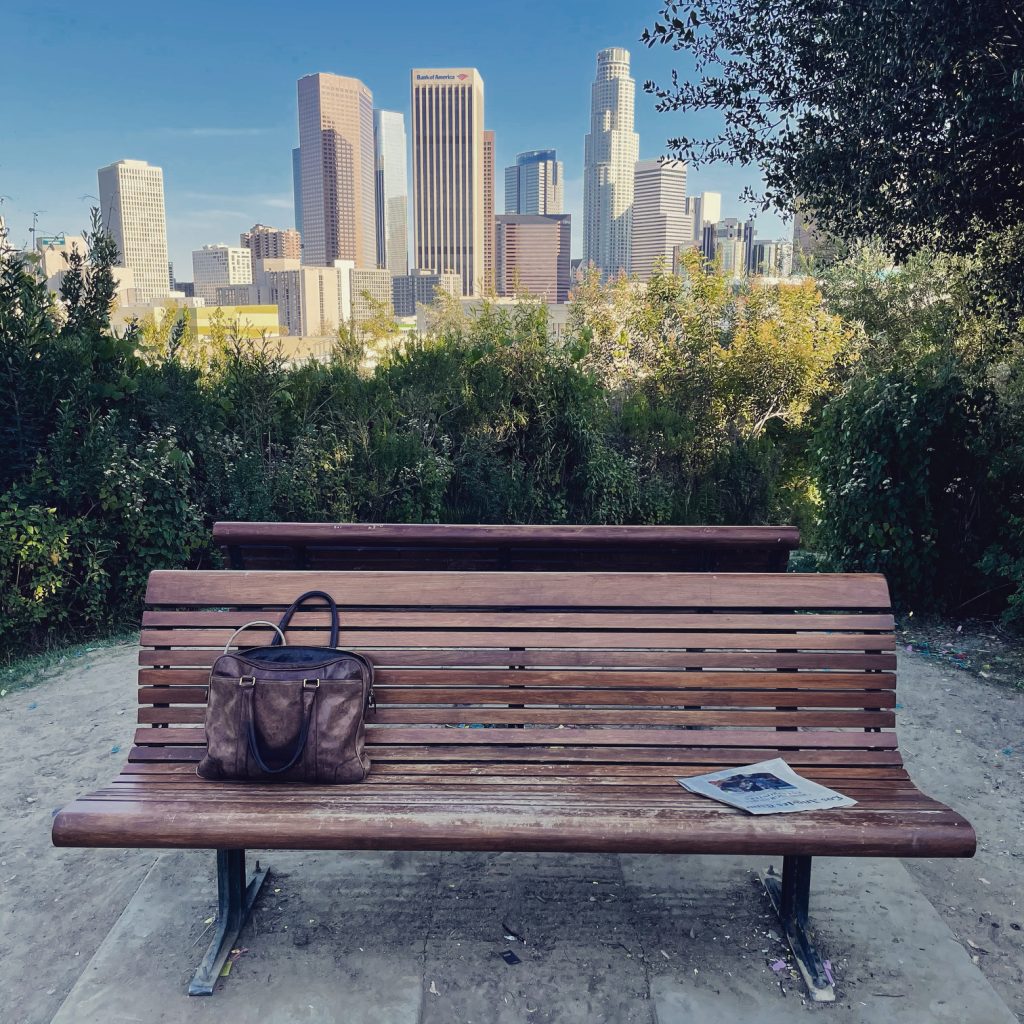 IMAGE OF THE WEEK: Best view at Vista Hermosa Park near downtown Los Angeles.
QUOTE OF THE WEEK: "But you can't poke power and rip and tear at the powerful, then flee at the first whiff of gunpowder — not if you're committed and you believe in what you're doing, no matter how ridiculous it might be."
–Mark Ames, eXiled madman
LISTENING:"Johnny Pistolero," Viernes 13. Oldie-but-goodie third-wave corrido-ska via Southeast L.A. by a group that's still around and still BRINGS it. Someone ask me about the time I introduced them to Art Laboe…
READING: "Buquis a Papuchi": Wonderful q & a about the glories of Sonoran Spanish, via the ever-readable BorderLore newsletter.
SHOUTOUT TO: Rick, who kindly donated 50 tacos to sponsor a month of MailChango! His plug goes to Dramatic Results: "The team is doing amazing work with financially challenged students from diverse cultural backgrounds in STEM educational projects. The programs concentrate of 5th-8th grade students making them 'aware' of fields of study they may never have thought of as careers for themselves through math, science, and the arts."
Gustavo in the News
"The Sports Report: Angels fire Callaway; Dodgers streak ends": One LA Times newsletter you should subscribe to plugs a podcast episode of mine.
"Dodgers complete road sweep of Giants behind arm — and bat — of Julio Urías": The L.A. Times' Dodgers blog shouts me out.
"Things to do in the San Gabriel Valley/Whittier, May 27-June 3": I'm going to speak at the Whittier Library next month, so stay tuned!

"FernandoMania – 40 years later: FOX 11 looks back at the Dodgers pitcher who became a fan sensation": I go on to talk about El Toro.
Gustavo Podcast
This was Week 4 for "The Times: Daily news from the L.A. Times," the podcast that I host. So I'll be posting the episodes here — listen to them, and SUBSCRIBE. Don't let me become the Poochie of podcasts!
"Israeli-Palestinian conflict hits California's ethnic studies curriculum": The proxy wars continue, now in the Golden State's classrooms.
"How to honor George Floyd on the one-year anniversary of his murder": I talk with Black Californians from L.A., the Bay Area and Bakersfield.
"Why Fernandomania still matters": My fellow LA Times columnista Dylan Hernandez and I talk to El Toro.
"The fight to preserve Japanese-American concentration camps": From Manzanar in California to Camp Ameche in Colorado.
"Lowriders. Cruising. A Southern California ritual returns": I turn the mic over to my awesome colleagues Daniel Hernandez and Faith E. Pinho.
Gustavo Stories
"More pride flags will fly in OC this month, signaling more liberalism in the county": My latest KCRW "Orange County Line" talks about what the headline says.
"Grítale a Guti, Ep. 50!": Latest episode of my weekly Tuesday night IG Live free-for-all.
"LA Times Today: Lost for decades, a World War II hero comes home to L.A.": I appear on Spectrum One's LA Times show to talk about a columna that I did last month.
You made it this far down? Gracias! Follow me on Twitter, Facebook, and Instagram while you're down here. Don't forget to forward this newsletter to your compadres y comadres! And, if you feel generous: Buy me a Paypal taco here. Venmo: @gustavo-arellano-oc