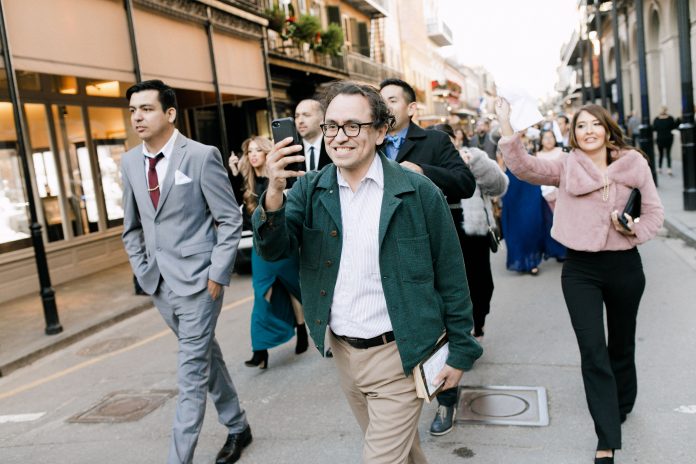 Gentle cabrones:
I'm gearing up to be the host of the upcoming Los Angeles Times daily podcast — HWUT.
Which means I'm working with some talented AF young producers — BOOM.
That don't understand all my lingo, of which I apparently use a lot — HA!
Maybe some of you wonder about the things I say sometimes — actually, I know ustedes do because I get your emails asking me to explain certain words or phrases that I use often, and I tell ustedes to keep reading and you'll figure it out.
So to help out my coworkers and anyone who's interested — and because I love words, and because I'm behind because my past two days have been spent battling something I hope is food poisoning — here is a glossary of Gustavoisms. RT, porfas!
**
First time reading this newsletter? Subscribe here for more merriment! Buy me a Paypal taco here. Venmo: @gustavo-arellano-oc Feedback, thoughts, commentary, rants? Send them to mexicanwithglasses@gmail.com
In general order of how much I use said terms:
BOOM: Means "There you go" or "You got me" or "I'm impressed." Perhaps my most-used interjection. Started to use it after I learned about "Boom goes the dynamite" around 2011 or so.
HA!: I think something's funny — not a howler, not a chuckle, but something in between. More Stephen Colbert than Bob Newhart.
HWUT: "WTF" or "No way." Learned from my meme guru Andylanta.
Fascinating…: Said when I don't think something's fascinating.
Hmm…: You don't want to get that one from me — that means not only don't I agree, but I think you're fundamentally wrong, and now I'm just amused.
Gracias for RT!: Used on Twitter, after someone retweets one of my tweets. I try to do that for ALL of them — gratitude, you know?
#respect: I approve of whatever it is I commented on. More meaningful than a thumbs-up.
Puppy essence/#pawup: Did a post about that.
You're a good man, Charlie Brown: That one, too!
DESMADRE: In Mexican Spanish, means can mean anything from "a fucked-up situation" to "chaos." For me, it's always in caps, always positive, and means fun — HWUT.
Wokoso: A portmanteau of "woke" and "mocoso" (snot-nosed brat). I did not invent it, but I sure as hell use it to ridicule the excesses of the far Left.
I AM A PROPHET: Uttered whenever I'm proven right, which isn't THAT much — but enough for where I had to designate a phrase.
God bless my REAL fans: Said when someone shows they actually read me instead of subscribe to my newsletter and never open it — the 35 percent open rate doesn't lie, folks!
Pandejo: A portmanteau of "pandemic" and "pendejo" (idiot). I did not invent it, but I sure as hell use it to ridicule the excesses of people who don't think coronavirus is real.
WERK: There was a whole canto to that. My governing philosophy in life.
GRÍTALE A GUTI
This is the column where I take your questions about ANYTHING. And away we go…
I loved those "hell of a job" bash-the-bishop columns. You must be more pleased with your current shepherd….whomever he may be.
This letter takes me back to the 2000s, when I wrote about Diocese of Orange Bishop Tod D. Brown nearly every week for his pedophile-protecting ways. He resigned in 2012 and was replaced by Kevin Vann, whom I honestly never kept tabs on as much as I should've because I was editor of an infernal rag at the time. If he was as bad as Brown, though, I would've known — but gracias to your letter, lemme ask around…
Got a question for Guti? Email me here.
**
Enough rambling. This was the semana that was:
IMAGE OF THE WEEK: ToniCol soda, probably the best cream soda out there! At the always excellent El Ruso in Boyle Heights — pura calidad!

QUOTE OF THE WEEK: "One should, for example, be able to see that things are hopeless and yet be determined to make them otherwise."

–F. Scott Fitzgerald

LISTENING:"Goin' Up Cripple Creek," Lester Flatt. I first heard this song off an eight-track and still think this is the fastest banjo I've ever heard — which makes sense, because it's the maestro himself on it! TRUE STORY: When the Guitar Center used to be at the Block — back when it was called the Block — I NEARLY bought a banjo. An alternate reality with me as an Appalachicano? Maybe…

READING: "Capirotada, The Easter Bread Pudding That Sweetened My Ma's Relationship With The United States": My former student publishes at LAist version of his final that he did for my OCC narrative non-fiction class — MORE, JAVIER.

SHOUTOUT TO: Ilda, who kindly donated 50 tacos to sponsor a full month of MailChango! She writes: "Please mention The Little Gallery of San Bernardino in one of your cantos. They are doing an amazing job of providing a much needed platform for artists in the San Bernardino area and beyond." Ilda: Consider it DUN.

CONFIDENTIAL SHOUTOUT TO: The Seattle area mujer who gave me tacos via check. I lost your return address, and I know you recently stopped by my wifey's Alta Baja Market looking for me while I was on assignment. Can you email me so I can shout you out, and you can get your proper plugs? Gracias!

Gustavo in the News

"The Times announces additions to podcast, project management teams": Introducing my fabulous colleagues on our upcoming daily podcast!

"California Playbook": Politico's Golden State-focused newsletter shouts me out twice.

"Mexicans love Speedy Gonzales and other commentary": I appear in a New York Post editorial.

"1875's Old Pasadena anti-Asian riot, plus Maestro dinner for a great cause": My fellow metro columnist at the Pasadena Star-News shouts out my columna in his columna.

"'Space Jam 2' Star Gabriel Iglesias Reacts to Pepe Le Pew, Speedy Gonzales Controversies": Something called Pop Culture mentions my Speedy columna from a couple of weeks ago.

"Inside the Glorious, TikTok-Fueled Rise of Birria in New York City": Eater NY quotes me on the most annoying, overplayed media story since Mexicans-love-Morrissey.

"Pese al aumento demográfico, los mexicano-americanos en EU no logran peso político": Always great to see Latin American media cite my stuff!

Gustavo Stories

"Santa Ana burned down its Chinatown in 1906. What are its lessons on anti-Asian hate?": My latest KCRW "Orange County Line" talks about the hidden history of OC.

"Grítale a Guti, Ep. 39 (kinda) and Ep. 40!": Two episode of my weekly IG Live free-for-all, which airs Tuesday nights at 10:15 PT — check one out!

"Discussing the Underappreciated 'Born in East L.A.' With Gustavo Arellano": I appear again on The Dave Chang Show, this time to talk about a legendary Cheech Marin movie.

"A deranged white man aiming his bullets at Asians: The urgent lesson of 1989 Stockton massacre": One LA Times columna, this one about a horrible mass shooting with Asian victims. KEY QUOTE: "The similarities between the 1989 Stockton massacre and the 2021 Atlanta-area rampage are chilling. Then and now, a deranged white man aimed his bullets at Asians. Then and now, law enforcement quickly discounted the possibility that race may have played a role in the killings despite the dead before them."

"They warned about rising anti-Asian hate 32 years ago. Californians ignored them": Another LA Times columna, this one about a long-forgotten report from the 1980s. KEY QUOTE: "The report remains such an unknown part of California Asian American history that State Sen. Richard Pan (D-Sacramento), chair of the California Asian Pacific Islander Legislative Caucus, asked me for a copy so he could read it when we talked about the matter. When I explained its contents, I heard the weariness in his voice."

"The sad fate of East L.A.'s forgotten Walk of Fame": Still another LA Times columna, this one about cool thing on Whitter Boulevard that no one seems to notice. KEY QUOTE: "What emerged in our chat was how the Latino Walk of Fame serves as a metaphor for East Los Angeles: a wonderful, historical state of mind perpetually weighed down by lack of investment."

You made it this far down? Gracias! Follow me on Twitter, Facebook, and Instagram while you're down here. Don't forget to forward this newsletter to your compadres y comadres! And, if you feel generous:
You made it this far down? Gracias! Follow me on Twitter, Facebook, and Instagram while you're down here. Don't forget to forward this newsletter to your compadres y comadres! And, if you feel generous: Buy me a Paypal taco here. Venmo: @gustavo-arellano-oc