Gentle cabrones:
I've said this before, so I'll say it again: the human emotion I despise the most is anticipation.
Knowing that something's over the horizon, yet having to wait for it to come even though you're ready AF — ARGHHHHHH. Like the climax in Saving Private Ryan, except without Tom Hanks, Matt Damon, or Vin Diesel (The Thin Red Line was a far better film, btw).
I've never waited.
I've thrown myself into situations where I wasn't equipped to succeed, but felt I had the will to do so.
Baptism by fire.
I've seen situations that didn't make me happy, and decided to do something about them.
It won me few friends, and I didn't always succeed.
But when I finished my task, at least I could say I tried instead of whined.
So I tell myself.
What did Joan Didion say about telling ourselves stories in order to live?
This is we now.
**
First time reading this newsletter? Subscribe here for more merriment! Buy me a Paypal taco here. Venmo: @gustavo-arellano-oc Feedback, thoughts, commentary, rants? Send them to mexicanwithglasses@gmail.com
Ever heard that trope that people create a narrative for themselves that doesn't mesh with reality?
This is me ALWAYS.
In my mind, I don't take any risks. I play it safe. I'm meek, insecure, and an underachiever. A bad follow-through, like a Beto Duran golf swing.
A big ol' NERD.
It's actually all real, you know. But I don't think anyone would ever say that, especially in my innermost of circles.
They'd categorize me as a kinda Loki and mostly loco. Simultaneously selfish and selfless. Out there. WAY too confident of their abilities, but not arrogant.
And a risk-taker like no other.
I mean, who tries for a career in journalism while majoring in film studies?
Who leaves their dream job with nothing secure in their future?
Who pushes far past who they are, in order to become who they want to be?
This is me ALWAYS.
A big ol' NERD.
Actually, who I am is somewhere between who people say I am and who I actually am. And that's what gets me to where I need to be: radical self-reflection.
Objective and subjective. Narcissus mixed with Evil Queen's mirror, you know?
I understand why we build narratives about ourselves, but I've always found them dangerous. More like a coping mechanism that doesn't consider that sometimes, reality is simultaneously harsher and better than myth.
It's important to consider what others think about you — mostly from the people you trust, but hear out your hilarious haters from time to time, too. It was the fool, after all, who was allowed to say what's up about the king.
Have those thoughts clash with your self-image. From those shards is you.
And that's what we all are: shards. Scraps of the past glued together with hope for the future, and smoothed out by the indomitable will to live.
This is me now.
GRÍTALE A GUTI
This is the column where I take your questions about ANYTHING. And away we go…
I'm an OC boy grinding it out in Portland, OR. I have a question about chorizo (Mexican, of course).

I grew up eating the kind of chorizo available everywhere in Southern Cal that comes in the plastic tube (lymph nodes and other organ meat). Up here in Oregon, gaba shops make their own out of ground pork (which is actually pretty good).

My question is, which is the real "old school" – The plastic tube of my youth (I am 54 year old), or is the kind that we can make at home with ground pork?
Well, plastic didn't exist until the 19th century, so the OLD SKOOL one is the one without it. And the chorizo I always got from my chorizero came in tubing, so not sure why you think it's a thing of the past, because homeboy got me some just last week.
What you're doing is the common human mistake of romanticizing your youth. Do you like your chorizo now? Then enjoy it. Don't bother with the past, which wasn't as great as you thought it was. Or, to paraphrase Ecclesiastes for a second week: There is nothing new under the sun, so enjoy the burrito for the beans.
Got a question for Guti? Email me here.
**
Enough rambling. This was the semana that was: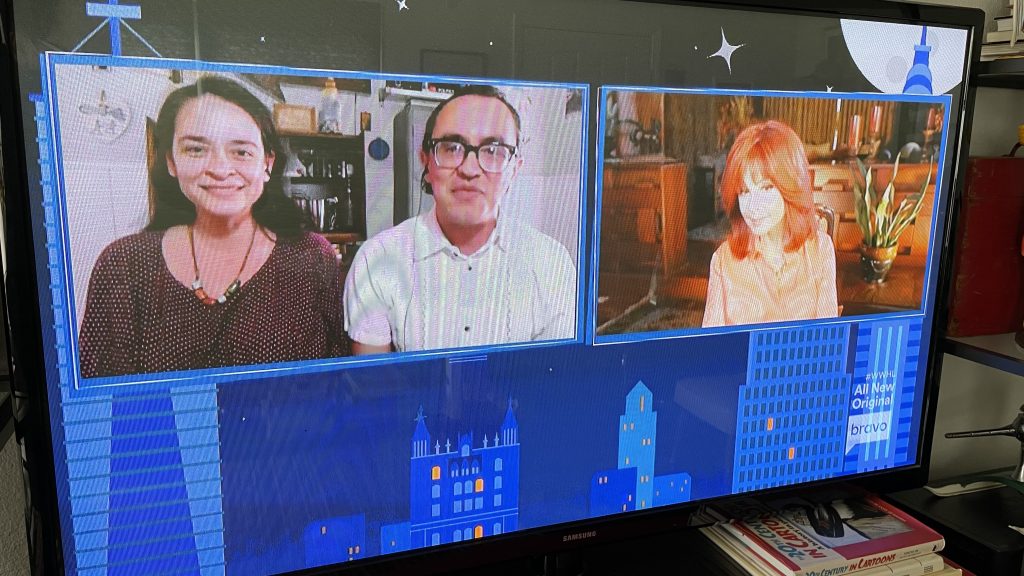 IMAGE OF THE WEEK: My wife and I on Bravo's Watch What Happens Live with Andy Cohen, asking country legend Naomi Judd a question she didn't particularly care for — BOOM #MoreLife

QUOTE OF THE WEEK: "We're terrified of disruption. We're afraid that somebody's going to steal our mushrooms in the checkout line."

–Stephen King

LISTENING:"El Abandonado," Banda El Recodo. Pa' que sepan: This banda classic was included in Carl Sandburg's The American Songbag. Don't know the book? Know your songbook history! Don't know the author? Know your American literature! And #respect a Swede who knows his Mexican stuff!

READING: "The Fall of Armie Hammer: A Family Saga of Sex, Money, Drugs, and Betrayal": I tend not to care about the travails of the rich, but I knew the Hammer family was hella fucked up LONG before Arnie tried to pass himself off as a leading man — and this Vanity Fair piece confirms it. Should've kept off the wokoso stuff, but still a soapy, disturbing read I couldn't quit.

SHOUTOUT TO: Cheryl, who kindly donated 50 tacos to sponsor a full month of MailChango! She wants to shout out Yahaira's Cafe in Pasadena because it's "a locally owned neighborhood favorite!" Consider the plug DUN.

Gustavo in the News

"Today's Headlines": I get shouted out in the same LA Times newsletter not once, but twice.

"Coachella Valley Independent Daily Digest: March 19, 2021": Jimmy Boegle shouts out my columna on Speedy Gonzales.

Gustavo Stories

"Katrina Foley wins race to replace Michelle Steel on OC Board of Supervisors": My latest KCRW "Orange County Line" talks about the former Costa Mesa mayor's pre-ordained victory.

"A racist mob burned Santa Ana's Chinatown to the ground. It still serves as a lesson": My latest Los Angeles Times columna goes within walking distance of my wife's store to find a metaphor for these anti-Asian times. KEY QUOTE: "The ignominies endured by other racial and ethnic groups brought national reckonings, no matter how imperfect or incomplete. But it seems any time we say we'll do the same for Asian. Americans, historical amnesia pulls us back to where we started."

"Why do so many Mexican Americans defend Speedy Gonzales?": My latest Los Angeles Times columna talks about the greatest cinematic rat of them all. KEY QUOTE: "Of course we're going to love Speedy — it's not like we have a buffet of iconic animated heroes to choose from besides Dora the Explorer and Bender Bending Rodriguez from "Futurama.""

"Facing a Recall, Governor Newsom Delivers State of the State 2021": I appear on KQED to talk possible recall in California.

You made it this far down? Gracias! Follow me on Twitter, Facebook, and Instagram while you're down here. Don't forget to forward this newsletter to your compadres y comadres! And, if you feel generous: Buy me a Paypal taco here. Venmo: @gustavo-arellano-oc