Gentle cabrones:
It might've been in North Dakota, or Wyoming, or Long Beach – I can't remember anymore. But I'll always remember the exchange.
I was talking to college students after a campus-wide lecture. I always love the after-talk talks, because they're more personal, and the advice becomes more pointed and poignant. The people who want to really learn stick around — and ain't that life?
The subject this time was one that's eternal to college students: how to fight in an unjust world.
I was explaining that you can't fight nonstop, full-on all the time — that you need to take different strategies and speeds to the same fight, no matter how badass you are. The students didn't like what I had to hear, and challenged me on it.
Best kind of students.
So I had to think on my feet. I remember it was cold, but it wasn't winter just yet, so the World Series must've been on my mind. So I used the metaphor of the fastball.
I told them even the fastest pitchers can't rely on the same overpowering blazer — eventually, batters learn how to hit it. So the best pitchers learn different pitches. Curveball. Change-up. Different types of fastballs. Change their delivery. WERK.
The real Gs even throw in an eephus pitch, Rip Sewell's greatest contribution to the world — you can look it up!
The fastball remains the best pitch, and the best pitchers never leave it, I explained. But if you don't diversify, losing is guaranteed.
The students got it.
**
First time reading this newsletter? Subscribe here for more merriment! Buy me a Paypal taco here. Venmo: @gustavo-arellano-oc Feedback, thoughts, commentary, rants? Send them to mexicanwithglasses@gmail.com
We all have one potent weapon in our arsenal, something we wield when needed and even show off. Could be your sharp tongue. Your muscles. Your mind. A Mossberg 500.
It's not enough.
The people who lose in life are the ones who rely too much on one thing, especially their One Thing. It will inevitably fail, and then we will fail, because we're humans. As I've said before, the only people who were perfect were Jesus and Rocky Marciano. And Floyd Mayweather.
So you have to diversify. You need to work on your weaknesses, and refine your strengths. A jack of all trades, a master at just winning.
This philosophy has given me the career that I've had. From the start, I wanted to learn how to do it all – and I'm getting there. I quickly figured out what I wasn't good at, and worked on it until I knew I was able to do it if I had nothing else. For my strengths, I refined them until I could do them in my proverbial sleep — but I never rested on it.
It's not advise people want to hear. We're afraid to acknowledge weaknesses, and only wanna focus on our best attributes — and think those are forever. Innate.
They ain't.
I'm in a fighting mood because, well, you should always be. But I see too many people think the way to change things is to smash. Smashing is fun! But someone will always have a bigger hammer than yours, or better material make your hammer crumble — and then what?
Protect what you have, and strive for more — but if it's all about what YOU have, then you're worthless.
And that's what I also told the students on that cold fall night so long ago. Vary your fight, and get others with different strengths than yours along your side. I's in a team.
The students got it.
GRÍTALE A GUTI
This is the column where I take your questions about ANYTHING. And away we go…
Is there a name for a taco where you fill the warm tortilla and lightly cook it in a very small amount of oil so the tortilla is slightly crispy but not hard? I have always made them this way at home and love the flavor it brings out in the tortilla. I was so happy to hear that you didn't dis ground beef tacos as this is what I usually use and was thinking I should be embarrassed about it!
The above taco/tortilla reminds me of the " "strips" they used to sell when I was a kid in the 60's and we would go from West Covina to Huntington Beach for the day. Tortillas half fried. Yum.
There's no real name to these tacos, because the best taqueros know to do this to their tortillas. Some dip them in a small metal tin of oil; others do it on the grill itself, wherever the meat got cooked.
But the more interesting thing in your question is the mention of tortilla strips, a Cal-Mex classic that's like a gaba chilaquiles and that now mostly exists in Huntington Beach. Finally a reason to visit that doesn't involve laughing at Pandejo Rex Tito Ortiz!
Got a question for Guti? Email me here.
**
Enough rambling. This was the semana that was: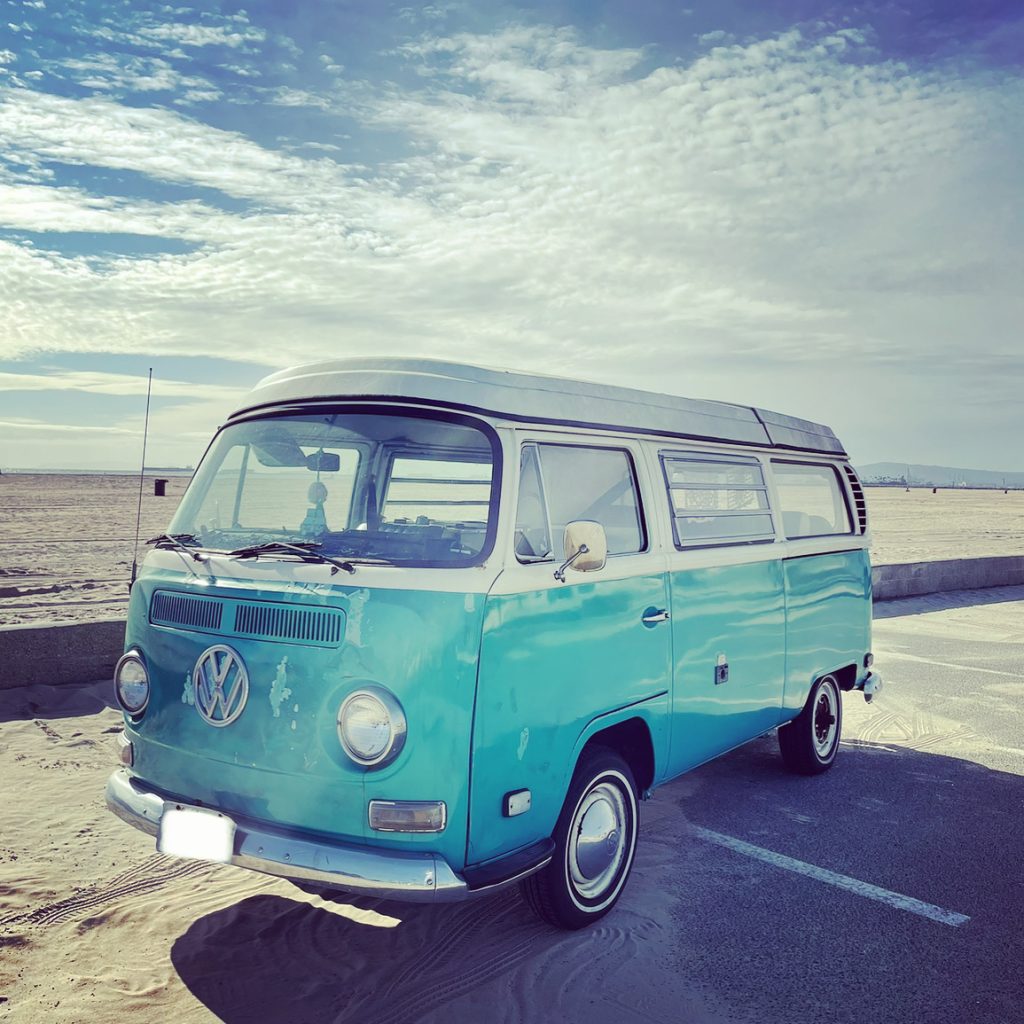 IMAGE OF THE WEEK: My VW Bus in Seal Beach for…something for Alta: A Journal of California, where I'm a contributing editor. Details to come…

QUOTE OF THE WEEK: "A satirist is someone who has a very skeptical, pessimistic view of human nature but who still has the optimism to make some sort of joke out of it. However brutal the joke may be."

–Stanley Kubrick

LISTENING:"Pobre del Pobre," Paco Michel. Ladies and gentlemen, the saddest song ever written: A man asks his beloved to let him sing "Ave Maria" on her wedding day. If your mariachi can sing this song without looking at their smartphone, they're legit!

READING: "Is America Going Down Like Custer?" No one does a better job of making the mythologized American West real and relevant the way Deanne Stillman does, and this is a great example.

SHOUTOUT TO: Dante, who kindly donated 50 tacos to sponsor a full month of MailChango! He writes: "I have nothing to plug. Just enjoy the tacos!"

Gustavo in the News

"Washington Post, Reuters and Los Angeles Times Search for New Top Editors": Only time you'll ever see me mentioned in the same story as Marty Baron, Dean Baquet AND Norm Pearlstine haha — and it ain't happening.

"How Birria Finally Took Off in One of America's Best Taco Cities": Eater Austin quotes me on the continued spread of the hot food item of 2015, one zacatecanos introduced to Southern California in the 1970s.

"Politico Pulse": Their newsletter plugs one of my columnas below.

"CSUF professors examine how the pandemic is changing our language": The Orange County Register prints "pandejo"!

Gustavo Stories

"Gov. Newsom recall effort is linked to some Orange County Republicans": My latest KCRW "Orange County Line" talks about the latest OC wackos project to mess with California.

"How long will hate have to go unanswered after explosion at rabidly antigay church?": My latest Los Angeles Times columna talks about the long history of hate in El Monte — and long history of resistance — being seen right now. KEY QUOTE: "The San Gabriel Valley city has a surprisingly long history of outsiders moving in to set up their bigotry business."

"The 'Pandejo' Movement Destroyed California's Pandemic Progress": My first piece for The Atlantic talks about why Southern California got so wrecked by corona. KEY QUOTE: "The coronavirus is as bad as it is here because it's tailor-made to target those who work blue-collar jobs that are impossible to carry out at home, belong to deep social networks, and live in multigenerational households. Sounds like the Latino community, right?"

You made it this far down? Gracias! Follow me on Twitter, Facebook, and Instagram while you're down here. Don't forget to forward this newsletter to your compadres y comadres! And, if you feel generous: Buy me a Paypal taco here. Venmo: @gustavo-arellano-oc