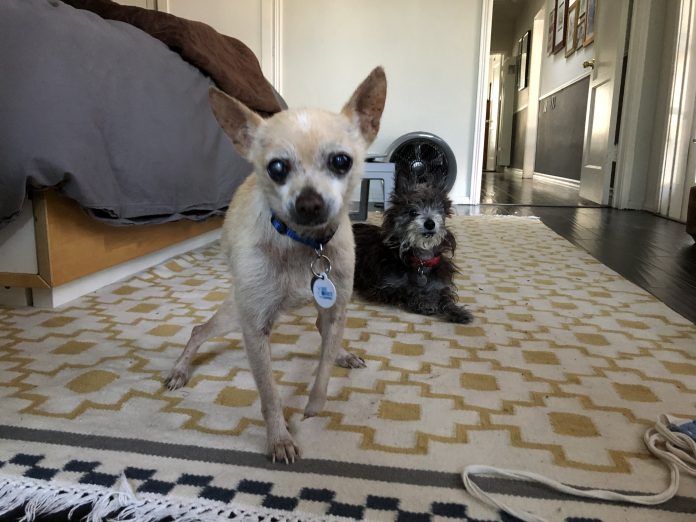 Gentle cabrones:

When our Marge passed away last year, I didn't think we'd ever get another dog.

She passed away at age 20, just four days after we buried my mami.

The thought of getting another pet was just too painful for me.

But my wife insisted we get one. She reminded me that there were too many in animal shelters that needed a loving home — and we could definitely offer one.

I refused.

The way Marge came into our life was so special, I didn't want to try and replicate it ever again. Nor did I want to go through the pain of losing another pup.

Then coronavirus hit.

It wasn't that we were lonely — far from it. It's that news hit that animal shelters across California emptied out as people stuck at home adopted dogs, cats and other pets.

I told this to my wife, in the hopes she might lay low for a bit.

And then she told me about the Frosted Faces Foundation.

It's a nonprofit deep in the San Diego backcountry devoted to rescuing one specific type of dog: old ones.

America being America, people wants puppies or young dogs, not elders. Too many people dump their older dogs to pounds, America being America.

And so we drove in early May to the headquarters of Frosted Faces, a beautiful drive that took me through the San Pascual Valley for the first time in my Southern California life.

To meet Cosmo and Hook.

**
First time reading this newsletter? Subscribe here for more merriment! Buy me a Paypal taco here. Venmo: @gustavo-arellano-oc Feedback, thoughts, commentary, rants? Send them to mexicanwithglasses@gmail.com
Cosmo was a Yorkie with one eye; Hook was named so because he was born with a single toe on one paw.
My wife found them on the Frosted Faces website and immediately fell in love with both.
I was more skeptical.
Would they like us? Would they like each other? Would they adapt to new surroundings easily? Did we even have time for one dog, let alone two?
We're both, um, kinda busy.
My wife wouldn't hear of my excuses.
So we rolled up into the natives-manicured Frosted Faces headquarters, a ranch house transformed to serve as a doggie boarding house. Two pens in the backyard featured about 30 beautiful, barking dogs — one for the little guys, one for the bigger ones.
We got to meet Cosmo first. The woman who took care of him said he was one of the sweetest dogs she had ever fostered, and actually wept upon giving him to us.
We then took Cosmo to Hook, who was resting on a bed with his foster family. He has a cataract in one eye and barely any teeth.
Hook immediately lunged at Cosmo and smarled.
It was love at first sight for everyone involved.
Four months later, Cosmo and Hook's personalities are slowly emerging.
Cosmo barks at everyone, then rushes to their side for lovies. He is inseparable from me — now, I finally understand the meaning of a lap dog.
Hook is a grouch. He doesn't like to be petted too much, and still barks at Cosmo if he gets too close. But if I'm sitting on the floor at home, Hook immediately stumbles over to me and will lay on my lap FOR HOURS.
I take them for walks every afternoon — Cosmo on a leach, Hook on what's basically a puppy bjorn. We feed them dry food from cricket-based Jiminy's mixed with whatever veggies or meat we cook for them.
They both deserve all the love in the world.
Cosmo was found in April with one of his eyes hanging out of his socket, which required immediate surgery. He's perpetually itchy, and still very jumpy, especially if you try to approach from behind.
And if we're gone too long and he sense we've return, Cosmo lets out a haunting howl that sounds — I kid you not — like a high-pitched air siren.
Hook was found covered in fleas and ticks, and his tail had no hair. It's growing back, and he's finally learning how to wag his tale.
He also has three distinct barks: a hoarse growl at Cosmo, a banshee scream at other dogs, and then a cute squawk that sounds like a baby hawk when we get home and he wants us to pay attention to him.
They're perfect.
Cosmo and Hook are estimated to each be about 10 years old, so we don't know how long we'll have them. But we'll cherish them until they get to hang out with Marge in the Big Lawn in the Sky.
If anyone wants to adopt a dog and support an amazing nonprofit, Frosted Faces is the way to go. In this year of chaos, gotta support los buenos, you know?
GRÍTALE A GUTI
This is the column where I take your questions about ANYTHING. And away we go…
This covid business is fucked up, not mention our chingada of a country! I'm still optimistic things will turn around with the election, but if things go south I'm afraid my optimism will be lost. I'm scared man, I'm really fuckin scared! Whatever though, I'm actually contacting you because I need an carne asada recipe — you got one you can share?
I'm glad you're planning for any upcoming apocalypses with some Mexican food. Alas, I'm no cook. The most I remember from my tíos cooking is to marinate your meat with some Budweiser while it's on the grill, and that's really it.
But instead of doing your carne asada, why not support a local carnicería who'll do it better than you? My three favorites in Southern California for carne asada is La Venadita in Wilmington, the La Reina Markets mini-chain in Orange and Anaheim, and La Princesita in Eastlos. Been eating from them my entire life — and I see no reason to change. If you can't find a carnicero within an hour of you, you ain't looking hard enough!
Got a question for Guti? Email me here.
**
Enough rambling. This was the semana that was: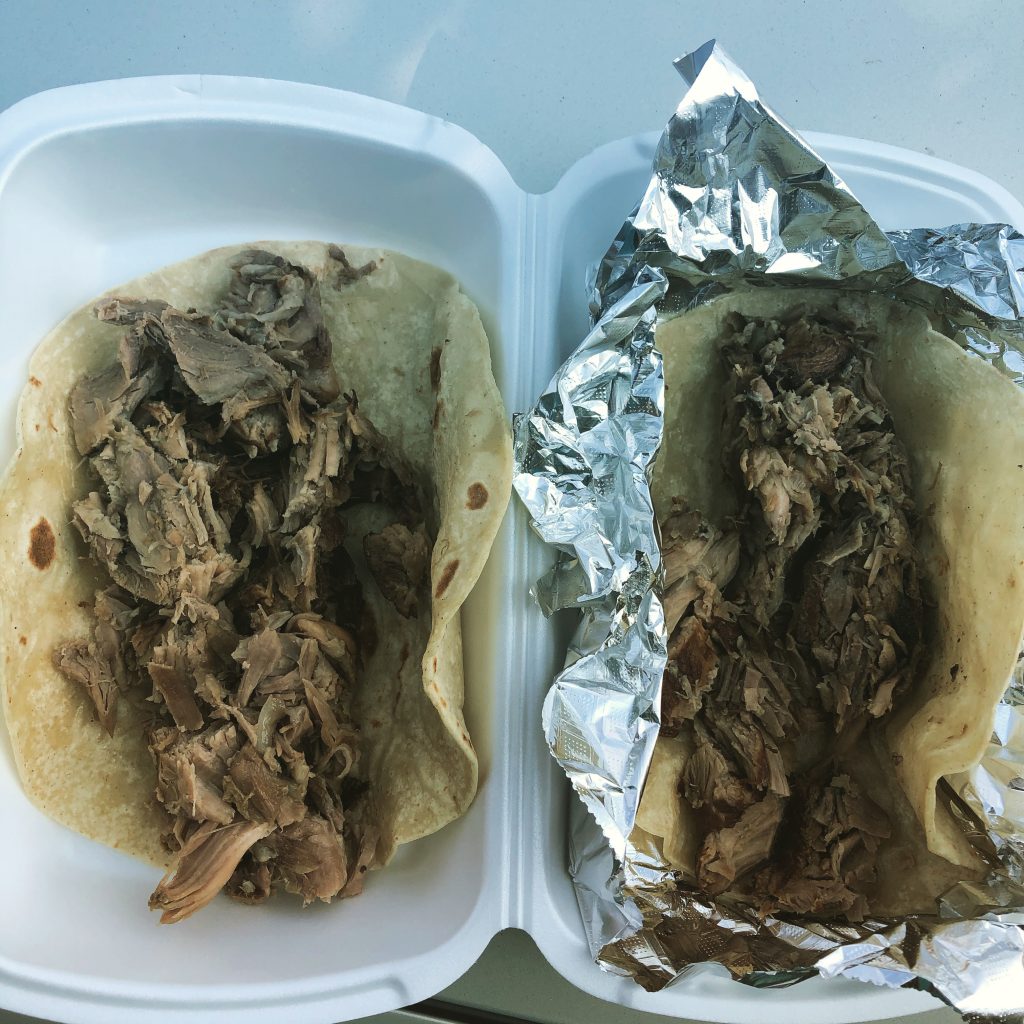 IMAGE OF THE WEEK: Carnitas tacos from Carnitas El Rey in Oxnard, which will be returning participant in this year's KCRW and Gustavo's Great #TortillaTournament for their GREAT corn tortillas. Full tournament revealed soon!

QUOTE OF THE WEEK: "You've got to learn your instrument. Then, you practice, practice, practice. And then, when you finally get up there on the bandstand, forget all that and just wail."

–Charlie Parker. He knew the value of WERK

LISTENING:"Red River Rock," Johnny & The Hurricanes. I first heard this roar of a song while playing a Universal Studios Monsters-themed pinball game at the late, not-so-great Family Fun Center in Anacrime, where I worked for three years out of high school and from which I need to mine a screenplay out of one day. I'm a sucker for instrumentals, for organ riffs — and to find out years later that it's a rock remake of an OLD SKOOL country song. The wannabe musicologist in me is trebly pleased.

READING: "Seats of power through the centuries" I still don't know what Apollo Magazine is about, except they offer consistently great reads like this deep dive into the history of thrones, from the Iron to the Stone of Scone.

SHOUTOUT TO: Mike, who kindly donated 100 tacos to sponsor TWO full months of MailChango! He writes: "I'd like a double plug for my wonderful Geography and Environmental Studies students and their inspirational minds and hearts. They're going make the Insane Empire a much better place. I miss going to class to learn from them."

#respect to Mike and all the maestrxs out there!

Gustavo Community Office Hours!

I'm rebooting my stint as scholar-in-residence at Occidental College's Institute for the Study of Los Angeles! Every Tuesday, from noon-3 p.m. people can book half an hour with me and we can Zoom (over a secure line, of course) one-on-one about WHATEVER. Interested? Email me to book your time NOW!

Gustavo in the News

"LA Times names Gustavo Arellano California columnist": Media Moves talks about my impending new gig.

"Evolution of tacos in Texas, San Antonio and what trends are next": A San Antonio television station's website talks about a panel I did.

"5 great Mexican restaurants for birria tacos in San Antonio": The San Antonio Express-News article is behind a paywall, but I know I'm mentioned in it!

"Gustavo Arellano of L.A. Times on 50th Anniversary of Chicano Moratorium": Latino Rebels mero mero Julio Ricardo Varela interviews me about what the headline says — with a cameo by Cosmo!

"Gustavo Arellano : Chicano Moratorium": So does Beto Duran #betosabe

"The Chicano Moratorium's 50-Year Legacy": As does KQED.

Gustavo Stories

"Rubén Salazar was no radical but he was a pioneer, says Gustavo Arellano" My latest KCRW "Orange County Line" talks about the martyred Los Angeles Times reporter and his time in OC.

You made it this far down? Gracias! Follow me on Twitter, Facebook, and Instagram while you're down here. Don't forget to forward this newsletter to your compadres y comadres! And, if you feel generous: Buy me a Paypal taco here. Venmo: @gustavo-arellano-oc