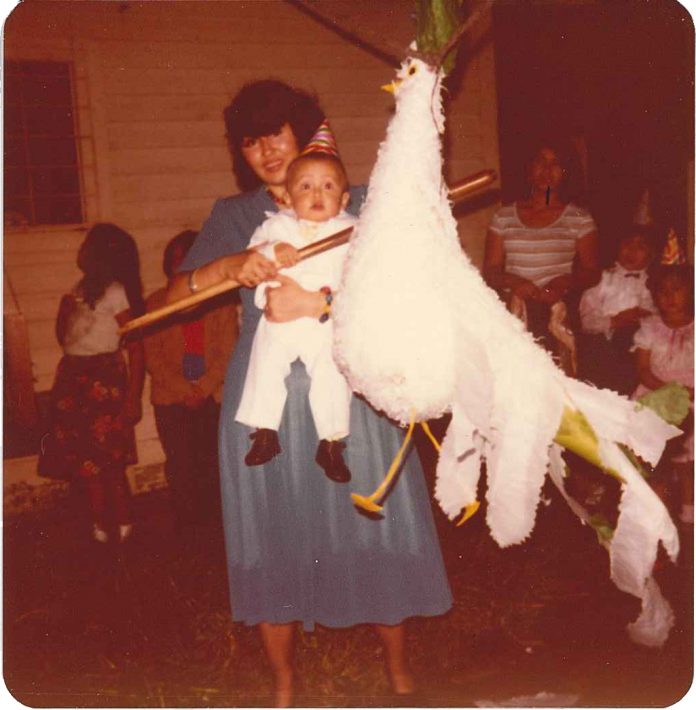 Gentle cabrones:
Every August 25, I'd call my mom to purposefully wish her a happy birthday on the wrong date, because I knew it would make her happy.
See, her birth certificate says she was born on August 23, but she'd always tell us she was actually born just a bit after midnight, on August 24. Those who loved her called Mami on those two days — so I always liked to extend the cumpleaños greetings just a little bit longer.
Besides, I also did it so she'd be that much closer to my sister's birthday, which is the 26th.
Couple that with my dad's birthday on the 10th, and my nephew's birthday in August, and this was always a happy month for our familia.
This one has been different.
We're going to celebrate Mami's birthday today, with some of the pozole that she taught my wife to make. We'll make a toast to her, but then probably talk about whatever becomes the subject at the time. Probably the upcoming play I'm going to appear in, which will also have someone playing Mami.
Definitely about the upcoming Pepe Aguilar concert in Anaheim, whom Mami got to meet. For sure about how to clean up the garage, which we've only taken stabs at.
We're not going to talk much about Mami, though, because we really don't have to. The biggest surprise I've discovered about death is that the person who passes never leaves you — instead, they become more cherished and discussed than ever before.
After it's too late.
**

My Mami, holding me during my baptism at our old house. Dig the OLD SKOOL piñata!

First time reading this newsletter? Subscribe here for more merriment! Buy me a Paypal taco here. Venmo: @gustavo-arellano-oc Feedback, thoughts, commentary, rants? Send them to mexicanwithglasses@gmail.com
It's been a tough four months since Mami passed away of ovarian cancer.
I'm slowly wheeling back to the Los Angeles Times. I've got extracurricular projects galore, most of which you can read about below. Am about to start teaching again at Orange Coast College — Narrative Journalism this time (you KNOW I'm going to flood my students with Gay Talese, Sam Quinones, and Jill Lepore).
I wish I could tell Mami all about it.
I do, actually.
I'm a huge believer in signs. I believe in a higher power out there that, every once in a while, reminds humanity that we're not just a collection of molecules.
And nearly every day this summer, whenever I go out to water my garden in the front, a hummingbird has greeted me.
Mami loved hummingbirds.
And basically every time I visit my parent's house, a big ol' monarch butterfly swoops past me as I start to go inside.
Mami loved butterflies.
And so I give a quick update of where I'm at, what I'm feeling.
I'm good. Could be better. Will be better.
Because Mami would want to.
If you'd like to honor my Mami on her birthday, take the elder in your life to eat sometime this week. Tell them how much you love them. Take them to the spot of their choice.
Because one day, you'll kick yourself for not doing it more.
Before it's too late.
GRÍTALE A GUTI
This is the feature where I take your questions about ANYTHING. And away we go…
Have you ever read La Vida Inutil, de Pito Perez. If not, find a copy and I think you will love it. Have you ever read La Muerte de Artemio Cruz, by Carlos Fuentes.
No, and no. I need to read more in Spanish besides Proceso and Zeta, but I also need to read more fiction, period. I've probably read less than 10 novels over the past decade, and it's a damn shame — but I'm just too stuck on real life, you know?
Got a question for Guti? Email me here.
Enough rambling. This was the semana that was:
PROGRAMMING NOTE: My next canto will be sent out Sept. 3, so ustedes can enjoy your Labor Day weekend and actually read this pinche thing.

IMAGE OF THE WEEK: A whiter-than-she-should be Virgen de Guadalupe, on La Fiesta Tortilleria in Long Beach. Still beautiful, tho…
LISTENING: "Wasn't Born to Follow," The Byrds. I'm a sucker for chiming guitars, and few chimed like Roger McGuinn of the Byrds. And this just might be my favorite song of his group: Melancholy, beautiful, evocative, and somewhat true of my life save for personal relationships, where I'm more loyal than Boswell.
READING: "A Brief History of Harlan County, USA": Short-but-important story about the eternal labor strife in the Kentucky mountains — and a reminder to us Mexis that poor whites are just our brothers from another mami.
Gustavo Appearances
AUGUST 31: "Canto de Anaheim": I'll be the host for a radical production: Members of the Pacific Symphony will tackle the history of Mexican Anaheim through a play scored by classical music! 7 p.m. in the beautiful Pearson Park Ampitheater, 401 N. Lemon St., Anaheim. Event is FREE — GO GO GO!!!
SEPTEMBER 8: The second edition of my KCRW Great #TortillaTournament — where I match up 64 tortillas, 32 corn and 32 flour, against each other in a bracketed playoff — is BACK. I have some articles further down the canto that'll explain, but know in this part that grand finale — tortilla tastings, music, tortilla art, food vendors and more — will be Sept. 8 from 3 p.m.- 7 p.m. at LA Plaza de Cultura y Artes, 501 N. Main St, Los Angeles, (213) 542-6259. The event is FREE, but you gotta RSVP to attend. DO IT DO IT DO IT!
Gustavo in the News
"Nachos de Ignacio Anaya García conquistan negocios del mundo": A Mexican publication cites me in an article about the creator of nachos.
"Voting for Food Tank's SXSW Panels on Diversity and Food Policy": If you vote here enough, I'll be going to South by Southwest for the first time ever, so DO IT DO IT DO IT!!!
"Newsletter: Essential California Week in Review: California sues Trump over 'public charge' rule": My Los Angeles Times colleague Julia Wick plugs a restaurant review of mine.
"LA Times Critic Finds the Ideal Pasta-Eating Seat in Santa Monica": Eater LA plugs my review, as well, in their weekly roundup of LA-area food reviews.
"In Defense of the Hard-Shell Taco": I get a shout-out for my eternal defense of Taco Bell's right to exist.
"Stop putting dairy in your horchata": My LA Times colleague Ben Mims talks to me like for a second about horchata.
"Chipotle Is Smothering Mexican American Burrito Culture": A podcast and article in which I talk about the Galactus of Mexican food in the U.S.
"Pacific Symphony Will Bring Untold Histories to Life in 'Canto de Anaheim'": Voice of OC plugs my upcoming performance.
"OC-Centric, Other New Local Plays Take Center Stage at OC Theaters": My old paper also plugs me — God bless ye, Joel Beers…
"Cafe Society: KCRW's 'Masa Madness' tortilla tournament shines light on Oxnard restaurants": The Ventura County Star kindly plugs my upcoming KCRW #TortillaTournament because two Oxnard Mexican restaurants are in our Suave 16!
"Coast Packing Co. Returns as Sponsor of KCRW & Gustavo's Great #TortillaTournament; Corn Meets Flour in Classic Rematch on Sept. 8": THANK YOU, Coast Packing Co. for being a sponsor for my #TortillaTournament
"The Northside Will Move to Denver's Northside in September": Important news about a play based on my life!
"The Mexican-Salvadoran Antagonism": I kinda get quoted in a Wall Street Journal article about the eternal Mexi-Salvi lovefest.
Gustavo Stories
"At Casa Diaz in Mira Loma, feast on Guadalajara specialties like tacos ahogados": My final full review for the LA Times highlights the much-neglected Inland Empire of California. KEY QUOTE: "There's a takeout counter and a small dining room that quickly fills with an eclectic mix of Tommy Bahama-wearing retirees, construction workers who back their Dodge Ram 3500s into their parking spots and families taking out Mami so she can eat and not cook for once."
"Long Beach's Iowa Picnic once drew 125,000. This year 160 attended but legacy lives on": My latest LA Times feature goes to a Southern California institution. KEY QUOTE: "What used to regularly attract tens of thousands every year through the first half of the 20th century has struggled to draw crowds over the last 35 years. Local Iowans died, moved away or — worse — fully assimilated and became Californians."
"Review: No bad orders and plenty of sauce at Ellie's in Long Beach": Another Times food review, this one on a great LBC spot. KEY QUOTE: "The online-only Long Beach Post applauded chef-owner Jason Witzl for inspiring local "hoity-toities" — the homeless-hatin' wannabe Newporters of Belmont Shore, the blue hairs of College Estates, Naples' nouveau riche — to step "out of their insular existence" in a way no restaurant has done in a while."
"Arriola's Tortilleria in Indio has sold tortillas longer than anyone in Southern California": Was happy to do this profile on a place in the Coachella Valley that's been in business of tortillas for 92 years! KEY QUOTE: "We've got people older than me telling me they've come since they were a kid, and they're bringing their kids and grandkids," says 30-year-old Ian Townley, the fourth generation of Arriola's. "I'm a part of something that's bigger than me."
"#TortillaTournament week 1 recap: Upsets galore!": Week 1 of #TortillaTournament
"Week 2 Recap: Behold your Suave 16!": And here's the second week of #TortillaTournament
"Le Mirage Pastry in Anaheim is a destination for Syrian ice cream": My return to the airwaves with KCRW's Evan Kleiman, who's also my fellow #TortillaTournament judge
"Gustavo Arellano visits Pikoh in West LA": Another review with Evan!
"Defending champion Sonoratown aims for tortilla perfection": I talk #TortillaTournament with Evan.
"OC has 89 more registered Democrats than Republicans": My KCRW "Orange County Line" tackles this historic moment.
"Why is Orange County Sheriff's Department tight-lipped on inmate deaths?": My KCRW Orange County Line tackles OC's ever-scandalous jails.
You made it this far down? Gracias! Follow me on Twitter, Facebook, and Instagram while you're down here. Buy me a Paypal taco here. Venmo: @gustavo-arellano-oc. And don't forget to forward this newsletter to your compadres y comadres!