Gentle cabrones:
Years and years and years ago, my wife bought me a wooden chair.
She picked it up during one of our trips to the South as part of the 127 Yard Sale, that 700 miles of early August thrifting of which we do from Frankfort, Kentucky to Chattanooga, Tennessee. She bought it as part of a plan for me to have my own office, which never really came to fruition (although I still maintain a super-secret office from which I plan out…things). The chair spent years in our garage, and we forgot about it.
Every once in a while, my wife said she would restore the chair, because she's the handy person in the family. But she's so busy at her Alta Baja Market, that she understandably never got around to it. So at some point in the past couple of years, we decided to throw it away.
We left it next to the trashcan in our backyard…and forgot about it. I think it's stayed a couple of years there, and it eventually became a trellis for a huge tomato plant volunteer that grew this past summer . But once the plant died, I finally threw away the chair.
I put it on the curb, the communal recycling center in Mexican neighborhoods. Sure enough, my elderly jerezano neighbor immediately put it on his lawn and excitedly told me he was going to restore it because era buena — it was good.
But about a week later, the chair was back on the curb — my neighbor said his wife didn't want it in the house.
So I decided to look at it, all these years later. It was a damn good thing — looked old, but amazingly had no splinters. I hitched the chair to its base, and sat in it. It reclined, it swirled, and it was comfortable without even trying.
I put it in Cosmo Cavern Studios, where I do all recordings.
**
First time reading this newsletter? Subscribe here for more merriment! Buy me a Paypal taco here. Venmo: @gustavo-arellano-oc Feedback, thoughts, commentary, rants? Send them to mexicanwithglasses@gmail.com
For about a month, the chair was a dream. People who saw it when I did my Zooms said it was nice. My wife was happy I was finally using it. I wondered why I had neglected it for so long.
And then the slabs that make up the seat began to shift.
I ignored this at first until the slabs pinched me every time I would sit in the chair. I thought I could fix it myself, but the thing is such a work of art that it would have to be disassembled, and I just didn't have the time or smarts.
It was such a work of art, yet I ignored it for years — and now I'm gonna have to spend a good amount of money to salvage it.
All of this could've been prevented if I had just used the chair from the start. If I hadn't ignored it for so long.
It got me thinking about all the other things we have to deal with in life, that we keep pushing off into the future — the proverbial can kicked down the road. But all that kicking dents the can and scuffs it until one day when you reach it, it's worthless and you throw it away.
Thank God this chair isn't there just yet. It's salvageable still.
Value what you have. Take care of it. Don't forget the things you need to do — because they'll forget you like nothing, and they'll literally bite you in the tucchus. And the beat goes on…
GRÍTALE A GUTI
This is the column where I take your questions about ANYTHING. And away we go…
Was talking with a friend last night about your work, and he asked me, "What's one of Gustavo's iconic pieces I should read?"
— he's a New Yorker, so his reference point was "What's his Jimmy Breslin JFK gravedigger piece?"
It hit me that I have personal favorites from your writing, like the Obituary for Old Orange County or your incredible piece last year on Juan Peña Diaz, but I don't actually know which pieces you think of as your marquee work. Maybe you don't even think about it in those terms at all? Curious if you have particular favorites from your own writing!?
My all-time favorite pieces are always the same — the one that just published, and the five in the works. Everything else is archives — I stand by them all, and none of them are perfect. I don't believe my hype — but if others do, that's cool!
Got a question for Guti? Email me here.
**
Enough rambling. This was the semana that was: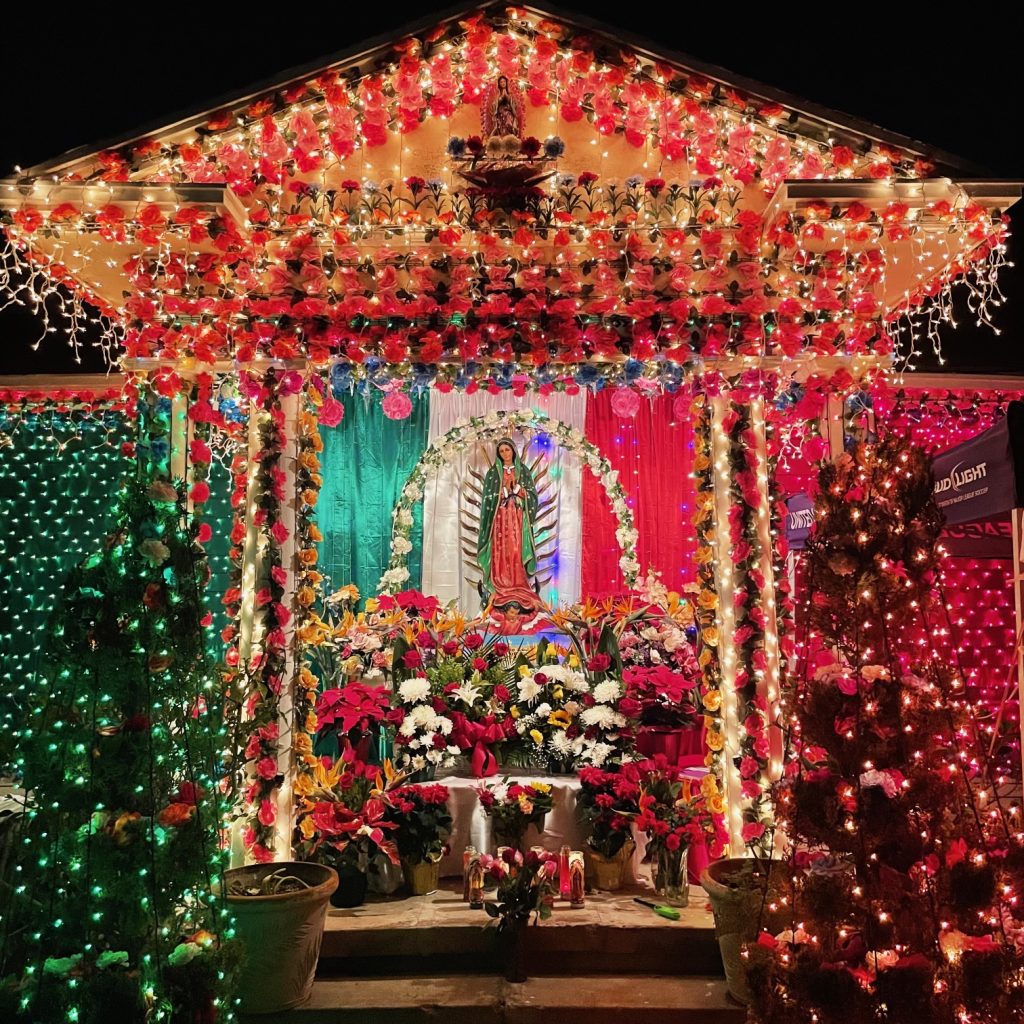 IMAGE OF THE WEEK: Most beautiful Christmastime house in SoCal, in SanTana.
QUOTE OF THE WEEK: "I have seen people forget where they came from. I cannot forget. I must not forget. If you forget where you came from, you forget who you are."
—Baseball catcher Tony Peña
LISTENING:"Los Años Viejos," Los Barón de Apodaca. Cry, dance, then cry and dance to this sappy, nostalgia-addled JAM by perhaps the greatest grupero band of them — that electric piano!
READING: "Irma Pineda: la voz de Juchitán": Great profile in Gatopardo, a Mexican literary magazine that knows its México like no other publication outside of Próceso.
SHOUTOUT TO: Connie, who kindly donated 100 tacos to sponsor TWO full month of MailChango! She has two plugs: "Catholic Worker don't make anyone jump through hoops or swear any allegiances to get fed and helped. That's always impressed me so much." And "Tree People have a free fruit tree program for underserved/food desert neighborhoods that is so good! Plus we need more trees!"
Gustavo Events

Dec. 15, 4 p.m.: I'll be doing a lecture about the importance of documenting local history, with the El Modena barrio as an example, at the — where else? — El Modena branch of the Orange Public Library, 380 S. Hewes St., Orange, (714) 288-2451.
Dec. 16, 4 p.m.-6:30 p.m.: I'll be hosting All Things Considered on KCRW-FM 89.9 while we're in FUNdrive mode. Listen to me pitch away at kcrw.com
Gustavo in the News
"The US Might Soon Have A Legal Definition For Mexican Cuisine": One of my columnas from this week gets shouted out.
"Kids are losing interest in organized sports. Why that matters": One LA Times newsletter you should subscribe to plugs a columna of mine.
"The Best Things To Do In LA And SoCal This Week: Dec. 6 – 9": An event of mine was mentioned.
"'It dances in your mouth': why Americans are eating more cilantro than ever": The Grauniad interviews me about cilantro.
"County Supervisors Don't Want to Hear You": My definition of vendido gets cited.
"NM Legislature Launches Redistricting Session": Another plug for a columna of mine.
"Breaking Points": The popular podcast shouts out my idea of rancho libertarianism, although called it "ranchero" haha.
Gustavo Podcast
Latest roster of episodes for "The Times: Daily news from the L.A. Times," the podcast that I host. Listen to them, and SUBSCRIBE. Don't let me become the Poochie of podcasts!
"Kirsten Dunst on her new movie, family and mental health": Crossover episode with our sibling podcast The Envelope with whom I think is one of the most underrated Hollywood stars out there.
"Now hiring! Formerly incarcerated people": Folks convicted of felonies, long shunned in the workplace, now are getting jobs.
"The life and legacy of Jacqueline Avant": The shocking death of a legendary philanthropist.
"There she is, Miss Navajo Nation…": We get a dispatch from the annual competition.
"Today, we feast!": I talk to my colleague Bill Addison about the 101 list that he puts out each year of Southern California's best restaurants.
Gustavo Stories
"Grítale a Guti OUT of Exile!": Latest edition of my Tuesday night IG Live free-for-all brings on the DESMADRE.
"Young football player's traumatic brain injury exposes culture of hazing at Mater Dei High": My latest KCRW "Left, Right & Center" appearance talks about the eternal scandal that's the crown jewel of Catholic education in Orange County.
"Mother of God Rosaries": I appear on Instagram Live to talk about my Catholic faith.
"What is California?": I appear on a panel of this podcast to talk 2021 in the Golden State.
"In Oxnard, a tamale festival persists after becoming husk of its former self": My latest Los Angeles Times columna talks about the latest version of the Oxnard Tamale Festival. KEY QUOTE: "Now, as the Omicron variant blazes across the world, Oxnard's decision to not have its tamale festival in person no longer feels overly cautious; it's downright prophetic."
"Is a 'Viva Mexico' salad Mexican food? A judge will soon tell us": My next latest LA Times columna talks about a terrible salad now at the center of a lawsuit. KEY QUOTE: "But in a Nevada courtroom, a legal dispute involving the items offers a fascinating study of how Mexican food isn't a story of absolutes but rather evolution."
You made it this far down? Gracias! Follow me on Twitter, Facebook, and Instagram while you're down here. Don't forget to forward this newsletter to your compadres y comadres! And, if you feel generous: Buy me a Paypal taco here. Venmo: @gustavo-arellano-oc
**