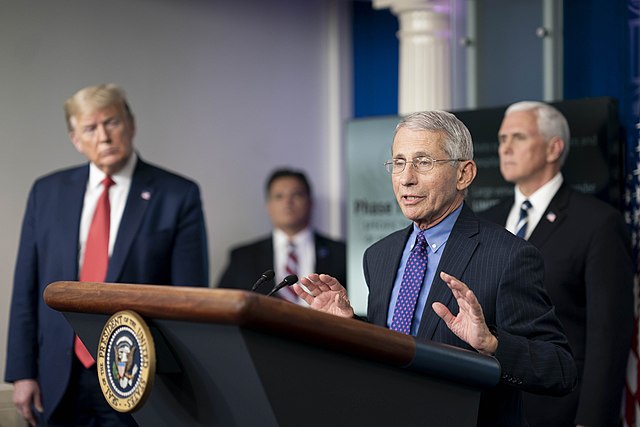 Gentle cabrones:
True-ish story: Anthony Fauci muscled me out of an interview this week.
Kinda.
This past Tuesday, I was supposed to appear on Forum, the veritable Bay Area public radio show produced by KQED. I was supposed to appear to talk about the death of ranchera icon Vicente Fernández, which I covered mucho this week, as you'll see below.
I've been on Forum more than a few times, and was looking forward to it. But the morning I was supposed to appear, the producer who had booked me said my segment was being "postponed" because of "some political news."
That news was an interview with Anthony Fauci. And a weak-salsa January 6 update that the entire world knew about.
It happens.
The producer said there was a possibility that they'd re-book me later in the week, but I knew it wasn't going to happen. I wasn't hurt at all, because I know how news goes (although Chente died but once!).
But it did get me thinking about recordings I did in the past that never got released, and that haven't even been bootlegged so only the most devoted folks can listen to them.
Call them the Lost Guti Tapes.
Roll the memories!
**
First time reading this newsletter? Subscribe here for more merriment! Buy me a Paypal taco here. Venmo: @gustavo-arellano-oc Feedback, thoughts, commentary, rants? Send them to mexicanwithglasses@gmail.com
NPR Gets (Even More) Politically Correct
In 2017, when the L.A. Dodgers faced off against the Houston Astros in the World Series, I wrote a story for Remierda comparing and contrasting the Latino heritage and history between the two cities. My compa, Axios race and justice reporter — and Houston native — Russell Contreras proceeded to trash me online, which got the attention of a brilliant NPR producer.
She booked us for Weekend All Things Considered to talk about it, and the segment was great — we both know our shit, and know our audience. It was set to air…and then Astros player Yuli Gurriel did an anti-Asian gesture at then-Dodgers pitcher Yu Darvish.
So not only were the Astros cheaters; they were racist, too.
NPR decided to scuttle my segment with Russell because they felt that to air it would be insensitive. The brilliant producer was apologetic, but there was nothing she could do.
That brilliant producer? She's now one of my brilliant jefas: The Times podcast senior producer Denise Guerra. Who's laughing now?
The Atlantic Mega-Piece that Might Be?
Conor Friedersdorf is one of two OC-born staffers at The Atlantic that I know — pop culture writer Spencer Kornhaber, a former colleague of mine at the infernal rag, is the other. He's an interesting essayist — kinda libertarian, but lands more on the conservative side of the equation but also has a big heart so isn't an asshole but also tends to romanticize a California that was easy for a gaba to live in but not so much for the rest of us — wait, where was I?
Oh, yeah: I remember years ago when he was doing his own blog and I was getting national notoriety for my syndicated columna, he asked for a conversation on illegal immigration, and I said nah, thinking him too inconsequential.
Who's laughing now?
Years later — I think it was before Trump, or just after — we met for early dinner at Chapter One: The Modern Bistro in downtown SanTana. Said he wanted to interview me for a big project he was working on. We must've talked for a least an hour and a half. I remember saying things about Black Lives Matter (nothing bad), but that's it.
I've never been quoted in a Conor Atlantic story. A couple of years ago, I made fun of him on Twitter about it, and he vowed he was still working on it. So far, nada — it happens?
Blind Item Video Interview Time!
This Ch-list celebrity who I was cool with asked me to do a series of videos about Latino identity for a sponsor of his. I was flown out, put in a nice hotel, and paid a stipend for my time. His sponsor was going to do a whole advertising campaign about it…and nada. The talks were good, if a bit surface-level, because the celebrity inevitably went for the cheap jokes that were nevertheless funny.
This was years ago. Ever since the ascent of Biden, homeboy went…weird. We don't talk anymore.
Canceled, then Not
In late 2017, I appeared on a food podcast that was great, popular, and political. The hosts were actually pretty hard on me for my ideas on food and cultural appropriation, but I had fun. The episode was supposed to air — then wokosos canceled me from my job at Remierda.
The hosts came back and said they wanted to append the episode to address the allegations against me. I refused — what was alleged about me was all bullshit, so why bother? Or, I offered, let's redo the interview completely. They refused, and the episode never aired.
Some months after that, I ran into the host, who asked if I was concerned about those wokosos. I laughed him off and said he should air the episode. Years later, I asked him about it. He apologized for the incident — said he wrongly succumbed to the wokoso mobs, and that if I wanted to come out again on their podcast, they'd be happy to have me. I refused, and said that I hope he learned never to trust wokosos again.
Homeboy's in a good spot right now. I actually tried to recruit him to the LA Times within the past year, but he declined but was flattered — and he meant it.
It happens.
GRÍTALE A GUTI
This is the column where I take your questions about ANYTHING. And away we go…
Do you know about the Westminster City Council trio? I just started paying attention to their tactics. Some real strange behind the scenes shenanigans from what I have heard.
You wanna talk about messed-up politics? Westminster all the way! The Voice of OC does a good job of covering it, as does the OC Register. Maybe I'll look at it one day — or maybe my former-current colleague Gabriel San Román will first. Regardless, Wes: Watcha.
Got a question for Guti? Email me here.
**
Enough rambling. This was the semana that was:
**
Enough rambling. This was the semana that was:
IMAGE OF THE WEEK: Latest Lalo Alcaraz calendar. He'll be selling them at Alta Baja Market TOMORROW, and I'll be there as well — details below!

QUOTE OF THE WEEK: "I realized early that what a man or a woman does is built on what those who have gone before have done, that its real value depends on making the matter in hand a little clearer, a little sounder for those who come after. Nobody begins or ends anything. Each person is a link, weak or strong, in an endless chain. One of our gravest mistakes is persuading ourselves that nobody has passed this way before."

–Ida Tarbell

LISTENING:"Grapevine," Tom Russell. Never heard this song until yesterday, and it's easily one of the best songs about California I've EVER heard. The Bakersfield Sound meets Flaco Jimenez accordions and the Okies right on the Tejon Pass, with sly critiques of both the city AND country life. Who's this Tom Russell cat?

READING: "On the Kurdish Front Lines, It's an Endless Struggle": I just found out about New Lines Magazine, too, and I'm kinda skeptical about their provenance, given they're the writing arm of some D.C.-based think tank. But I can't deny the originality of their stories, or the stellar writing, like this dispatch from among the peshmergas, eternal warriors against tyranny.

SHOUTOUT TO: No one this week, because for only the fifth time, no one gave me any tacos for one of my cantos — it happens.

Gustavo in the News

"Top Moments from 'Alta Live' in 2021": The magazine where I serve as a contributing editor shouts out my interview with Heritage Barbecue chingón Danny Castillo.

"Today's Headlines: Worry, and some hope, with Omicron": One LA Times newsletter you should subscribe to plugs a columna of mine.

"Latinx Files: How a famous pianist picked a fight with reggaeton": Another LA Times newsletter you should subscribe to plugs the podcast.

"Essential California: Warehouse boom, pollution bust": Still another LA Times newsletter you should subscribe to plugs the podcast.

"Volver, volver": My Chente columna gets a shout-out.

"La Abeja": My former student, Melissa Montalvo, shouts out my Chente columna in the Fresno/Sacramento/Modesto Bee's Latino newsletter.

"185 | Mark Yzaguirre: Realignment or Not, Normies Get Votes": A podcast shouts out my theory on rancho libertarianism.

"L.A.'s Streets Are Crying: Taqueros and Stars Pay Tribute to Vicente Fernandez, 1940-2021": L.A. Taco shouts out my Chente columna.

Gustavo Podcast

Latest roster of episodes for "The Times: Daily news from the L.A. Times," the podcast that I host. Listen to them, and SUBSCRIBE. Don't let me become the Poochie of podcasts!

"Next U.S. ambassador to India might be L.A.'s mayor. Huh?": A timely rerun (with a new intro) about the topic at hand.

"Hope, in a time of disasters": I convene our Masters of Disasters for our year-in-calamities-review.

"We (kinda) gift you a box of See's Candies": The history of the best damned quickie present of them all.

"Vicente Fernández, the King": KQED wouldn't have me, but the podcast that I host sure as hell did — already, our second-most listened to episode EVER. It happens!

"Hey, it's our holiday special": I turn the mic over to my awesome colleagues for stories inspiring, poignant, and funny.

Gustavo Stories

"Grítale a Guti, Ep. ???": Latest edition of my Tuesday night IG Live free-for-all brings on the DESMADRE.

"Food, art, OC news: Looking back on 2021": My latest KCRW "Orange County Line" talks about the year in review.

"To Begin Again, We First Have to Look Back": I moderate a panel for Zócalo Public Square on how we can begin again.

"Where we love to take out-of-town guests to eat in L.A.": For this LA Times food compilation, I OF COURSE rep my OC.

"Vicente Fernández, a Mexican musical icon for generations, dies at 81": Myself and my LA Times colleague Carolina A. Miranda had a hand in refining an updating this magisterial Chente obit that was prewritten years ago but was nevertheless 85 percent there when we came across it.

"Vicente Fernández's journey was our parents' journey. Long may they live": My latest Los Angeles Times columna talks about the importance of Chente. KEY QUOTE: "Chente was more than caricature to our parents, especially our fathers and uncles — he was them every step of their life in the United States, where he ultimately became more popular than in Mexico."

"Appreciation: 10 essential songs of ranchera legend Vicente Fernández": My next latest LA Times columna offers Chente's career through 10 songs — complete with a Spotify playlist! KEY QUOTE: "These are not my favorite Chente songs and definitely not yours, but it chronologically tracks one of the greats and shows what made him so consistently spectacular."

"Column: My can't-miss predictions for L.A. and California in 2022": My next-next latest LA Times columna is my annual turn as a prophet. KEY QUOTE: "You're better off going to that psychic right off the 5 Freeway South's Ditman Avenue exit in East L.A. — you know, the house with the neon palm you've always wondered about — than to rely on Gustradamus for your yearly forecasts."

"2021: The year of losing friends": My next-next latest-latest LA Times columna is part of our year-end package and deals with the stupidity social media does to friendships real and Internet. KEY QUOTE: "Then one day, I decided to mute him. I became the very person I always slammed."