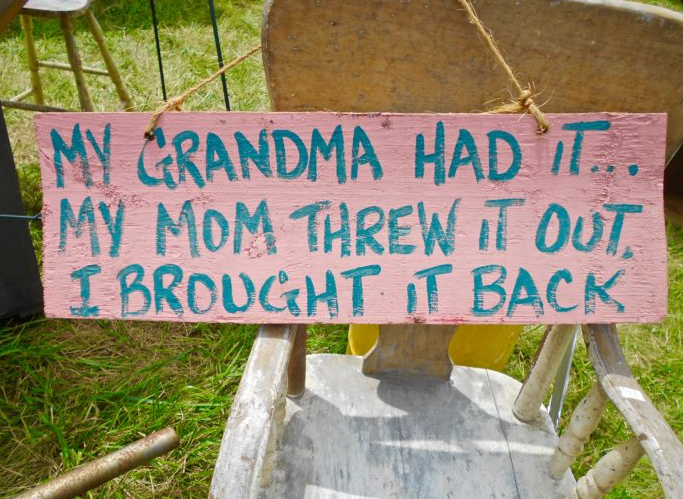 Gentle cabrones:
Greetings from Chattanooga, Tennessee, where they sell bánh mì tacos and mezcal is in all the high-end New South restaurants. The chica and I are here as part of our annual sojourn to the South for the 127 Yard Sale, also known as the World's Largest Yard Sale.
For the past 11 years, we've participated in this unique Southern tradition (for Southern California readers: Think the Rose Bowl flea market, except with far-better products and three times cheaper, spread over 700 miles from Gadsden, Alabama to Who-the-Hell-Knows, Michigan). The chica goes to buy stuff for our house and for her store; I go to drive, eat food, and buy bourbons and Tennessee whiskeys to the point I become a rolling Hi-Time Wine Cellars.
We usually drive and make it a two-week vacation, with a couple of days in Louisville (which I can get to in two madcap days that would make the Bandit and Snowman proud) before we started 127 in Frankfort, Kentucky. We were both too busy this year to do that, so we decided to just fly in to Chattanooga.
Why Chattanooga? We stayed here four years ago, and liked what we saw. Most years, we just drive through here Sunday afternoons on our way to Fort Smith, Arkansas (can you tell I'm descended from a truck driver). It's a small city, by SoCal standards: Chattanooga proper barely has more people than Garden Grove, and its metro area barely tops half a million people.
But it's about to blow up. We saw five hotel projects in its downtown, which was packed tonight on Market Street. New housing projects are coming, as well as distilleries and restaurants.
New readers might ask: What the hell are two Mexican-Americans from Southern California doing vacationing in the South? Don't we feel afraid? Aren't the natives racists? Why the HELL are you writing on vacation?
To the middle questions: No, and rarely. To the outer two: Why the hell not?
It's a one-lane highway most of the way
First time reading this newsletter? Subscribe here for more merriment! Feedback, thoughts, commentary, rants? Send them to mexicanwithglasses@gmail.com
Even as a child, I had an affinity for the South. I knew who Bill Monroe and Flatt and Scruggs were by the time I entered junior high. I loved the good ol' boy schtick of The Dukes of Hazzard, Smokey and the Bandit, Granny Clampett and all those "good" Southern stereotypes.
For me, all that culture was personal: It reminded me of the Mexicans I grew up with from my parents' villages in Zacatecas. Stubborn, fiercely independent funny-speaking mountain people who liked horse racing, guns and drinking a bit much? Hillbillies, paisas, same difference.
But I never romanticized. I always hated Gone with the Wind, because I knew it was racist propaganda. I knew all of the problems the South offered, but wanted to see it for myself. So when I had a chance to visit, I went.
Why the hell not?
My first visit was Georgia Tech, fall of 2006. My best friend, his now-wife and I then drove out to Louisville the following year—that was the time I drove non-stop for about 28 hours before passing out on the side of the road somewhere outside Rolla, Missouri. We ended up at a hipster cafe in Louisville…and were promptly othered. Hola, y'all!
127 sign that's also a wonderful metaphor for American fascination with nostalgia
But I didn't let one experience define the South. I kept going. I not only enjoyed it, I could also sense a well of stories no one had ever tapped into.Flash forward to today. My name is on the cover of Time PINCHE Magazine as one of their contributors to a special issue on the New South (I shared the article last week, so go into your inbox and find that article). I was able to do contribute because I cover the South for the Southern Foodways Alliance, the amazing nonprofit that documents the trials and triumphs of the South via food. I'm a regular columnist for their James Beard Award-winning journal, Gravy.
What the hell is a Mexican from Orange County doing writing a column about the South?
Why the hell not?
Anyways, pickled cayenne peppers await me in Pikeville. The lessons y'all should learn from this Canto: Don't judge until you've experienced something. Stories abound everywhere.
**
Enough ranting. This was the semana that was:
LISTENING: "Take on Me," a-ha. Every time we road-trip, my wife and I listen to First Wave on SiriusXM, especially when DJ legend Richard Blade is spinning the ones and twos. This isn't my favorite song, and I personally think it's overplayed—but every time I hear it, I think of my road trips with my wife—and I smile.
READING: "Literary ambition. Fabulous parties. A hidden past. Who is Anna March?" A hell of a yarn in the Los Angeles Times about a literary cypher who has left a trail of angry people behind her.
Exclusive to GustavoArellano.org:
"Abuse Tracker, Influential Blog That Covers Catholic Church Sex-Abuse Scandal, Continues in Wake of Author's Death": Exactly what the story says. KEY QUOTE: ""Tracker is still going to be going 10 years from now," McKiernan says. "It represents the multifarious nature of this tragedy. If only Kathy were here to preside over those changes. We feel a responsibility to do it well because she did it so well, and we want to carry that on."
Gustavo in the News
"Cultural Appropriation Tastes Damn Good: How Immigrants, Commerce, and Fusion Keep Food Delicious": My latest video for Reason.tv takes place at Burritos La Palma in Los Angeles and touches on the passing of Jonathan Gold.
Gustavo's Stories:
"When the Jewish Bakers of Boyle Heights Were Radical Socialists Instead of Trump Supporters": My latest for L.A. Taco weaves in challah with gentrification to recover long-forgotten barrio history. KEY QUOTE: "By tying their faith with their food, Local 453 made "buying union" not just a political act but a cultural one. As a Yiddish proverb that Luce happily cites said, "beser dem beker vie dem dokter" — "better to give to the baker than the doctor."
"Of course Latinos can assimilate into American society. Just look at Whittier": My latest California columna for the Los Angeles Times tackles the city where the girls are prettier and the pocho politics shittier when it comes to taco trucks. KEY QUOTE: "The Whittier merchants might argue economics, but the real motivating factor is the fear of association with unwashed upstarts when the earlier arrivals have worked so hard to fit in. They don't want the dominant white culture to group them with "them."
"Mission Viejo to do cumulative voting for council races": The subject of my latest KCRW-FM 89.9 "Orange County Line" commentary.
You made it this far down? Gracias! Follow me on Twitter, Facebook, and Instagram while you're down here. Buy me a Paypal taco here. Venmo: @gustavo-arellano-oc. And don't forget to forward this newsletter to your compadres y comadres!