This article was generously funded by the Aztlán Journalism Fund — gracias, anonymous donor!
At the small café with no outdoor signs at the bottom of the Union Bank building in Orange, Adam Amarith, Linda Chan, and Angel Thong are huddled around a computer.  It's 10 in the morning.  They're supposed to have a meeting with a reporter at 10 in the morning.
"We'll be with you in a bit. Can you wait like five minutes?" asks Angel the manager.
The reporter says that's fine.
As the reporter waits, Neil Diamond's "Sweet Caroline" plays through the speakers of the restaurant, hoping, but at the same time not hoping, that the horn section plays before the interview begins. To the delight of the reporter that would get distracted if the "Bomp, bomp, bomp" blared during the interview, it does.
Jackson Browne's cover of "Take It Easy," follows. The reporter then hopes, but doesn't hope, that he gets to the "It's a girl my lord/in a flatbed Ford" line before the interview begins.
It doesn't.
If you're driving and not looking for Amarith Café, you won't find it. Not unless you have eagle eyes that can spot the small, A-frame signs carted out every morning by an Amarith Café employee (it's Sabrina's turn today) and placed outside near the corner of Main and La Veta streets on the Union Bank building side of the street showing you where to go.
A Yelp search reveals that it's there, so you park in the lot for Union Bank, on the other side of the parking gate, in the 20-minute parking, hoping that your French toast order takes less than that 20 minutes to make. Even if it didn't, there's no one at the bank offices right now anyway. There's a pandemic going on.
Once you make it inside, you'll find a framed 2016 review that Gustavo Arellano did for OC Weekly. "Park across the street at the CVS parking lot to avoid fees from Union Bank." Noted. Next time.
The review also goes on to describe Amarith Café as an "office-tower oasis." A perfect description. The little café with no outside signage at the bottom of the Union Bank Building in Orange eschews the foods associated with bottom-of-the-tower cafes (the pre-packaged sandwiches, chips, snacks, and sodas) with an eclectic menu, ranging from blueberry pancakes to "near-perfect chicken nachos" as Arellano wrote in 2016. And it's all made from scratch, without preservatives, MSG, or GMOs.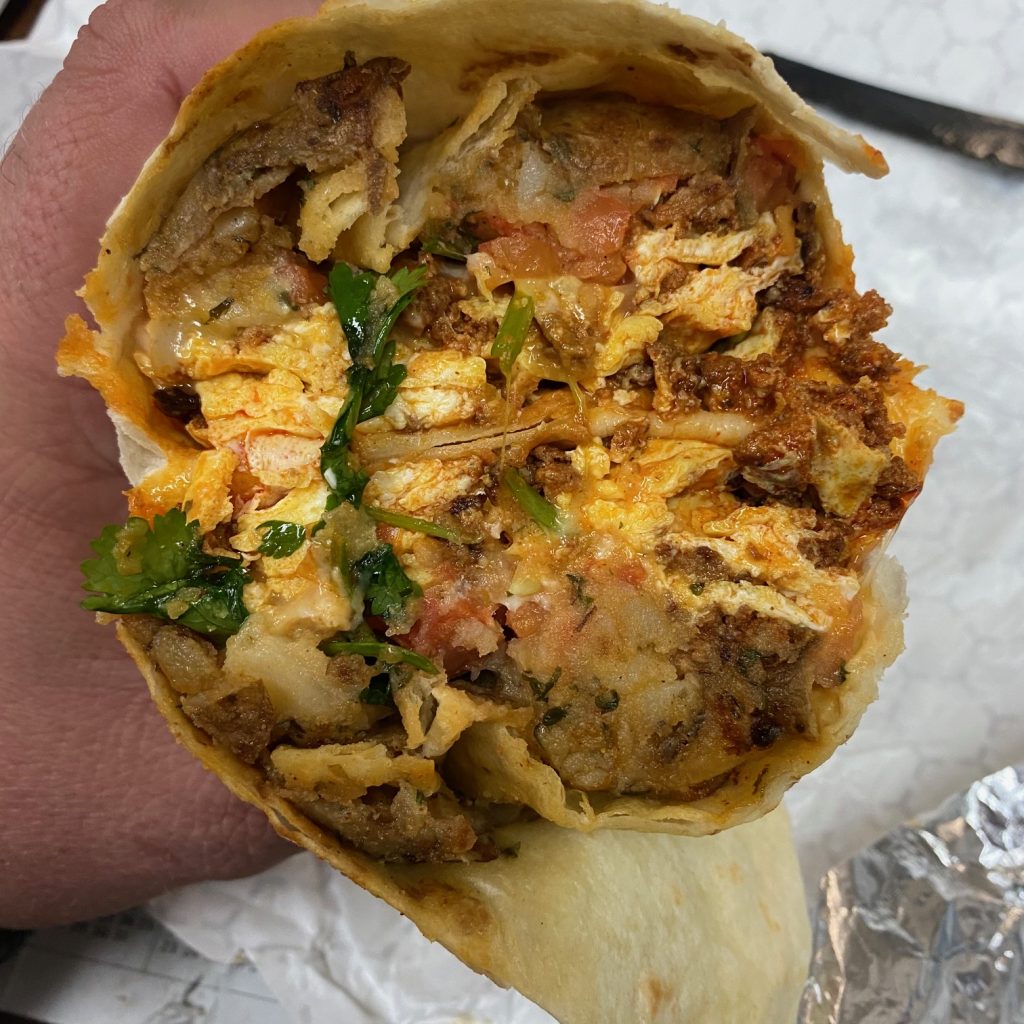 2020 left many restaurants devastated. Some couldn't financially recover and permanently closed. An office café that stayed open, even with no one at work in the cubicles above it, would surely fall victim to the dumpster fire of a year that was 2020.
"We have zero to little support from our property manager," says Linda Chan, head of Research and Development at Amarith Café, as she takes a break from typing away at her laptop. "We are not allowed to have any major signage permitted on the property."
The small, glass etched logo on the café doors and the aforementioned A-frame foldable signs are the only visible signs letting the public know where they are.
When not seeing clientele from the Union Bank building above it, the café has relied heavily on CHOC and St. Joesph's hospital located on the other side of Main Street for large lunch or breakfast orders. However, what goes on during a normal week is just one of many endeavors that the café has taken to stay afloat and keep their staff fully employed during the process. After hours and on weekends, this small office café at the bottom of the Union Bank turns into a catering company, at times churning out 2,000 orders for parties and clientele for hotels and events as far away as Downtown Los Angeles.
This goes back to Amarith's belief in staying resilient and exhausting all possibilities before even considering closing up, because for Adam Amarith, a global pandemic isn't going to beat him or his family. It can't. There's much more on the line than chicken nachos.
Cooking has always been a part of the 62-year-old's life. As a child, he spent hours observing his mother in the kitchen, who according to Chan, was a "master" in the kitchen and often regarded in their part of Cambodia as the best chef, preparing meals daily. But, Amarith didn't set out to follow in his mother's footsteps in the culinary world. Instead, he wanted to be a doctor, and he studied and worked hard as a teenager to do so.
Then, Cambodia fell to the Khmer Rouge.
He and his three older siblings played down their education in order to be sent to a work camp instead of an immediate "reeducation." That didn't stop the Khmer Rouge from killing once inside the work camp. For four years, Amarith endured terrors and watched as his father and other siblings died under horrific conditions.
"You can either choose to hate and be angry or you can not give up," Amarith recalls his older brother telling him while in the camp. "But you still die either way."
These were the last words he told Amarith before being executed in front of him.
It was cooking, though, that saved Amarith's life. Without proper tools or a team, and recalling every last bit of culinary knowledge that he gathered from his mother, a teenage Amarith was responsible for preparing 500 meals daily for workers and guards at the death camps. The penalty for not performing properly? Execution.
"I thank God that I'm alive," sighs a grateful Amarith.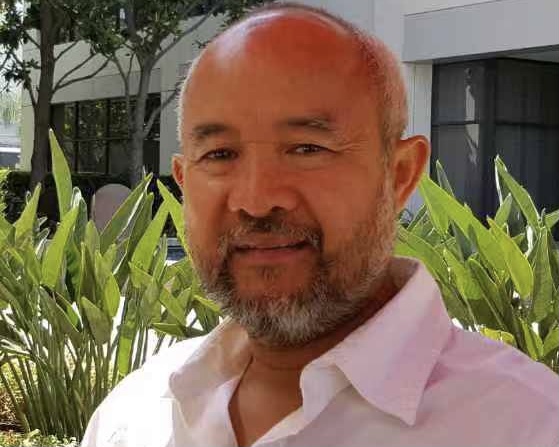 In the decades since escaping Cambodia, Amarith has devoted his life to giving back and credits a lot of that to finding and embracing his faith and to his brother's last words. Before opening up the café in 2013, he worked at a school district in the IT department and served as the Senior Pastor of Grace Koinonia Church in Long Beach. Now, in addition to the café, Amarith, as well as Chan, are involved with real estate and development, flipping homes and reselling them or renting them to families in need of shelter.
However, much of this revenue goes back to Cambodia. Partnering with a non-profit organization through his church, the Amarith family assists towns throughout Northern Cambodia to get access to clean water and farms.
The Amariths also act as go-betweens for these same residents in Cambodia and their doctors, often paying for their medical care. Amarith explains that there is a woman in a village dying of lupus. His family is taking turns rallying church members, talking with doctors, and advising the patient's families on how they should proceed with care.
"That's the reason why we were late getting started today," explains Chan. "We were consulting with a family in Cambodia."
"Pastor Adam" as many at the restaurant lovingly refer to Amarith, begins to tell the story about the woman with lupus that they are helping, and how five villagers had to have her propped up on a motorbike as they rode to the hospital. "If you don't have the insurance, they just leave you in front of the hospital to die. So, if we fail here, they die."
**
Amarith Café isn't on a mission to change the world, just their small corner of it. Since opening in 2013, they have committed to using fresh ingredients and staying steadfast in not cheapening their product. If there was a time to sacrifice on product and values, the year in which the world shut down because of a global pandemic would have been the year. That's not the case for the small café at the bottom of the Union Bank Building with no outside signage in Orange.
"When we close, we don't go home and take off our shoes," says Chan. "We are working to research our business. Upgrading and updating."
Angel Thong has been there since the beginning, working there while as a freshman in high school when the restaurant opened. She's now general manager of the café, as well as one of the many 2020 graduates to receive their degrees or diplomas in virtual or drive-in ceremonies. Keeping a café running in a year without a pandemic isn't easy, yet trying to complete your courses via Zoom in a year where there is one, makes the job even more arduous.
"We did a 180 turn selling essential items for our customers right around the time I started taking my finals," recalls Thong. "It was a huge relief knowing that I had the support of the family being able to jump in if I couldn't be there."
For a family that spends so much time giving back and thinking of ways to stay afloat, a much-needed second location will hopefully allow them to truly get their name out there. Taking over the old Waterfront Café building in Garden Grove (conveniently located next to more office buildings), the café will finally have the ability to have signs on the exterior of the building and a parking lot that doesn't require fees or validation in order to park.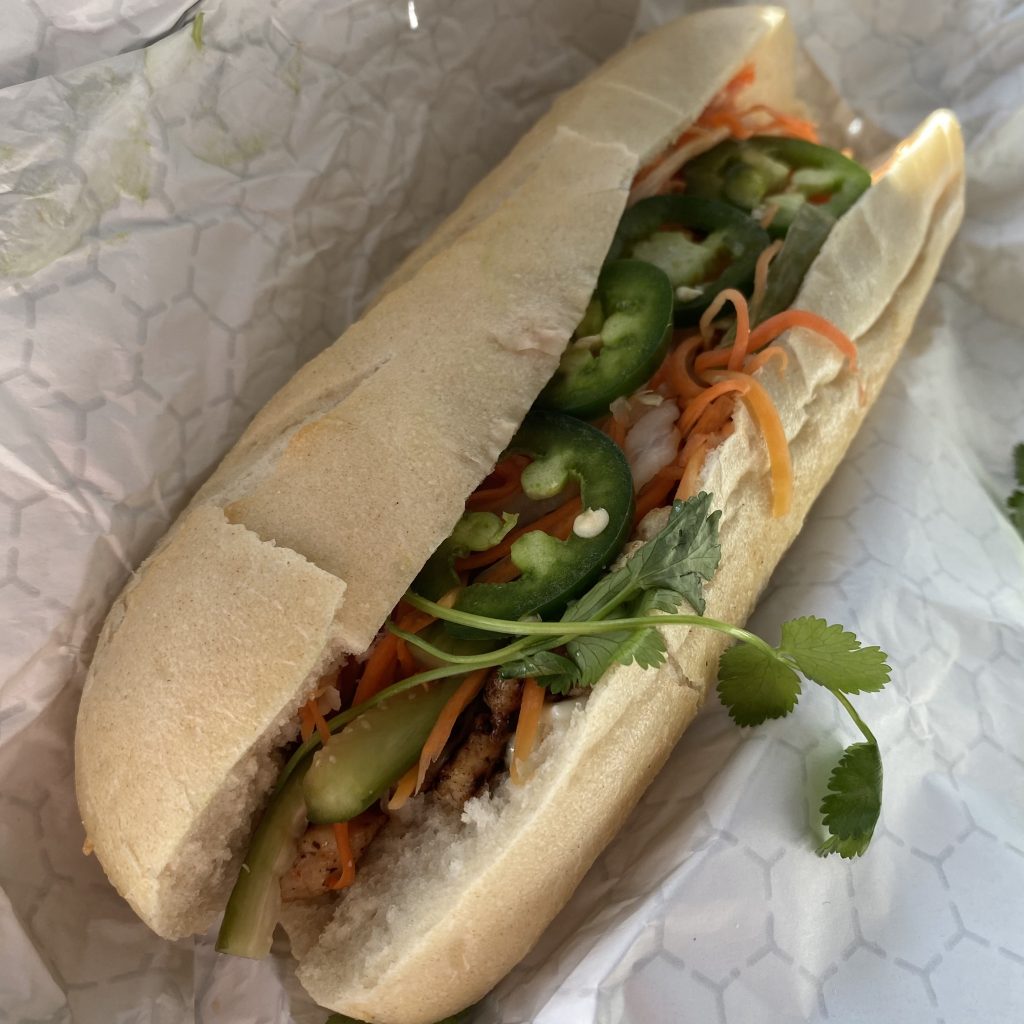 The Waterfront Café has been abandoned for a couple years already. The menu and the location were in decline before it closed, catering to the 65+ crowd that didn't mind bland fried chicken or watery pot pie. Its biggest purpose now is serving as a gym location for Pokémon Go.
But, if there's any family that is up to the challenge of reviving the location, it's the Amariths.
"We are not a people who give up easily, reminds a confident Chan.
Soon, The Waterfront Café will become Amarith Table, the 'table' portion of the name being a homage to Lok Yay, or "grandma," and other family chefs as a place where people were welcomed and shared home cooked meals. To the Amariths, the dining table was a place where the body, as well as the heart, received nourishment. When you take into consideration the ideals that Amarith has tried to abide by since escaping Cambodia, this goes way beyond a 'Live, laugh, Love' sign hanging in someone's kitchen. There's truth and belief to these convictions, that people can do amazing things if they can just come together and share a meal.
Keeping to their core beliefs on investing in their employees and their customers, the Amariths believe that both of their restaurants can get people to rethink what they think of when they think of "healthy food." It was their goal when opening the café in 2013, and it remains their goal eight years later.
"When you craft the food to taste good, you change their preferences," says Chan.
In an age where flashiness and excess are used as means in an attempt to stay afloat, Amarith Café is there, holding firm, staying true to their convictions of making healthy food taste good, taking items such as the chorizo breakfast burrito, but having it come without the grease bomb usually associated with it. There are also acai bowls and bags of moringa powder and red reishi mushroom extract if you want to get really healthy.
"Helping people makes us feel good. It gives us life," says Pastor Adam. "We just strive to remain honest, genuine, and have integrity and conviction for our family. We want to share that with the world."
Through it all, the staff has remained employed. No shutdowns. No closures. Just thinking of ways to stay ahead of the curve, while at the same time trying to hold true to their mantra of sharing with their friends, family, and the community; a philosophy that carries over beyond just food. The positivity and love that starts at the top, works its way down until it reaches the customers, who really aren't customers in the eyes of the Amariths.
"People are depending on us, so we have to make it. Our employees are like family," says Amarith.
"There's always enough," reminds Chan.
Amarith likes to think that he has the mentality of a gladiator, but there is a calm demeanor when talking to him. A quiet, reassuring confidence that everything will be okay in the end. A reminder that he has experienced and witnessed tragedy far greater than wearing a face mask when going out into public for a year.
Because, for the Amariths, the greatest tragedy would be not trying at all. To throw in the towel. Knowing that by doing that, the ramifications would run much deeper than just closing the doors of a café.
"No matter where you put me, I have learned to be happy," a smiling Amarith remarks.
And right here, inside the small café, with no outdoor signage, at the bottom of the Union Bank building in Orange, is where he and his family need to be.
Amarith Cafe, 500 S. Main St., #102, Orange, (714) 667-8045. Instagram: @amarithcafe
Sean Vukan is a Disciple of Guti trying to make it in this food journalism world one story at a time. Follow him on Instagram @seaneatsanddrinks