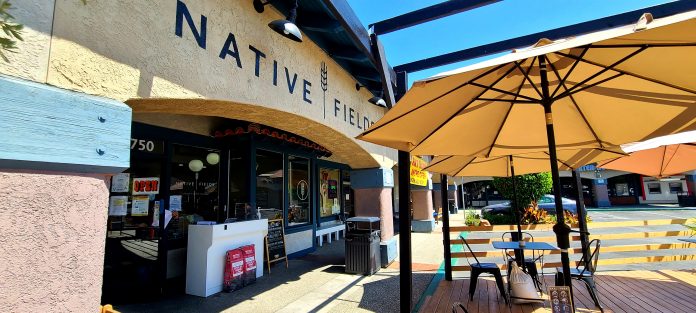 This article was generously funded by the Aztlán Journalism Fund — gracias, anonymous donor!
"The biggest failure you can have is giving up!" said Cathleen "Cat" Castenda, chef/owner of Native Fields in Walnut, and that's what she didn't want to do.
We sat inside by the front door of her restaurant, a renovated insurance office in a shopping plaza in between two nail salons. The quote "Don't Panic, It's Organic" was painted on the left wall, a friendly reminder that the food is made fresh so you're going to wait for a bit.
Castenda saw the outside patio and the staff work inside the kitchen because there was no indoor dining. The look on Cat's face could tell you the frustrations restaurants have weathered through the COVID-19 pandemic — but also the resolve it gave her to continue. When I first talked to her in March, Native Fields had just celebrated their three-year anniversary, but all she could think about was 2015.
That's when her dad was diagnosed with non-Hodgkin's lymphoma, and passed away six months after.
"I was jobless, husbandless, and pregnant with my second son," she said, shaking her head while looking down.
Castenda had quit her job as head chef for Forage in Silver Lake so she and her sister could take care of him. They put him on a strict organic food plan. At the time, they thought their father was going to pull through.
She was able to recover from depression with the help of friends and became a private chef for a billionaire, which she saw as just a temporary thing. Then one day while driving home, she noticed a new gym in the shopping plaza not too far from her house, where Native Fields now stands. Her mom once had a business in that same plaza. Family members thought she was crazy to start a restaurant there because it's in the middle of a residential neighborhood and not near any other businesses.
Her first business partner was all in until he decided to back out telling her that it wasn't going to work. But with the little money her late father left as an inheritance for his children, Native Fields opened in the spring of 2018. Castenda went to her boss about her idea and he gave her great advice: Do it, and if you fail, so what. At least you tried.
The death of her father still fresh, Castenda centered her new place on providing healthy food to the community at an affordable price. " We should have access to healthy food. It shouldn't cost you an arm and a leg. This is our health we're talking about," she said, pointing outside to the local drive-thru chain in the shopping plaza.
Native Field was an instant hit in Walnut, a small, middle-class city in the San Gabriel Valley. Customers loved eclectic, organic dishes like fried eggs with romanesco over grits for breakfast and spaghetti and clams for dinner. But right around the restaurant's two-year anniversary, Castenda had to close its doors due to the pandemic.
Native Fields went through many adjustments to try and survive. They went from a dine-in restaurant, to a take-out only. They sold meal prep and turned into a grocery store. It carried the everyday essentials for home and PPE supplies. But the most important decision seemed to be the most obvious: did she want to continue to keep organic — which remains more expensive — or try to cut costs?
Castenda always studied where her food was being planted and how it was taken care of. Most big farms that claim to be organic aren't, she says. They wash their produce in chlorine solutions because it's mass produced, making the organic produce smell like bleach. Farms must have great work ethics and values like Native Fields for her to work with them.
"I believe that everyone deserves to have access to delicious organic food," Cat explained. "I gave it no thought — [staying organic] was the right thing to do."
**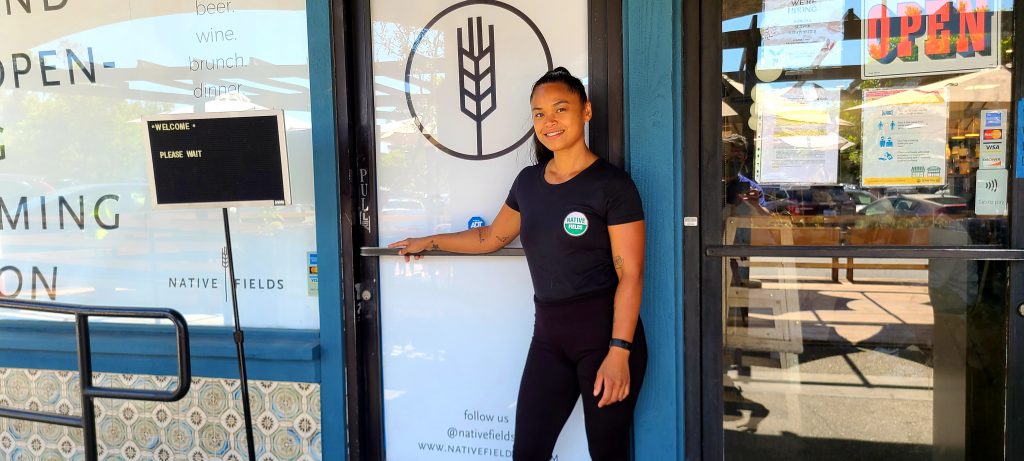 It's 8 on a Sunday morning, and chefs and home cooks alike are waiting for Monte Vista Farms in Chino to open. One of them is Earl De La Cruz, sous chef at Native Fields since the start. He was hired as a cook while attending Mt. San Antonio College, where he was enrolled in their culinary program. Native Fields is his first job in the industry.
De la Cruz was at Monte Vista Farms to pick up herbs for the week. He explained why they started going with this farm while double-checking his order, "It was right at the beginning of the pandemic and a lot of the farmer's market had to shut down," he said. "That's why we had to go to the actual farm. They were also affected and all the markets were closed."
He took me on a quick tour of Monte Vista. I quickly smelled the fresh basil and oregano. De la Cruz has grown to be the lead cook, and Castenda has given him more responsibilities. She trusts him to train new hires, order, produce and maintain the kitchen. he would have never learned in school the lessons Castenda taught him, like customer service or time management.
"Cat is such a great mentor and friend," said Cruz while placing a box of herbs in his car. "She took a risk hiring me and I'm grateful to her."
We left the farm and headed to the restaurant before Native Fields opened at 9 a.m. Jacob Estrada and his sister Hannah were putting away cups and writing customers' names on the waiting list when I arrived. Hannah is one of the front servers and Jacob is the barista. They both started in September, when L.A. County finally allowed outside dining after months of shutdowns and stayed on even after the shutdowns returned a couple of months later before the big winter COVID-19 surge.
Hannah at one point had a COVID scare and she stepped away for three weeks to follow the standard protocol. Castenda made sure that she was okay and told Hannah to take whatever time she needed.
"I freaking love this job," said Hannah. "I love being in the front. We have tables that really make my day and I look forward to it." She once worked at a factory job and it was the same thing everyday, from beginning to end. At Native Fields, the environment is so welcoming that she feels that she's a part of something bigger.
She was about to say what that was when the conversation stopped. It was time to work.
9 a.m. hits and the customers line up either to pick-up online orders or wait to be seated. Etta James's "I'd Rather Go Blind" plays over the outdoor speaker. The customers talk about what they want to order. Some guests don't even need a menu because they're regulars and they usually know what they want.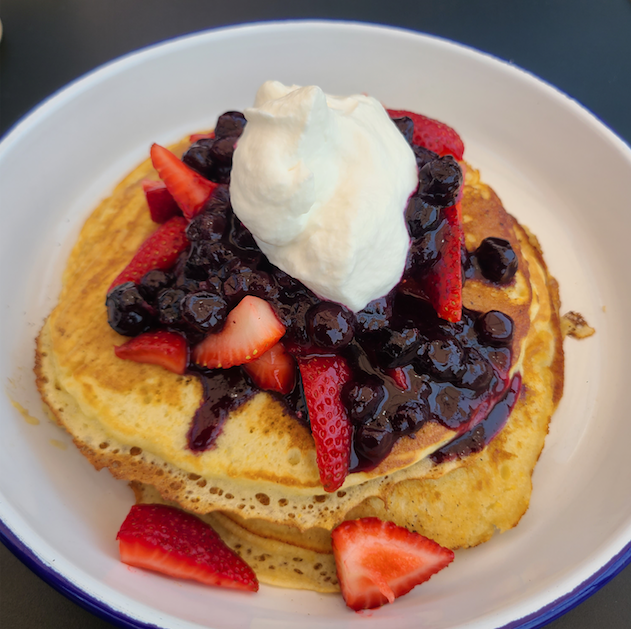 One customer walking to his table made sure to let the server know that he has to start his day with the Orange-inal Gangsta smoothie, a light-colored orange smoothie made with fresh strawberries, bananas, orange juice and flaxseed served in a mason jar.
Another eater in the far back shouted "Everything is good on the menu — just order something already." I asked him to elaborate but he declined, stating that he was eating. He was having pancakes made with a blueberry compote-ricotta batter, then topped with fresh fruit toppings and freshly whipped cream and accompanied by a smoothie.
"Everything about this restaurant shows to our customers that we're family owned and we're organic, and that's what people like," said Jonathan Campos as he folded the clean towels in the back. He's been at Native Fields for three years.
The customers were very supportive and appreciative even when they converted to a grocery store. Campos had his concern about the change and how customers would respond. But the outpouring of support from customers was reassuring. That's why he loves everything that Native Fields stands for, so much that he even got the restaurant's logo tattooed on his chest.
"I've been here since we first opened our doors and this place is family to me," Campos said while showing me his tattoo.
Castenda had to step away and help out with the orders that were ready to be served. She effortlessly grabbed a serving tray and placed it on her left arm and put the two main dishes with their sides on top and was on her way. She has gone through some difficult times with the restaurant but she always knew how to overcome the situation. Castenda never panicked over the pandemic because she knew her business was essential — not just legally, but holistically. Community. Closing up was never an option.
Her team had to set out a plan and succeed, and they focused on advertising the business. That plan worked: the sales percentage jumped dramatically after a few weeks. Within three months the numbers were back to normal.
Castenda made a donation three years ago to a culinary garden at Cal Poly Pomona. It helped jump-start their urban agriculture program and the restaurant also buys their fresh produce from them. The students learn how to farm sustainably and the produce they sell goes back to the program.
Native Fields even accepts EBT because they believe that everyone should have access to healthy food. With the success of the restaurant, they're expanding and taking over the old nail salon that was next to them. Castenda will be able to hire more staff and serve alcohol after her license gets approved and the expansion is completed. It will open late summer or the early fall of 2021. The expansion will have more seating along with a market and bar inside.
When you dine at Native Fields, the customer is also supporting different organizations and nonprofits when they're dining. Castenda has worked with the YWCA chapter in San Gabriel by helping them serve 300 meals for seniors in the San Gabriel Valley area. With the expansion, she looks forward to do more.
"Even though we spent thousands of dollars to be sustainable and serve organic food, we believe that our customers and community deserve it," said Castenda. She looked around her restaurant with watery eyes and a smile on her face. "That will always be my mission."
Joe Bautista is a writer and photographer in La Puente, a regular foo from the neighborhood who wants to see his community and friends succeed. Follow him on Instagram @lapuenteeats