The last time I had a kamayan was for my birthday two years ago in July. My brother K.C., his girlfriend, Jasmine, and my sister, Clarizza, drove down from Los Angeles to my place in Orange County for the occasion.
Outside in the shade, while K.C grilled, Clarizza and Jasmine fanned out banana leaves and spread them across a long table like bedsheets. They molded rice into a mound that stretched over the green terrain, and built a burgeoning layer of meat and fruit around it. Soon, barbecued chicken spilled out of halved and hollowed pineapples. Crisscrossed mangoes bloomed like flowers; shrimp cascaded onto crispy lumpia. Small bowls of suka (vinegar) appeared like lakes bordering this edible mountain. 
If you've never heard of a kamayan until now, you're probably thinking it's the kind of feast you roll out for birthdays, weddings, and other big parties filled with family and friends. That's right, but it's only part of what makes this Filipino feast so beloved.
While there are no hard rules for kamayan (Tagalog for "by hands"), it's likely that you'll dig into a composition of longganisa, grilled chicken and pork, blanched bok choy, and fried fish served with suka, patis, and Mang Tomas. Yet above all this edible grandeur, kamayan is a way for the Filipino diaspora to reclaim our ancestral roots.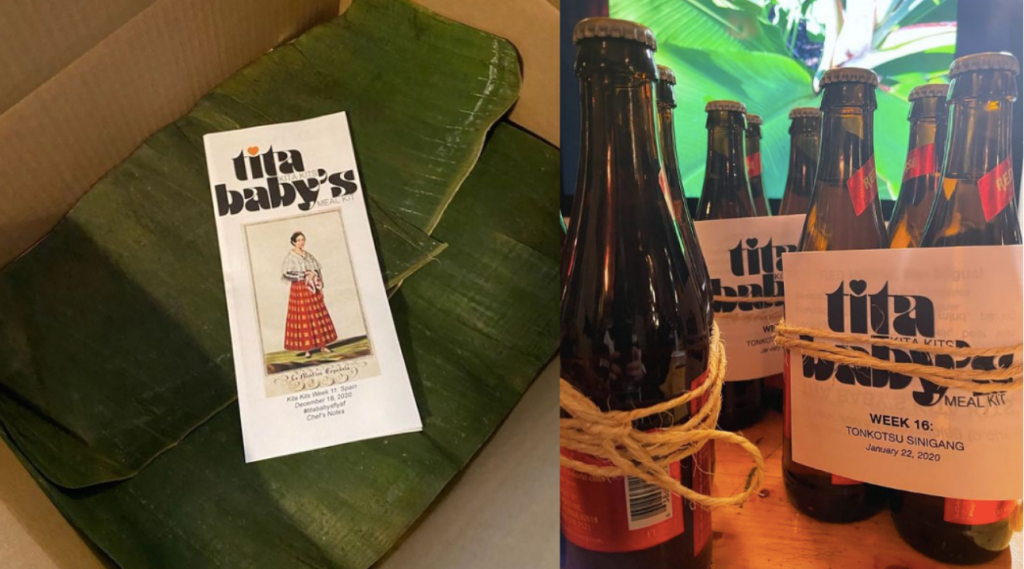 The colonization of the Philippines by the Spanish in the 16th century led to the Westernization of Filipino culture—the loss and dilution of native tongues, religion, ideals, art, and communal customs like kamayan. When Spain ceded control of the Philippines to the United States with the 1898 Treaty of Paris, the war to dilute Filipino identity doubled down.
But in recent years, a resurgence of Filipino pride has seen restaurateurs and chefs across the United States and Canada bring kamayan to the forefront. From Jeepney in New York (where their Adobong Hipon (head-intact shrimp cooked adobe-style) snakes along the table) to a holiday kamayan filled with kare-kare kabobs at LASA in Los Angeles, restaurants have brought their own interpretation of kamayan to their communities.
While the pandemic has brought the dine-in kamayan to a pause, many Filipino restaurants are bringing the experience to your home.
Lemuel Guiyab, owner of Silog in Torrance, California, calls it "Kamayan, Covid-style." When the pandemic hit, Guiyab closed Silog for the first two months, serving front-line workers during that time. Then, "it clicked." In mid-May, together with his wife, daughter, and tight-knit team, he began to create kamayan kits — rolled up bundles of banana leaves with boxes of rice and an array of meats, delivered straight to your door.
The kits have gained a following in Southern California, and customers are known to drive from Irvine just for the sisig. "We're not too fancy, just like our name, which is literally garlic, rice, and egg," said Guiyab. "We've had guests order kamayan for four and next time order it for a different set of friends."
Recently, Silog catered a COVID-conscious wedding, where each guest had their own mini kamayan spread atop individual banana leaves.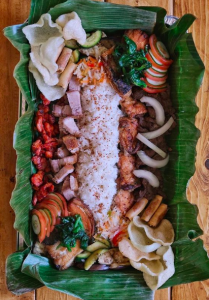 In Toronto, where the weather frequently drops to 20°F during this time of year, kamayan kits have been a way for family members to gather, even if done virtually. Kanto, run by Diona Joyce, was among the first restaurants to bring kamayan home in the city. The business, which comprises both a catering company and a brick-and-mortar restaurant, relied on corporate tech for 90% of their catering business. When the corporate lunches began "dropping like flies," Joyce was quick to adapt.
"We were racking our brains on what to do, people still need to eat Covid or no Covid," she said. "There's still people celebrating birthdays and anniversaries. So I made a kit and launched in March." 
Joyce has delivered the kits to numerous virtual kamayans, where different households order their own meals and gather on Zoom to feast together. "There was a time in the summer where someone ordered 20 kamayan kits for a baptism and gave one kit to one couple, one inang, and did it virtually."
Back in New York, Nicole Ponseca, founder of Jeepney and co-author of the James Beard-nominated book "I Am a Filipino," has crafted her own version of Filipino communal meal kits—Tita Kita Kits. Ponseca always tries to challenged the way we view ethnic cuisine since she entered the restaurant industry.
"I always like to find the void. There was a huge void with COVID and dining," said Ponseca. "From the get we've always been about an immersive experience and storytelling. It was always about a creative vehicle and the medium was food."
Each Tita Kita Kit offers a rotating menu "featuring regional, obscure or time-consuming Filipino dishes." The food arrives fresh and is either pre-cooked or partially cooked, with instructions on how to heat or flex a few skills in the kitchen. The personal touch from Ponseca comes from the op-ed letter she includes with every kit, giving context on the story and history behind the meals, along with a Spotify playlist via QR code.
Notably, the kit offered after the US Capitol riot included a letter from Ponseca juxtaposing the Philippines and the coup attempt during the Marcos regime, a painful time in Filipino history, to America's current social and political climate.
For Filipinos, kamayan is a way to remember and celebrate where we came from and who we have become. And whether virtually or contained within the walls of our home, kamayan provides a mechanism that brings friends and family together when human connection has never felt more essential. As Joyce put it, "Our kits represent joy and bring us together."