Gentle cabrones:
In the corner of my closet is a bag filled with Western-wear shirts, faux-pearl buttons and all.
I bought them a year ago at a Starr Western store in El Paso, a day before I left my favorite Texas city after a weeklong assignment. I've favored checkered shirts since high school, and needed to look spiffy — and with Texas' lack of much taxes, I scored!
The trip was my official start to 2020. With a new wardrobe — my first in years (I wear my shirts until they're frayed AF) — and a new responsibility for the LA Times, I was ready.
Coronavirus? Wasn't real.
The last store I remember visiting El Paso was a CVS Pharmacy. I remember it specifically because the thought crossed my mind to load up my Yukon with hand sanitizer and toilet paper and sell them at jacked-up prices back home, where the items were already in shortage.
I didn't, of course, because I'm not an exploitative jerk. But by the time I returned home to Anacrime, even Home Depot didn't have masks. Even Restaurant Depot didn't have hand sanitizer. Hygienic paper? No se hablan de esas cochinadas.
My editor told me I had to quarantine at home for two weeks, which was a new rule for any LA Times reporter who had reported outside of California. That put me in the same boat as the Skeptical Squirrels, the secret society of Times reporters to which I belong.
We grumbled and joked and waited. I bragged about my new shirts.
I've yet to wear them.
**
First time reading this newsletter? Subscribe here for more merriment! Buy me a Paypal taco here. Venmo: @gustavo-arellano-oc Feedback, thoughts, commentary, rants? Send them to mexicanwithglasses@gmail.com
51 weeks ago, I wrote a post about the wait we all had to weather while we saw whether coronavirus would be the new 1918 influenza, or the biggest flop since John from Cincinatti.
Coronavirus hasn't killed as many people as the 1918 influenza, but it definitely wasn't a flop. Instead, it's wrecked lives, the economy, and our sense of unity in a way the older pandemic could've never imagined.
More importantly, it's put so much on hold. Weddings. Funerals. Education. Growth.
Even as vaccines increase and coronavirus rates drop, many don't see hope in their lives (and too many people DGAF about the despair of others because they're PANDEJOS).
Many see 2020 as a lost year. You shouldn't. You all have a bag of shirts in your closets, real or metaphorical, waiting for you to open and try on. Coronavirus took a lot from all of us, but don't let it take your plans and hopes.
My 2020 changed dramatically. The story I spent a week on in El Paso will probably never publish, or at least not until I return. And I will.
Instead, my 2020 saw me have to adapt in ways I never imagined. A year later, I'm now a columnist and about to host the LA Times' daily podcast.
And I still have those shirts waiting for me.
I'm still a ways off from cracking open that bag (I still need a vaccine, for one). But I will wear those shirts this year, insha'Allah. Gonna look like a cholo nerd version of Howdy Doody, folks!
GRÍTALE A GUTI
This is the column where I take your questions about ANYTHING. And away we go…
The historical journalism you write is what I wish would make it to the big screen. The depth of it. You have so many stories — have you ever written about how your work is not considered for film?
It's not even considered for television! I've hinted at a giant rant I'll write about the death of Hollywood Gus over the past couple of years, and I just had yet ANOTHER dalliance that soured me on the industry anew. But let's just say I'm waiting on one more tomato to hatch — but I'm not counting it yet.
Got a question for Guti? Email me here.
**
Enough rambling. This was the semana that was: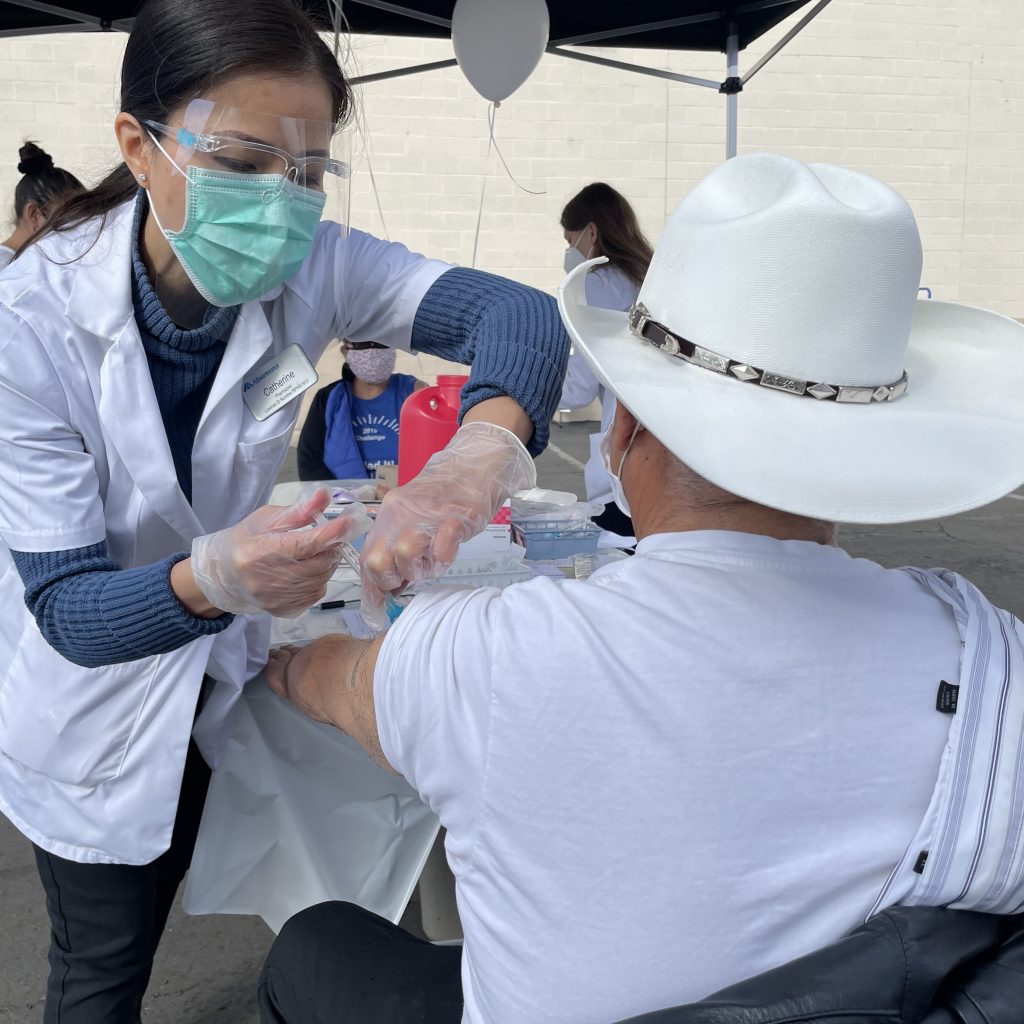 IMAGE OF THE WEEK: My papi getting his second Moderna vaccine while wearing his nice tejana. Get a shot if you can, and #wearamask

QUOTE OF THE WEEK: "INTERVIEWER: How about writers as leaders? Yeats, for instance, held office. 

W.H. AUDEN: And he was terrible! Writers seldom make good leaders. They're self-employed, for one thing, and they have very little contact with their customers. It's very easy for a writer to be unrealistic."

–As quoted in The Paris Review

LISTENING:"Story of My Life," Social Distortion. I gave a presentation on Orange County yesterday to…some folks… where I and others talked about how much OC has changed, and this song is proof. Long gone are the working-class, non-racist OC gabas that Mike Ness lionized in this wistful, punkabilly jam and that I grew up with. They're all now middle-class Trumpers or worshipping QAnon in Eastvale — and that's a damn shame.

READING: "From a school to a casino, a brief history of epic building moves in S.F." Local journalism at its most viral: the San Francisco Chronicle takes the viral move of an old Victorian, digs into its 160-year-plus archives, and offers a story that's historical, delightful, and smart.

SHOUTOUT TO: Dana-Lyne, who kindly donated 50 tacos to sponsor a full month of MailChango! She writes: "I have nothing to plug.  I simply appreciate what you do." Folks who donate tacos to me: PLUG, POR FAVOR! And gracias!

Gustavo Appearances

March 6 aka TODAY 6 P.M. PT: I'm going to be interviewing Los Lobos via Zoom after they do a live show for BandsinTown. Check out the fun right here!

Gustavo in the News

"The elusive political power of Mexican Americans ": My Tejano compa Russell Contreras of Axios shouts me out.

"On 303 Day, Celebrate the Five Best Dishes Invented in Denver": The legendary alt-weekly Westword cites my love of the Mexican hamburger.

Gustavo Stories

"These candidates are vying to replace Michelle Steel on the OC Board of Supervisors": My latest KCRW "Orange County Line" talks the race to replace a PANDEJA.

"Grítale a Guti, Ep. 37!": The latest episode of my Tuesday-night IG Live free-for-all — tune in every Martes at 10:15 PM PT!

"A Mexican cultural center welcomed homeless people. Then came the fines": My latest Los Angeles Times food story talks about El Centro Cultural de Mexico, the legendary SanTana community space where a homeless camp now exists. KEY QUOTE: "Yeah, I mind them being here," said Vazquez, 50. "But whatever they're going through is worse than my feelings of them being here. This is taking us from our mission, but it's the right thing to do."

"Café con Emoción": I appear in the inaugural episode of a new podcast hosted by three Latinas in mental health — subscribe, porfas!

"Community Call: Building Wealth and Housing Security in L.A.'s Black Community": I moderate a conversation for the United Way of Greater Los Angeles about the topic at hand.

You made it this far down? Gracias! Follow me on Twitter, Facebook, and Instagram while you're down here. Don't forget to forward this newsletter to your compadres y comadres! And, if you feel generous:
You made it this far down? Gracias! Follow me on Twitter, Facebook, and Instagram while you're down here. Don't forget to forward this newsletter to your compadres y comadres! And, if you feel generous: Buy me a Paypal taco here. Venmo: @gustavo-arellano-oc