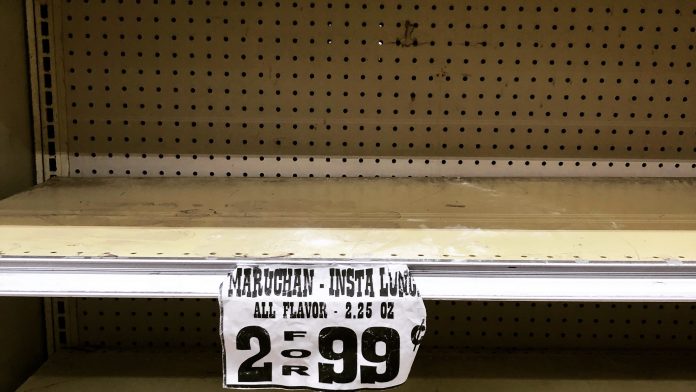 Gentle cabrones:
One hundred frozen burritos, cobbled together from leftovers over the past six months? Check.
Water? Bought rain barrels years ago, so check.
Toilet paper? I don't discuss such cochinadas.
BRING IT, CORONAVIRUS.
But now…the wait.
UGH…
Anticipation is the emotion I hate the most. As someone who tries to control every aspect of their life, who plays 3-D chess in a world of Uno, I don't like to know something is coming — and that I can't speed up the process to meet it.
But that's all this country can do over the next week, as we see whether coronavirus is the new 1918 influenza, or the biggest flop since John from Cincinatti.
Wait.
**
First time reading this newsletter? Subscribe here for more merriment! Buy me a Paypal taco here. Venmo: @gustavo-arellano-oc Feedback, thoughts, commentary, rants? Send them to mexicanwithglasses@gmail.com
Oy, this panic over the pandemic.
Schools, workplaces, government shutting down in anticipation.
People swarming stores and stocking up on essentials — in anticipation.
THE ANTICIPATION!!!
When I was younger, waiting brought out the worst in me. I was obsessed with what was to come, to the point of letting other things suffer or fall by the wayside.
It was so bad that by the time the big moment came, it rarely went my way.
I remember a speech I was supposed to give. This was back in the days when I wrote out my thoughts and outlined and rehearsed and rehearsed and rehearsed.
I flopped.
(Now, I usually go up to a podium and babble. I prepare, then float like Ali).
As the years went on, though, I learned about patience — a different type of wait.
What's going to come is going to come. You'd be a fool to not prepare, but a bigger one to obsess about the future — because obsessing over it will blind you to the fact it's here.
Just see everything around you. Those lines. I went to my local mercado around 8 p.m. last night, when it had finally died down. All I needed to buy were votive candles, which were plentiful.
Everything else? Not so much.
I want to wag my finger at all these eschatological latecomers, but I can't — it's human nature to freak the fuck out, ESPECIALLY among Americans.
But out of vice comes virtue. I'm happy that my fellow Californians are finally, kinda prepared for the Big One.
And if people are overreacting now with anticipation, may we learn from that for the next time (and there will be a next time).
Confront the wait, but don't let it beat you.
Stay safe, todos. And talk to ustedes next week, insha'Allah.
GRÍTALE A GUTI
This is the column where I take your questions about ANYTHING. And away we go…
Any chance there will be an updated edition of your Orange County book?
In a way. Next year will be the release of A People's Guide to Orange County, a University of California book that I am co-writing with Cal State Fullerton professor Elaine Lewinnek and Thuy Vo Dang, curator for the Southeast Asian Archive at UC Irvine. Gonna be a FABULOUS tome, and I'll have more to say about it once we have a release date.
But you were asking about my 2008 Orange County: A Personal History, which bombed saleswise, but succeeded in my intent: teaching a generation of Orange County students about the REAL OC. It was prophecy, so OF COURSE it'll never get updated. But it's all good — its legacy lives on any time someone tells you the KKK used to run OC, you know?
**
Enough rambling. This was the semana that was:
IMAGE OF THE WEEK: Virgen de Guadalupe statue in Mecca, California — an apt place given la Guadalupana's Arab roots (hint: the crescent!)
LISTENING: "Happy Trails," Roy Rogers and Dale Evans. I thought about this oater for a completely different reason than the times we live in — honest! Besides, the Antonio Aguilar and Flor Silvestre of the United States were by all accounts nice, kind people — not like that asshole Bing Crosby. And remember: it's the way you ride the trail that counts!
READING: "Lâche pas les Languages de la Louisiane": This article about reclaiming Louisiana Cajun and Louisiana Creole in the ever-excellent The Bitter Southerner is about 1,00 words too long, but still great — I'm always a sucker for ethnolinguistic anything!
Gustavo in the News
"Cheaper Rent and Better Tacos: Why I Finally Left L.A. and Moved to Paradise (Mexico)": An L.A. Taco correspondent cites my constant digs at "California quitters" like them to justify why they left the U.S. to practice pocho colonialism.
Gustavo Stories
"After Super Tuesday, some Orange County regions are bluer than others": My latest KCRW"Orange County Line" assesses the presidential primaries as they happened in Orange County, which now seem like a lifetime ago…
You made it this far down? Gracias! Follow me on Twitter, Facebook, and Instagram while you're down here. Buy me a Paypal taco here. Venmo: @gustavo-arellano-oc. And don't forget to forward this newsletter to your compadres y comadres!