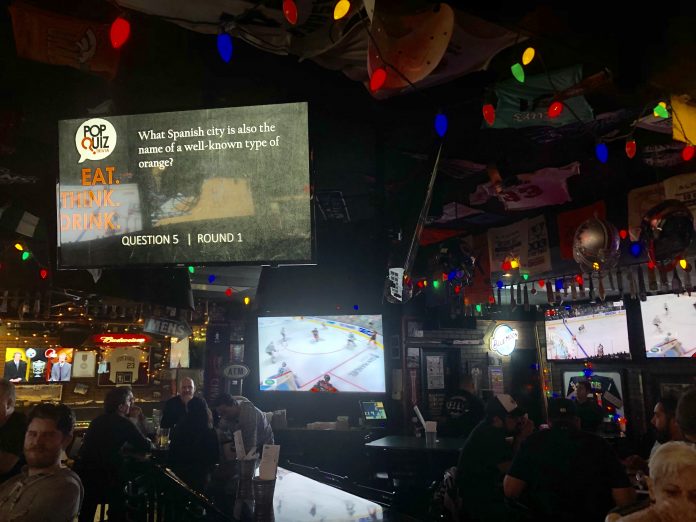 Gentle cabrones:
I still remember the text.
"Hey Gus a bunch of assholes at trivia night who win all the time think they're all badass. Can you join our team and stop them?"
The text came from my cousin Vic who, along with his brother Plas, were my best friends growing up and remain so. Vic and his friends, who I hadn't seen in years, drank every Thursday at Kelly's Korner Tavern in Placentia, a fantastic sports bar with a bunch of flatscreen TVs, a great craft beer selection, and some of the best blue-collar bar food in Southern California.
Vic had always invited me, but I was too busy to go.
Until he told me about the assholes.
I can't stand sore winners. And I like trivia. So I decided to join.
Vic's team was the ManBearPigs, named after a South Park episode. On the night I went, we tied for first against the asshole team, but lost in the tiebreaker. The assholes had this smug look on their face when they won— yeah, they were assholes.
But everyone else was stunned: the ManBearPigs were never particularly good — and all of a sudden, they were in first?
And who was this Mexican nerd who appeared out of nowhere to help them win?
That was about five years ago. Me and Vic went on to create a whole new team, Who, Mortimer?, composed of the guys we grew up with and named after a throwaway line in a classic Disney cartoon. We've proceeded to dominate Trivia Night there (run by by the SAVAGE Dougie from Pop Trivia Quiz) ever since—even more so when the ManBearPigs show up, and we create the super-alliance named NO MA'AM.
But I don't mention all this as a triumphalist manifesto, but rather to point something I always preach: in a team, everyone must contribute, or you lose. Because no man is a trivia island unto himself.
**

First time reading this newsletter? Subscribe here for more merriment! Buy me a Paypal taco here. Venmo: @gustavo-arellano-oc Feedback, thoughts, commentary, rants? Send them to mexicanwithglasses@gmail.com
As far back as I can remember, I've loved trivia.
The first book I ever bought with my own money was the 1987 Guinness Book of World Records. My mom once bought me Trivial Pursuit, but I never actually played it with anyone – I just read the cards and memorized the questions and answers.
My only accomplishment in high school was the Kiwanis Bowl, our high school's version of Jeopardy. My team won it two years in a row; that final year, all the nerds at Anaheim High got together to try to take us down.
They didn't.
All along, though, rivals have tried to reduce the teams I've belonged to to just me.
I get it. I'm a nerd. I know so much random shit and substantial shit that I'm as great a trivia player as you'll ever find.
But alone, I'd be terrible..
I'm bad in current pop culture, horrible on science and math, and don't know mainstream gabacho stuff (like do you know the colors used at ski slopes to determine safety? I didn't, because I've never skied or even been to a mountain resort).
But with Who, Mortimer?/NO MA'AM, I belong to an unstoppable team. Because each one of us contributes, even if it's just one answer.
Like a real team does.
Take this past Thursday. The Mountain (we all got nicknames for each other — these are the guys I grew up with, after all. And yep, I'm Gus) was missing, so we missed who was the father of Romulus and Remus (Mars, not Jupiter), and got a horrible 1 out of 10 correct on marching actors with the branch of the military in which they've served.
But we eventually stepped up.
Vic and Plas' younger brother correctly guessed that 80-some percent of the earth's core is made of iron. Art made sure we put Dubai instead of Abu Dhabi or Riyadh in a question about a skyscraper. The Butcher and Natroglycerin helped, too.
And when it came to the part of the trivia where Dougie gives out a series of clues, but knocks off 2 points with each one as they get easier, I got the right answer (Marlon Brandon) at the 10 point mark. No other team got more than six points.
I made up for saying the town was Worcestershire, not Worcester.
We won by one point. Teamwork.
Trivia Night at Kelly's is great for catching up with my friends, for the great food, and the constant winning. But it's great reminders of how to approach work, especially if you're in a company, a paper, a crew — any setting where the best people have off days, and the least among you can rise up like a lion.
And that asshole team? They stopped showing up LONG ago, once they realized Who, Mortimer? wasn't going away. Assholes.
GRÍTALE A GUTI
This is the feature where I take your questions about ANYTHING. And away we go…
I'm a 3rd gen gabacho So Cal native. I studied español in jr and sr high school, including AP Spanish. After school, I had the privilege of working at a company with a large contingent of Mexican-American middle-management peers, in addition to the hourly workers. Point is, I was near-fluent en la idioma. But, that was 35 years ago. 
I've forgotten much of my Spanish working in the corporate world since then. But, I never lost my love of the language. I retire in a couple of years and want to restore—even surpass my Spanish ability.
I think I cut off this gentleman's question, because this is where it ended. So I'll assume he wants to regain his español. It's all about immersion, so listen to rancheras and podcasts, read bilingual books, and the like. Since his question was cut off, I'll cut off my answer here haha
Got a question for Guti? Email me here.
**
Enough rambling. This was the semana that was:
IMAGE OF THE WEEK: Statue of the Virgin Mary at St. John Bosco in Bellflower, where I spoke to the journalism staff by invite of SoCal sports chingónBeto Durán #betosabe
LISTENING: "Ball of Confusion (That's What the World is Today)," the Temptations. Yeah, the new Watchmen is TOTAL SJW stuff — but it's brilliant (Regina King is always a badass). Was GREAT to see this Temptations track from their psychedelic days — a multilayered, dramatic song for our troubled days, whether you lived in the 1960s or today.
READING: "Classics for the People": Next time some idiot brags that they don't like to read/listen/see stuff from the past, remind them that they're historical anomalies and just plain pendejo. The nonprofit pub Aeon always drops the deep thinkers with their essays!
Gustavo in the News
"Pete Wilson Finally Agreed to Interview for LA Times/Futuro Studios 'The Battle of Prop 187' Podcast: Here It Is": Latino Rebels plugs my Pete Wilson interview
"How California's Prop 187 Was a Turning Point on Immigration": I come out on KPFK-FM 90.7 to talk 187.
"Podcasts About Impeachment, Mr. Rogers and a Purring Cat: What's New": The New York Times kindly plugs my Prop. 187 podcast.
"Column: California Republicans have sunk into oblivion. Their anti-immigrant stance is just one reason": My LA Times colleague, legendary columnist George Skelton, plugs me…
"Where to eat in the South Bay": …and so does my food colleague, Jenn Harris!
"'What's The Matter With Conservatives?'": A conservative says I'm a good writer and great radio presence while trashing NPR — I'll take it!
"La cruzada antiinmigrantes que hundió a los republicanos en California y sirve de moraleja a EE UU": Spain's largest newspaper, El País, talks to me about the ramifications of Prop. 187 in California and beyond.
Gustavo Stories
"Bonus Episode: Re-Pete": My long-awaited interview with former California Governor Pete Wilson is finally up! And catch up with all my Prop. 187 work for the LA Times here.
"The fight over documents about alleged police misconduct in Fullerton": My latest KCRW "Orange County Line" talks about a First Amendment fight in Fullerton.
You made it this far down? Gracias! Follow me on Twitter, Facebook, and Instagram while you're down here. Buy me a Paypal taco here. Venmo: @gustavo-arellano-oc. And don't forget to forward this newsletter to your compadres y comadres!