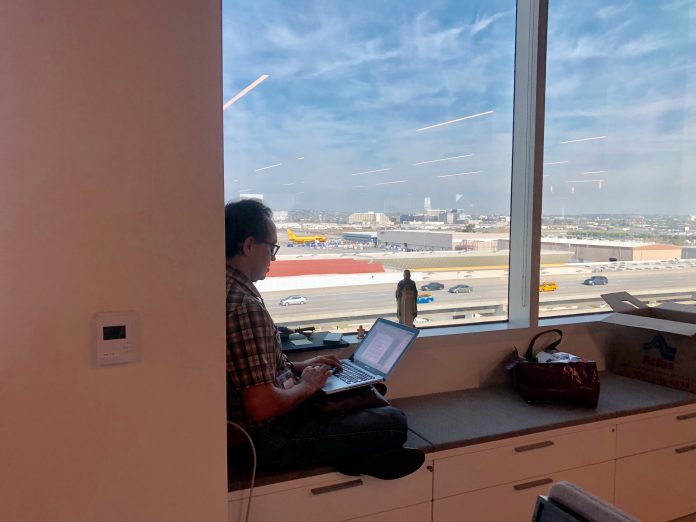 My 2018 was different than yours.
It began on Oct. 14, 2017, the day after I left my dream job at OC Weekly.
It ends on January 6, 2019, the Sunday before all the various lines I've cast on my first stories for the Los Angeles Times begin to bite for the New Year.
What a year! I've seen my byline in nearly every publication I've dreamed of appearing in (only holdouts: New York Review of Books and Harper's — and that's because I never had the time to pitch them). Got my name out there nationally for both my own tomfoolery and stories.
And I'm going to do my damndest to make 2019 an even better year than 2018.
But before I leave, I want to give thanks to a couple of people. One of the things I hate more than anything is ingratitude, so gimme some time to shout-out folks. I ain't no ingrato.
First time reading this newsletter? Subscribe here for more merriment! Buy me a Paypal taco here. Venmo: @gustavo-arellano-oc Feedback, thoughts, commentary, rants? Send them to mexicanwithglasses@gmail.com
Me in my desk at the Los Angeles Times' El Segundo offices, sending off emails. Photo by the legend Richard Winton
So, in no particular order:
Reason Magazine
:
Literally, the very first person to reach out to me after I announced my resignation was Matt Welch, editor-at-large at the libertarian rag. He said if there was anything I needed, he was here for me. And can I contribute a bit more to
Reason
? So I did. Editrix Katherine Mangu-Ward always loved my stuff, and I even appeared in Reason.com
loco
Nick Gillespie's videos, too.
Julia Wick: The former editor of the late, great LAist let me publish some stories under her watch before that website's untimely demise. Was always a fan of hers, and newspapers are pendejos for not having hired her when they had the chance.
Jenna Chandler: The Curbed LA editor (and OC native) published me when few others wanted to. Sorry I never turned in that Boyle Heights story, Jenna!
Juliet Lapidos and Robin Rauzi: My two chingonas editors for my LA Times California columna. I was especially proud when Robin recently categorized one of my lines as "TERRIBLE" (her caps). HA! The epitome of great editors: tough, never granting any breaks — but improving the writer every week.
Nick Goldberg, Hector Becerra, and Shelby Grad: The chingones who brought me into the Times. Can't wait for more DESMADE.
Eater.com: They let me go on an INSANE road trip up Highway 99 this summer, let me go on an even crazier one that should publish in January, and hit me up for one final project right before I joined the Times that won't come out until March. As I recently told my main editor there, Matt Buchanan, "Drunk me grumbled when I saw your editing suggestions; sober me has nothing but #respect and made all your suggested changes." Can't wait to reveal what we did soon!
The Mexiclan: My core group of friends, composed of my favorite cousins, my brother, and a couple of friends we've picked up along the way. We'll do our Scamalot movie one day!
My family: Because DUH.
My wife: If you haven't visited her Alta Baja Restaurant yet in SanTana, you're missing out on the best micheladas in Southern California and the spectacle of me ringing up customers and stocking beer.
Mark Potts: The former editor of Alta (where I serve as contributing editor) not only gave me a chance to contribute to a great new magazine, he'd also find beauty in my Twitter rants and commission stories off of them. My love for car chases? That's a story. Me getting thrown in Twitter jail? A story. My meh-ness over In-n-Out? He commissioned an essay. We'll meet in Lawrence this year!
Team Sauvage: Ustedes know who you are!
Joe Donnelly: ALWAYS supportive. Gotta hang out soon…
Orange Coast College: For believing in my teaching abilities, and offering me a job during my darkest professional month.
Maria Godoy: The editor of NPR's The Salt, which published some of my favorite stories this year. One more left for them!
John T. Edge: Head of the Southern Foodways Alliance, and someone who has believed in me FAR MORE than I could've ever imagined.
Osayi Endelon: My fellow Bruin was my jefa for years at Gravy, and is now writing up a storm. Gotta come back to the motherland, loca!
Dustin Ames: The brilliant former art director for OC Weekly, and the guy who designed my website. Still owe you Napa Rose!
And finally, a big gracias to YOU, subscribers to Gustavo Arellano's Weekly. Your kind words and faithful following gives me comfort in knowing at least SOMEONE is reading my babbles.
2018 was tough but ultimately a triumph. May 2019 be somewhat easier — and much better. And may the cantos never stop!
**
Enough ranting. This was the semana that was:
LISTENING: "Corrido de Durango," Miguel Aceves Mejia: El Rey del Falsete doesn't nearly get enough play nowadays, which is a shame: Every time I hear him, I #respect Mejia even more. And in this classic extolling Pancho Villa, you hear his command of lyrics, emotion, and depth. SO much better than El Komander, you know?
READING: "He Led Churches in the World's Largest Refugee Camp. Now He Waxes Floors.": Faith, immigration. Politics. Personal. Another great Christianity Today story — now, to find that Congolese pastor in Fargo…
Exclusive to Gustavo Arellano's Weekly
"Protestors Sing Carols for Migrant Children Held at Tornillo Detention Camp": Marfa-based journalist Sarah M. Vasquez files a dispatch from the border.
"Thanks, Hanks: Tom eats, greets, treats at Fontana In-N-Out": My Boswell of the 951, David Allen, gives me a shoutout for me shouting out his recent collection.
"In Mexico, Christmas is about the family matriarch and lots of food": I appear with KCRW chingona Connie Alvarez to discuss Mex Navidad on KCRW's Press Play.
"Tamal or Tamale? ~ How to Correctly Pronounce the Singular Form of Tamales": The L.A. Taco homie Javier Cabral hits me up on THE controversy of the ages.
"Lawyers, Burritos & Money": I'm quoted in a great story about the Filiberto's empire in Phoenix.
"Meet the Politician Fighting for the Rights of California Vegans": Always love it when stories I do inspire counterpoints, and this one interviews L.A. councilman Paul Koretz, who wants to force restaurants on city property to serve at least one vegan item.
"Angrier Than Ever, Veteran SoCal Comedy Act Culture Clash Comes to South Coast Repertory": I appear in my former paper yet again
Gustavo's Stories
"Three worthy books for the California reader": My California columna from last week offered gift ideas for Christmas on great Southern California libros. KEY QUOTE: "This year saw the release of several great books in that genre, each of which explores a facet of what makes healthy Southern California communities — institutions, businesses, even newspapers."
"Will L.A. raise a fist — or shake it — when teachers strike?": My penultimate California columna for the Times took on the idea that an upcoming teacher's strike in Los Angeles won't get the public support it should get. KEY QUOTE: "That so few of us care about the looming strike by United Teachers Los Angeles — which would be the first since 1989, when a nine-day stoppage "spread chaos" throughout the city, per a New York Times headline back then — shows yet another fray in our civic fabric."
"The Myth of Mom-and-Pop Restaurants": My latest article for Thrillist takes on the gospel of the hole-in-the-wall. KEY QUOTE: "Over the past decade, the food gods have canonized hole-in-the-wall spots. It's easy to tear down heavy-hitters like Guy Fieri and Rick Bayless, but offer an honest take on the small guys and gals? No. Who would dare?"
You made it this far down? Gracias! Follow me on Twitter, Facebook, and Instagram while you're down here. Buy me a Paypal taco here. Venmo: @gustavo-arellano-oc. And don't forget to forward this newsletter to your compadres y comadres!