Most mixed martial artists make their professional debut in front of a few hundred people for a local promotion in a venue that most people have never heard of. Aaron Pico's MMA debut wasn't like that.
On June 24 of last year, Pico made his first walk to the Bellator MMA cage in front of over 12,000 people at Madison Square Garden to kick off a rare pay-per-view card for the sport's second-biggest promotion. Touted as a once-in-a-generation prospect, the hundreds of thousands of MMA fans watching at home expected to see all sorts of violent brilliance from a young man who had already won championships in boxing, wrestling, and pankration.
Twenty seconds later, Pico found himself dropped to the ground by an uppercut before being submitted via guillotine choke by the opponent he was supposed to dominate.
"It was a big wake up call for sure," Pico now says.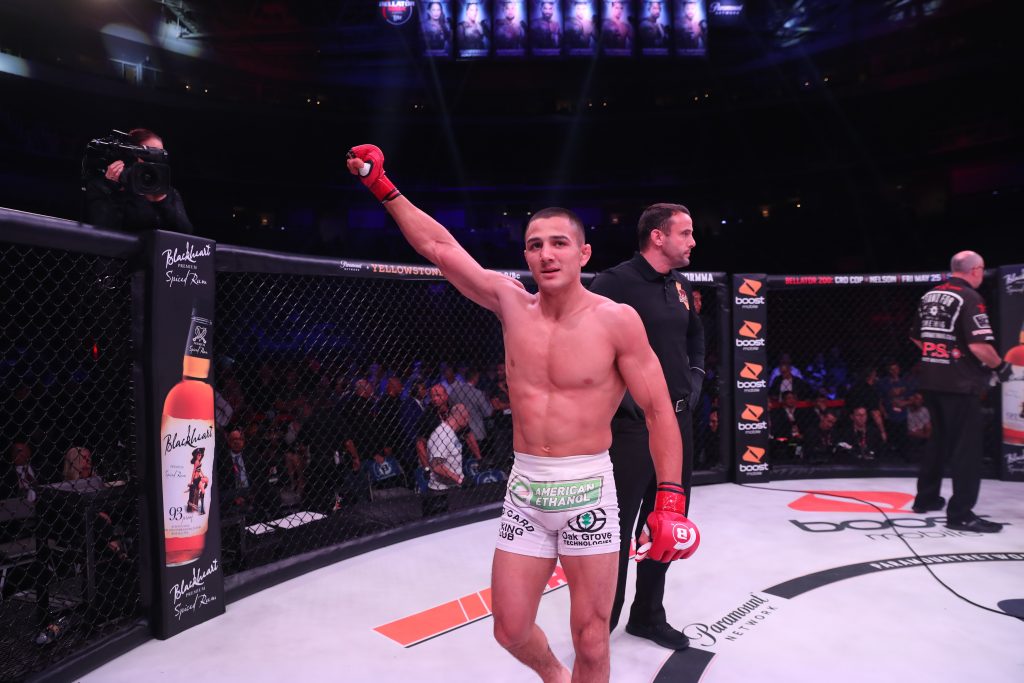 Since that loss, the 21-year-old Whittier native (and, yes: he's from THE Pico family of Southern California history fame) has seemingly turned things around, winning his last three fights by vicious knockouts in a combined time of under 6 minutes — including a 37-second destruction of veteran Shane Krutchen in front of a hometown crowd at the Forum.
Pico knows the struggle ahead if he wants to join the elite ranks in his latest combat sports venture. As the holder of multiple championships from each of his three previous sports, he's used to competing against top-notch talent — but he also knows he'll need to work on combining his various skill sets in order to live up to his own lofty MMA expectations in the coming years.
His current featherweight (145 lbs.) division is stacked with young standouts (such as other SoCal guys like A.J. McKee and Juan Archuleta) and seasoned warriors (Patricio "Pitbull" Freire currently holds the belt, but Pat Curran and Daniel Straus have each been champion twice as well).
"Bellator is doing a great job at getting these younger guys and really standing by them and showing them the ropes," Pico says. "They're bringing some very tough guys into the organization, and it's not an easy task to get one of those world champion belts — which is what I want."
The next stop on Pico's quest in the form of 18-4 Brazilian brawler Leandro Higo on September 29 in Bellator 206 at the SAP Center in San Jose. It'll be his fourth straight battle in California since his ill-fated debut, and it could be his toughest pairing to date. Despite Higo dropping two of his last three fights since joining Bellator, the losses came against current and former bantamweight (135 lbs.) champions, with one of them being a close split decision. Most of all, Higo is known for bringing the fight to his opponents, which is exactly what Pico is looking forward to later this month.
"My fighting style is just exciting, and it's been that way since I was a kid," Pico says. "When I would wrestle, my dad would tell me to 'Sell tickets' and just be exciting and have fun, so I've always had an exciting style with anything I've done. This fight's not going to be a walk in the park for me, because he's an exciting fighter too and he has balls. He goes out there and lays it all on the line, and that's the kind of guy who I want to fight."