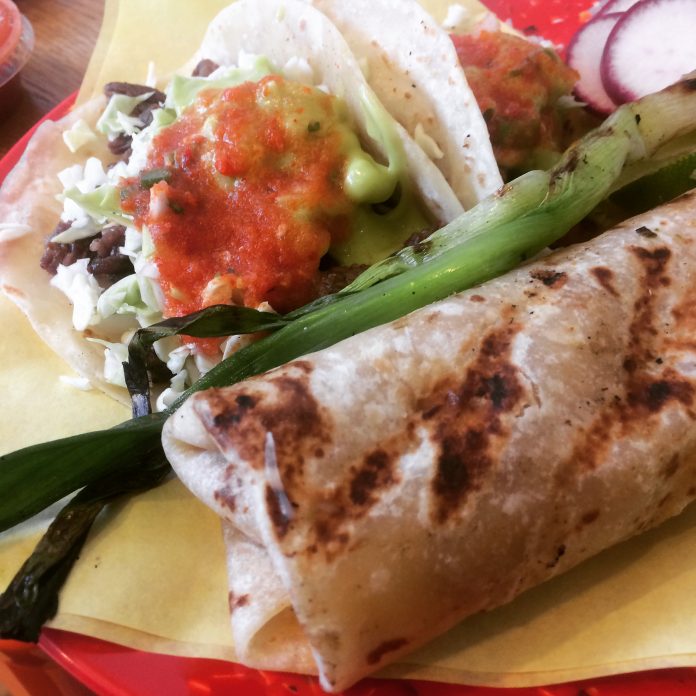 Gentle cabrones:
Just came back from Southern Utah University in the tiny town of Cedar City—great time! Met a profe of Spanish who's a peruana from SanTana and said I was the first-ever Latino reporter she ever read—HWUT. Offered a presentation on tacos, and had a good talk with minority students on campus about life and the like.
And, of course, ate. Cedar City's Mexican food scene is not bad at all! (get the carnitas at El Toro Loco, pollo al carbon at La Casa Don Miguel, and the gargantuan molcajete at the deceptively title Brody's, which just doubled in size and blasted the Javier Solís for a recent Thursday dinner crowd). If I ever return, consider me #blessed
Fall is usually the time of year where I have the most public appearances. So for this week's canto, I've decided to give ustedes my calendar for the fall. I'm only listing events open to the public, as I have too many classroom visits to count.
WARNING: This list is loooong, and I'll probably have more events coming. More importantly, GO GO GO!
First time reading this newsletter? Subscribe here for more merriment! Feedback, thoughts, commentary, rants? Send them to mexicanwithglasses@gmail.com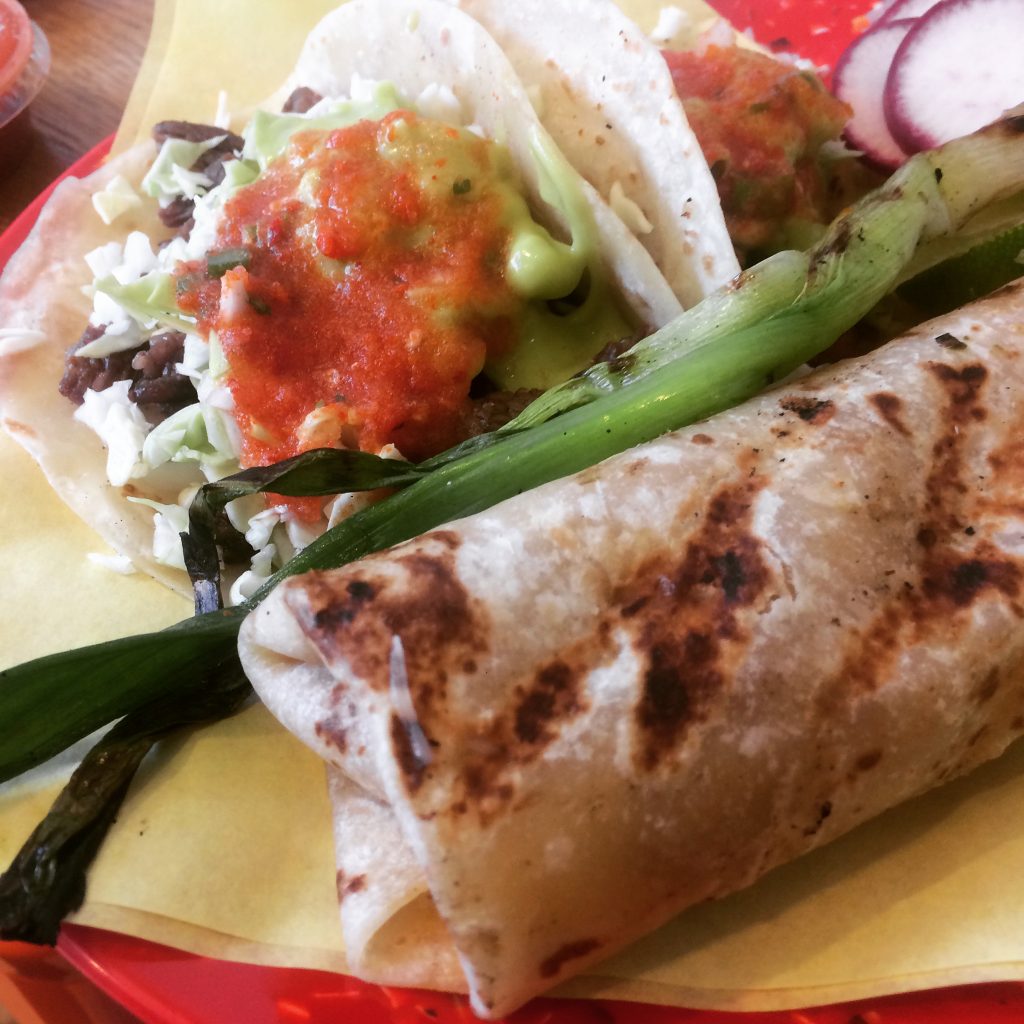 SEPT. 16 AKA #TORTILLATOURNAMENT TOMORROW
My KCRW Great Tortilla Tournament finally concludes at the LA River Center and Gardens, 570 W. Avenue 26, #100, Los Angeles, (323) 221-9944. Catch me eating—you guessed it—tortillas along my fellow judges Evan Kleiman, Nick Liao and Connie Alvarez. We're at the Fuerte Four, which means we'll figure out which are the best corn and flour tortillas in Southern California, then face off the winners! Event starts at 3 p.m. and is FREE with FREE samples!
SEPT. 20: WHICH WAY OC?
I'll be appearing in a live recording of KCRW's Left, Right, and Center at The Broad Stage 1310 11th St., Santa Monica. I get to talk about OC's possibly historic midterm election. Show starts at 7:45 in the evening—get tickets here.
SEPT. 22: LEFTIES AT LEISURE WORLD
I'm the keynote for the Laguna Woods Democratic Club annual fundraiser. Have spoken to them in the past, and they're always a hoot. Buy tickets here.
SEPT. 27-28: A PLAY ABOUT GUSTAVO!
I'm going to be at the historic Su Teatro in Denver for the debut of Interview with a Mexican, a play based on my life! I've had a long relationship with the theater, and I would only trust them with my DESMADRE. Compra your tickets here. Not in the Mile High City? Tell your local playhouse to bring Interview with a Mexican to your hood, porfas!
OCT. 7: GUSTAVO IN THE AUDIENCE
I'll be in the audience at the awesome Vroman's in Pasadena for the debut of Father Luis Olivares: A Life, the latest book by legendary Chicano Studies professor Mario T. Garcia. His lecture will be FREE, but make sure to BUY BUY BUY his book—I know I will! Details here.
OCT. 11: GUSTAVO WITH A HEARST!
I'll be in conversation with William Randolph Hearst III (yes, he's related to THE William Randolph Hearst—he's a grandson!) about the future of Orange County, my coverage of California, and other sorts of stuff at the Commonwealth Club in San Francisco at 6:30 p.m.. If you know your old-money California—and you probably don't—know that the Commonwealth Club is one of their longtime gathering points—so let's Reconquista it! Get tickets here—and if you get them now, you get a discount!
OCT 14: GUSTAVO IN THE AUDIENCE REDUX
David Allen is the longtime columnist for the Inland Valley Daily Bulletin and one of the most underrated SoCal scribes—I say as much in my blurb for his new book. I'll be in the audience when he presents at Cafe con Libros, 280 W. 2nd St., Pomona, (909) 469-1350. Lecture starts at 3:30 and is FREE, with the book BARATO.
I doubt our panel will get this greeting, alas. Photo by By Eric Chan from Palo Alto, United States – a sight for sore eyes, CC BY 2.0
OCT. 16: GUSTAVO AS A MODERATOR
I'll serve as the moderator for "Why History Matters – Rent Control in Los Angeles: A Historical Perspective," a panel discussion at the UCLA Luskin Center for History and Policy. Event starts at 7—more info here.
OCT. 18: GUSTAVO IN PUEBLO!
I'll be speaking at the El Pueblo History Museum about "Mexican Food Along the Borderlands (That Even Extend to Colorado)". My lecture starts at 6:30, but southern Colorado being southern Colorado, show up at 6 because they'll be offering BIZCOCHITOS!!! Details here.
OCT. 20: GUSTAVO AS ARCHIVIST?
I'll be on a panel at the annual Los Angeles Archives Bazaar at USC, which I've never actually attended so I'm THRILLED to participate in. My lecture starts at 2 p.m, and more info is aquí.
OCT. 29: GUSTAVO TAKES ON THE HATERS
I'll be on a panel with legendary investigative reporter A.C. Thompson at my alma mater, Chapman University, as we screen A.C.'s chilling Frontline special, Documenting Hate: Charlottesville, in which I appear. Screening starts at 7 p.m. and will be FREE. Don't have a room number just yet, so hit me up the week before and I'll tell you.
NOV. 1: GUSTAVO IN VENTURA
I'll be talking Mexican food at the Museum of Ventura County, which has always been very generous to me over the years and is very underrated in terms of the thought-provoking programs that they always offer. My talk will be part of their current exhibit At Table: The Business of Food and Community. I don't even have a time for this one yet, but know it'll be in the evening and will cost the tiniest bit to attend—but who cares? Support your local institution, pinche codos!
NOV. 3: GUSTAVO REASONS!
I'll be part of Reason's 50th anniversary celebration at the Ritz-Carlton in Los Angeles. They haven't told me what I'm doing yet, but it'll probably involve tacos or rancho libertarianism haha. More info here.
Who cares about me? Come for THIS
NOV. 7: GUSTAVO AND BURRITOS LA PALMA!
I return to my alma mater, Chapman University, this time to talk about tacos. But who cares about me: Burritos La Palma will cater! The event starts at 6:30 p.m., I believe, but I'll have more info as my talk approaches.
NOV. 8: GUSTAVO IN CLAREMONT!
I'll be at the Claremont Colleges Library, 800 N Dartmouth Ave. Claremont, as part of their exhibit "Love's Labour's Lost: The hidden cost of bringing paradise to America's kitchen table." Specifically, I'll be on a panel about Southern Caifornia's citrus industry—THAT will be fun. Panel starts at 4:15 p.m.
NOV. 9: GUSTAVO KNOWS THE WAY TO SAN JOSE
Interview with a Mexican debuts this day at the awesome MACLA community space in downtown San Jose. It's so far away that they don't even have tickets for sale yet, so just save the date for the meanwhile.
NOV. 15: GUSTAVO IN NOTRE DAME!
My eighth-grade dreams will finally come true. No info on that one just yet, but if you're a Midwestern person, swing by!
DEC. 4: GUSTAVO SANTIAGOS!
Kathy Hall is an awesome English professor at Santiago Canyon College in Orange who teaches not so much from my books as she does about my articles—specifically about all the hilarious haters in OC history! She's also teaching a Latinx literature class this semester, so wants me to talk to her students about it. Don't have info on this one just yet other than it's at 11 a.m. and you'll have to pay for parking—and we'll likely have a book giveaway.
DEC. 11: GUSTAVO ALOUD!
I'll be at the Los Angeles Central Library as part of their ALOUD Series, specifically a public reading of the upcoming book "Dear Los Angeles: The City in Diaries and Letters, 1542 to 2018." Tickets are already sold out, but you can get on the standby list here.
***
Enough ranting. This was the semana that was:
READING: "After Years of Struggles, the Mets Are Investigating Their Offensive Futility at Citi Field": I have never particularly cared for the New York Mets, or Sabermetrics bullshit, but I do care for Sports Illustrated and the brilliant Tom Verducci. Here, he takes on a stat so bizarre, it could only happen to the Amazins.
LISTENING: "Pistoleros Famosos, Los Cadetes de Linares." I'll be at the audience tonight as Los Tigres del Norte make history by becoming the first norteño group to headline the Hollywood Bowl. But lost in all the hubbub about that is that Los Cadetes de Linares are one of the opening acts. Will the Cabernet-sipping crowd in the Garden Boxes know that they'll be swaying to Los Cadetes' immortal corridos of murder and honor? Of course not!
Gustavo in the News
"13 Mexican Dishes You Should Be Ordering but Aren't": My homegirl Serena Maria Daniels shouts me out in her latest Thrillist piece.
"Your Tuesday News Briefing: Hurricane Florence, Syria, Serena Williams Cartoon": New York Times national food correspondent Kim Severson is kind enough to shout out my history of Taco Tuesday from a couple of weeks ago in the Grey Lady's morning newsletter.
Exclusive to GustavoArellano.org
"The Glories of Lard: A Conversation With Ernest Miller of Coast Packing Company": In which I talk to a friend and #TortillaTournament sponsor about manteca.
Gustavo's Stories
"OC's 48th Congressional District Race Tied: NY Times": My latest KCRW "Orange County Line" talks about Dana Rohrabacher and the like.
"California needs to take another look at its Catholic Church sexual abuse cases": My latest Los Angeles Times California columna urges state AG Xavier Becerra to go after all those nasty bishops, monsignors and cardinals who protected pedophile priests. KEY QUOTE: "Many of the still-alive monsignors, bishops and cardinals involved in California's part of the pedophile priest problem have never faced prosecution."
"Gustavo's Great Tortilla Tournament, week 4 recap: Behold SoCal's four best tortillas!": Pretty self-explanatory, no?
You made it this far down? Gracias! Follow me on Twitter, Facebook, and Instagram while you're down here. Buy me a Paypal taco here. Venmo: @gustavo-arellano-oc. And don't forget to forward this newsletter to your compadres y comadres!