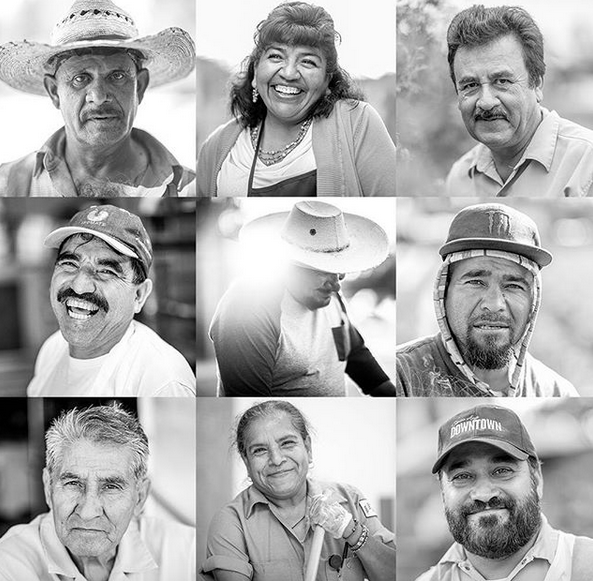 Gentle cabrones:
As I've mentioned before here, I first journalistically made waves as a music critic, specifically covering rock en español. The grand irony is that I never cared for the genre—found it too fresa—until the then-editor of OC Weekly asked me in 2001 whether I liked the music, because he needed someone to cover it.
Fake it until you make it!
I might've not cared for rock en español at first, but I also was no fool. I knew that my hometown of Anacrime had become an unlikely nexus for Latin music, between the then-Galaxy, the Anaheim Convention Center, the then-Pond, the recently opened House of Blues, El Conejo, the Rumba Room, and other venues.
But the grand cathedral of them all was JC Fandango. My high school friend worked there, and I was soon introduced to one of the three brothers that owned it, Javier Castellanos.
It was at JC Fandango where I learned to be a reporter.
First time reading this newsletter? Subscribe here for more merriment! Feedback, thoughts, commentary, rants? Send them to mexicanwithglasses@gmail.com
Sample of some of Javier's shots of immigrant workers
From about 2001 until 2006, I was at JC Fandango nearly every week. I saw Gustavo Cerati and Manu Chao. I saw Cafe Tacuba multiple times, and Brujería only once. I saw El Gran Silencio show up three hours late, then play until four in the morning, in one of the best sets I've ever seen. Rock urbano nights. Skandangolandias. I saw Julieta Venegas before
and
after she sold out.
Oscar D'Leon, Oro Sólido, Zurdok, even Juanes before Juanes—JC Fandago hosted nearly every non-Mexican regional superstar (even Celia Cruz and Tito Puente) in its legendary run. My coverage first confounded the muy gabacho readers of OC Weekly, then got a following, then got the paper a chingo of new readers.
In covering the scene, I learned some quick lessons: Dominate. Show up. Don't get tired. Have fun. And don't get beat.
But the dream had to end, and JC Fandango effectively closed in 2006. Castellanos left his family business. We kept in touch over the years, but weren't as close as before. It happens.
We reconnected by accident last year. I got interviewed by legendary rock en español writer Jesús "El Pelos" Olvera for La Banda Elástica, the legendary (lots of legends here; hey, I know genius when I see it) Latin alternative magazine. Javier somehow caught wind of our meeting, so he insisted we all go out to lunch.
We went to Taquería Don Victor in Anacrime, an Hidalgo-style eatery which Pelos and Javier were shocked to find it as good as I told them it would be. Javier had done good for himself in the decade or so since the JC Fandango days—ran his own business, and was as slim and quick to a smile and loud laugh as possible. And he also told me about the photography he was working on, which he had always seen as a hobby but now wanted to turn into something a bit more serious.
I got him to do some concert slideshows for OC Weekly. But what really interested me was a series on migrant farmworkers in Orange County he had started on a whim. I asked him if we could run them as a feature in the infernal rag. He was shocked at my offer, and went out to do more, better photos.
The package ran last September, and went viral. It was one of the last original features I approved for OC Weekly.
It's also no longer online.
Gustavo Cerati, at JC Fandango in 2003. GREAT show…
**
There was an impromptu JC Fandango reunion of sorts last weekend in downtown SanTana. People I hadn't seen in over a decade—PR people and musicians and kid sisters. Now children and new girlfriends and boyfriends. We all gathered for an exhibition of Javier's now-christened "Beautiful Souls" project. He sold prints, showed a video, and gave a lecture that was a bit long yet nailed it.
His message of acceptance of immigrants was just preaching to the choir. But Javier had an even more important lesson to those who could decipher it: There's life after the dream job is gone.
Javier was one of the first people to reach out to me after I left OC Weekly. It's a lesson I think I've learned well.
Follow Javier on Instagram. And good news: He's planning a documentary and coffee-table book soon.
A beautiful soul indeed.
**
Enough ranting. This was the semana that was:
READING: "The Super Rich of Silicon Valley Have a Doomsday Escape Plan": This is the assignment I gave my Orange Coast College Intro to Journalism classes, so play along at home! What tricks does this story use to grab people's attention?
LISTENING: "Cumbia Lunera," El Gran Silencio. In honor of those JC Fandango days, here's one of the songs played at that set. One of the best live bands I've ever seen, and one of the few that inspired a crowd that simultaneously moshed and danced at the same time.
GUSTAVO'S GREAT #TORTILLATOURNAMENT, ROUND THREE
We're now down to the ¡Eso! Eight in the KCRW #TortillaTournament I'm running, and the competition is getting TIGHT! Here's a tortilla glossary, the Round 3 recap, and por favor go to our grand finale Sept. 16 at the L.A. River Center & Gardens in Cypress Park, where we'll announce the winner and there'll be vendors, tortilla art classes, demo and so much more! RSVP here.
Gustavo in the News
"The "A-TEAM" That Failed": Got interviewed by Capital Public Radio for that NPR story I did about high schoolers replacing braceros back in the day.
"Journalists Need to Stop Claiming Tacos, and Mayors Need to Stop Championing the Wrong Thing": I make a cameo in a San Antonio Current article about Texas' favorite sport: cities trashing each other.
"How 50 Years of Latino Studies Shaped History Education": The Atlantic gave me a shoutout for my Los Angeles Times columna this week about the 50th anniversary of studies.
"Tucker's Taco Paradox": Slate hits me up about Tucker Carlson's preposterous claim that tacos are his.
Gustavo's Stories
"OC Tries More Accurate Count of Homeless Population": My KCRW Orange County Line commentary takes on the never-ending saga of homelessness in Orange County.
"The Crazy Contentious History of Taco Tuesday": My inaugural piece for Thrillist takes on the origins of Taco Tuesday and unsurprisingly finds a bunch of liars along the way. KEY QUOTE: "But on the subject of Taco Tuesday, the evidence is clear: Taco John's doesn't know what it's talking about. And the phrase was in existence long before the chain got around to filing for its trademark."
"The ethnic studies kids are alright": My latest California columna for the Times celebrates what I mentioned above. KEY QUOTE: "Professors have been the de facto older brothers and sisters to students who are the first in their family to attend college — some of whom are encountering Latino professionals for the first time. Female scholars have tackled machismo; LGBTQ profes, homophobia. A new generation of undergrads has pushed Chicanosauruses like myself to question our own privilege and inherent biases."
You made it this far down? Gracias! Follow me on Twitter, Facebook, and Instagram while you're down here. Buy me a Paypal taco here. Venmo: @gustavo-arellano-oc. And don't forget to forward this newsletter to your compadres y comadres!