As long as Hassan Musselmani can remember, he wanted to combine his dual identity as a Muslim and Christian through food.
It initially meant adding pork to everything.
"I thought that it was ironic and I thought that it was funny and I thought that a lot of the Middle Eastern foods would be better if they had some salted pork on it," says Musselmani, a Lebanese-Yemeni American who grew up in and around Dearborn, Mich., home to one of the largest enclaves of Arab-Americans and Muslims in the United States.
Musselmani eventually matured out of that phase. But the desire to fuse cuisines stayed with him, and found a spark of inspiration when he started working alongside mostly Mexican immigrants in restaurants. During family meals, he started to see the delicious potential for combining his Middle Eastern upbringing with some of the flavors his fellow line cooks were introducing him to.
The 28-year-old has since gone on to create his own vision of Arabic food with The Drunken Rooster food truck, where Musselmani finds ways to pay respect to the religious tenets of his heritage, while infusing flavors that reflect his American identity.
And for Musselmani, those American flavors are Mexican.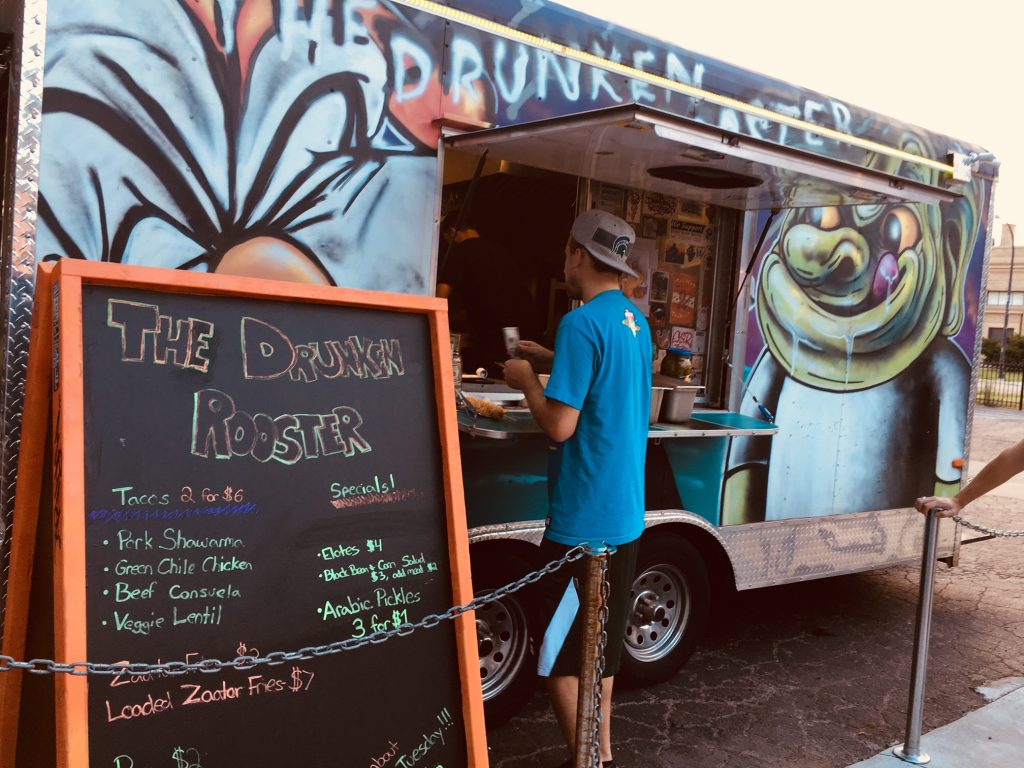 "I loved it so much that I feel like it just kind of came natural to say, 'This is what I'm gonna do,'" he said.
On a recent evening in July, Musselmani's graffiti-covered food truck parked at Detroit Fleat, a food truck "park & boozery" situated in a mostly white suburb just outside of the Motor City. While bros and their girlfriends sat around the outdoor patio in boat shoes and cargo shorts sipping on craft beers, others clamored in a long line for a taste of the chef's Arab-Mex menu.
His elote comes with a roasted poblano mayo, crumbles of queso fresco and what he calls his "trifecta" blend of Mexican spices— ground guajillo, ancho and chipotle peppers — rounded out with fragrant zaatar and extra sumac. The latter's zest balanced out the picoso of the ground chiles.
Musselmani again used zaatar — the Arabic word that means "thyme" but refers to the aromatic and spice blend of thyme, sesame seeds and sumac ubiquitous in many Middle Eastern kitchen pantries — for his French fries, loaded with shredded chicken braised in roasted poblanos and beer. But the cream was now lemon-infused labneh; it gave the fries more of a sour, slightly cheesy flavor than plain crema.
His pork "shawarma" — marinated in labneh, all-spice, cumin, cardamon, cloves, onions and roasted poblano peppers and braised in apple cider (a decidedly Michigan-esque touch) instead of pineapple juice — split the difference between the traditional Lebanese spit meat and its Mexican cousin, al pastor. Musselmani switches the pork for lamb and goat whenever he's invited to cater events in the Islamic community—essentially creating halal al pastor.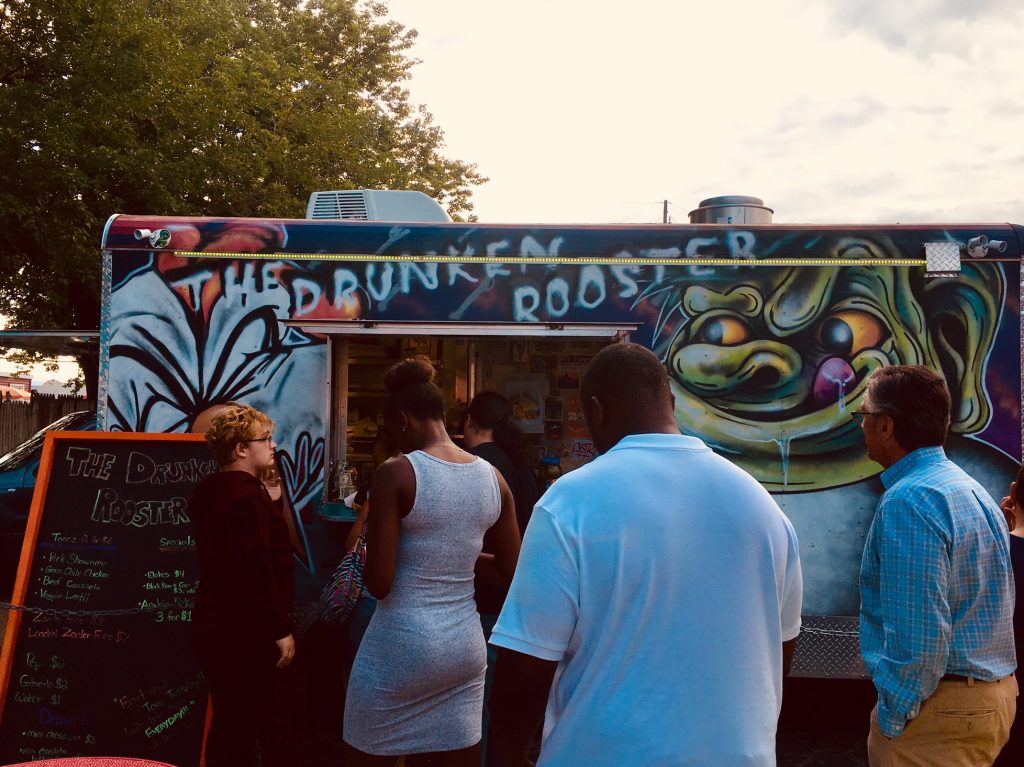 That unique flair keeps Musselmani busy. During the summer rush, the Drunken Rooster does anywhere between seven and 20 private gigs a week, plus scheduled food truck stops.
Musselmani's mashup—which has earned him cameos on Hell's Kitchen and Chopped—is just the most prominent manifestation of Arab-Mexican food in the Dearborn area. While the city is most famous for its Arab residents, it straddles the border with Detroit's southwest side, home to the largest community of mexicanos in the state. Cruise down Michigan Avenue, which passes through both cities, and storefronts switch between signs in either Spanish or Arabic — or sometimes both.
This mix means that fusion goes both ways. Not far from the Dearborn-Detroit border, Luis Garza of the popular Mexican steakhouse El Asador turned his restaurant's menu of ranchero NY steaks, sizzling fajitas, lobster tacos and enchiladas into all-halal in late 2016 — save for its house-made chorizo, which is prepared separately. The western suburb of Garden City is where you'll find the simply named Halal Tacos, which offers deep fried taquitos, taco salad bowls and tostadas for pickup or delivery via Grub Hub.
So when Dearborn restaurateur Junior Merino opened his M Cantina in 2017, he ensured that his menu of Nuevo Latino cuisine was halal-friendly.
"I love a lot of the ideas of what halal stands for, like respecting the animals and how Muslims are very careful in how they kill the animal," says Merino.
(And it's not just Mexican food that's getting the halal treatment in Detroit). The popular El Caribeño Dominican restaurant in Southwest Detroit also joined in on offering dishes friendly to its Islamic customer-base with its halal pollo guisado with mofongo, available upon request.
Owner Judi Hernandez, a Mexicana who married into a Dominican family and went on to open the eatery with the help of her in-law's recipes, says the halal option started because her landlord is Muslim and couldn't eat much of her menu, which leans heavy on pork, beef, chicken, goat and seafood dishes.
"I made him some dishes and he loved it, he was super impressed with the flavor of the food," says Hernandez.
Her halal take on Dominican food caught the attention of locally viral food Instagrammer Fred Sareini, who's known for encouraging otherwise non-halal eateries to expand their options so that Muslim customers can enjoy the same food their non-Islamic friends do.)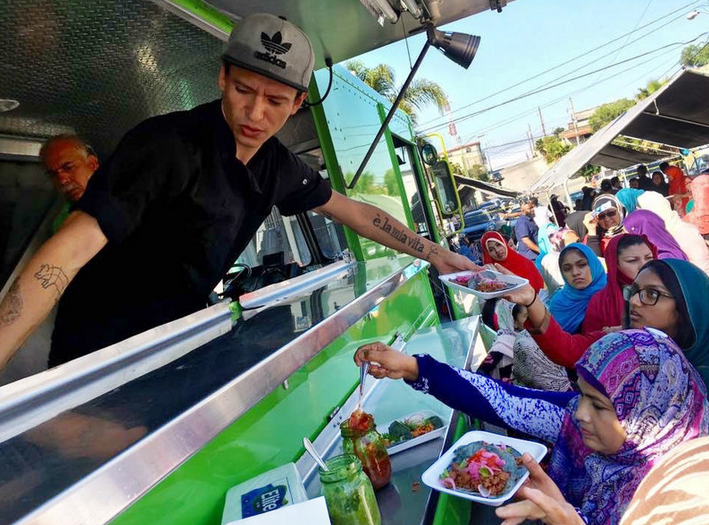 While Dearborn is at the forefront of Arab-Mex, the continued growth of Latinos who convert to Islam — as many as 200,000 in the United States, according to a study authored by Florida International University professor and researcher Stephanie Londono—and the ubiquity of Mexican food in the U.S. means halal-friendly Mexican dining options are more common than ever.
On the West Coast, Rida Hamida and Ben Vazquez launched the #TacoTrucksAtEveryMosque movement in Orange County to try and build unity between U.S. Muslims and Mexican, using halal tacos as the binding thread. Meanwhile, the Egyptian immigrant-owned Al Salam Polleria in East Los Angeles adapted its halal chicken butchery business to embrace its predominantly Latino customer based since it opened in the 1980s.
In Texas, Sugar Land resident Sadia Jalali says the Centro Islamico in Houston holds potlucks and carnivals that feature tacos, tostadas, mole and other Mexican dishes, as well as Arab and Pakistani cuisine. During this year's Eid celebrations, which bookends the month-long Ramadan season, she and her family enjoyed tamales.
"It's authentic primarily because it's homemade and not commercial. It's also not quite Tex-Mex….just real Mexican food," she said.
In Houston proper is the popular M&M Grill, next to a Mediterranean market and a mosque. Kabobs and shawarma share the same menu with burgers, tacos and Jalali's favorite, chimichangas. She also likes the Twisted Turban Tex-Indian Kitchen's Turban Taco, made with slow-cooked braised beef, cabbage slaw, mango salsa and special "turban" sauce, all tucked into a paratha.
"They mix flavors," Jalali says. "Like having chipotle chicken with mango salsa and pico [de gallo] with, like, a spicy chutney based in Indian spices. Or a braised beef with, like, traditional Mexican pico and cilantro." She describes the results as "a confusing yet exciting experience."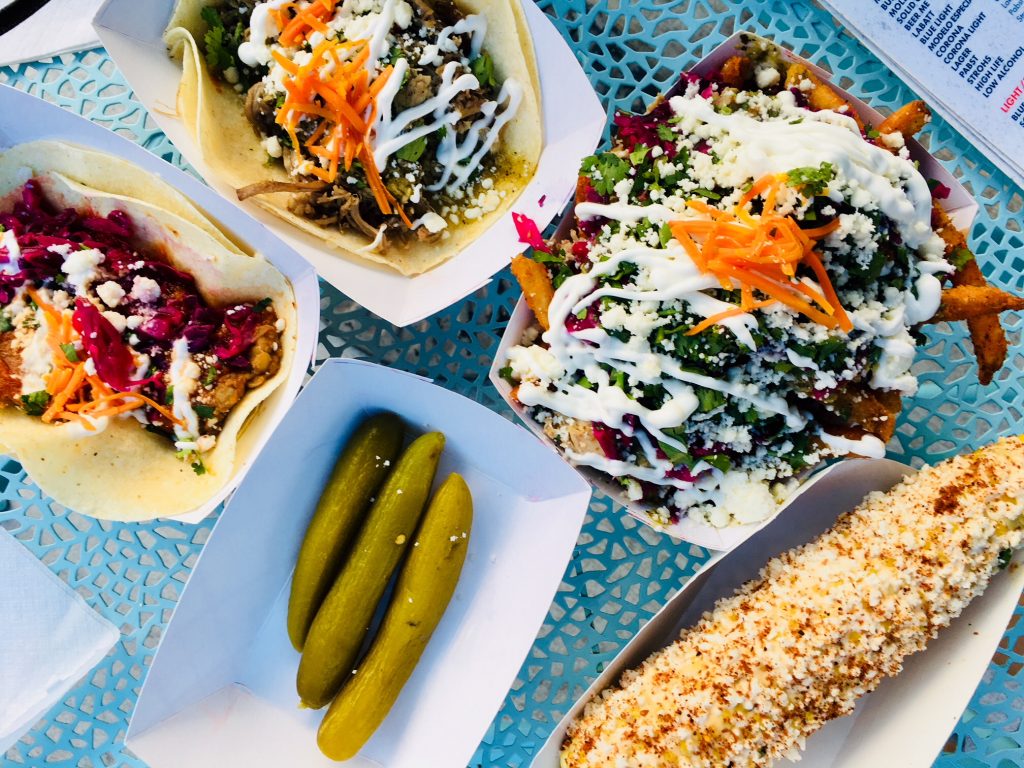 The connection between Latinos and Islam in the Americas, of course, dates back centuries. The Moors ruled over Spain for nearly 800 years and that influence carried over to Mexico. Besides al pastor, tacos árabes ("Arab tacos") made with a tortilla that resembles a pita are famous in the Mexican state of Puebla. And in the Yucatan, there has been enough of a Lebanese migration over the past century that kibbe is now considered part of the Yucateco table.
Musselmani didn't know these historical details when he started learning Mexican cooking.
But slowly over the years, the similarities became apparent to the chef.
He points to one of his favorite Yemeni delicacies, aseed, a high-carb Yemeni delicacy made using flour, salt and boiled water and often smothered in some sort of protein. The dish is usually served with a salsa-like condiment that he likens to any table salsa found at Mexican restaurants.
"It's like jalapeño, tomato and onions blended up in a food processor," he says. "It looks like salsa—it's so weird but it's just fresh flavors they probably mashed in a mortar and pestle back in the day. And when you think about it, it's the same thing in Mexico."
On a trip to North Carolina last winter to cater a private dinner event at a military base, Musselmani made another valuable connection when the TSA confiscated some of his spices.
Desperate for last-minute ingredients, he stopped into one of the few Arabic shops in the area to replenish his supplies. It was there that he met a group of women covered with headscarves who, with their similar olive-toned skin, he assumed were Arab.
"I asked if they were Arabic and they were like, 'No, we're Mexican,'" says Musselmani. "I really didn't know there were Mexican Muslims and they told me there was a huge population in the Texas area. I had never heard that in my life."