Gentle cabrones:
In 2008, Scribner published Orange County: A Personal History (I've Been Taking Notes). It was the second part of a two-book deal I had with the legendary imprint.
My editor and publisher was happy with the book, ecstatic after I got a starred review in — was it Kirkus? Publisher's Weekly? I can't remember, except that we were expecting a hit.
My first book, ¡Ask a Mexican! was a best-seller and sold really well for a first-time author, I was told. Orange County, my wretched homeland, was cool and hip and in demand. Orange County wove a fine thread between history, memoir, and travel guide.
I let myself think I might have a career as an author, while continuing to be a contributor for the infernal rag.
Orange County was a massive flop.
Like, massive.
It effectively ruined my author illusions. I released one more book, Taco USA: How Mexican Food Conquered America, but the Orange County debacle effectively cut whatever ascent I had, both professionally and mentally.
It might've been for the better — after all, I wouldn't be where I'm at today if I just stuck to books, and I REALLY like where I'm at.
But I soured on the book industry (just like Hollywood!), as ideas that I pitched were rejected, only to be turned into best-selling books by others. I also didn't like how publishers wanted to pigeon-hole me into another Latino or food book.
Blind item: what legendary American composition did I once pitch a history of, only to be told it was a great idea but NOT coming from me because I had no expertise in it?
And the beat goes on…into the book I'm excited to debut TODAY.
**
First time reading this newsletter? Subscribe here for more merriment! Buy me a Paypal taco here. Venmo: @gustavo-arellano-oc Feedback, thoughts, commentary, rants? Send them to mexicanwithglasses@gmail.com
Check out my new book — ANOTHER ONE about Orange County. I should branch out, no?
No.
A People's Guide to Orange County is a dream book for me. History. Local AF. Affordable. Digestible. Another fusillade against orange-crate historians. Published through the University of California Press, which means I've fulfilled my college ambition of writing an academic book.
It's a project four years in the making with my co-authors, Cal State Fullerton professor Elaine Lewinnek and UCI professor Thuy Vo Dang.
Premise: Orange County has many, many hidden histories. Wouldn't it be great to tell them as a guidebook complete with photos, maps, and blurbs and help construct a new narrative of the godforsaken place that can be taught in high schools and colleges yet appeal to the general public alike?
Yes.
It's part of UC Press' A People's Guide… series, which has published similar books on Los Angeles (the original one), Boston, NYC…and now OC.
The editors for UC Press initially didn't think Orange County had enough radical history to warrant a People's Guide, until we showed them otherwise.
We succeeded magnificently. I thought I knew everything worthwhile to know about Orange County before we started on this book.
After doing this book, I can say I now know a bit more — and I still don't know shit.
The idea to write A People's Guide to Orange Couty wasn't mine — it was actually Elaine's (read the genesis story here). We were a true dream team, splitting up OC by sections and themes — Latino history, indigenous history, Asian history, Black. Queer, religious, food, more — and helping each other along the way.
Buy the book from Libromobile NOW. Want us to speak to your class, or invite us for a book reading? Hit me up. We'll be having our debut reading soon, so stand by for that.
Some might think I'm nowadays aiming for lower stakes instead of remaining in the heady Manhattan realms I was in for a couple of years. I don't. My only real writing goal was to help change my homeland for the better — and this helps to that.
Everything else I do is just extra caldito on the aguachile.
GRÍTALE A GUTI
This is the column where I take your questions about ANYTHING. And away we go…
I love reading your weekly cantos and news articles in the LA Times and I would love to hear more stories that you have about Art Laboe. I started listening to KRLA when I was in 7th grade and was so bummed when the station went off the air. Art Laboe and Huggy Boy always fascinated me because they loved their fans. I felt that they were different from the DJs that you hear on the FM stations.

Can you please share a story or two that you have of Art Laboe? By the way, I was the person that sent you a tweet a few weeks ago about your canto where you mentioned him.
I shared my best Art Laboe story on Grítale a Guti, the IG Live free-for-all I do every Tuesday night at 9:45 PT. I did a special one on my birthday where I was FAAAAADED and told about the interaction between Art and Viernes 13, the legendary cholo ska group from Southeast Los Angeles.
Didn't save that GAG, but it was a GOOD one — sorry you missed out!
Got a question for Guti? Email me here.
**
Enough rambling. This was the semana that was: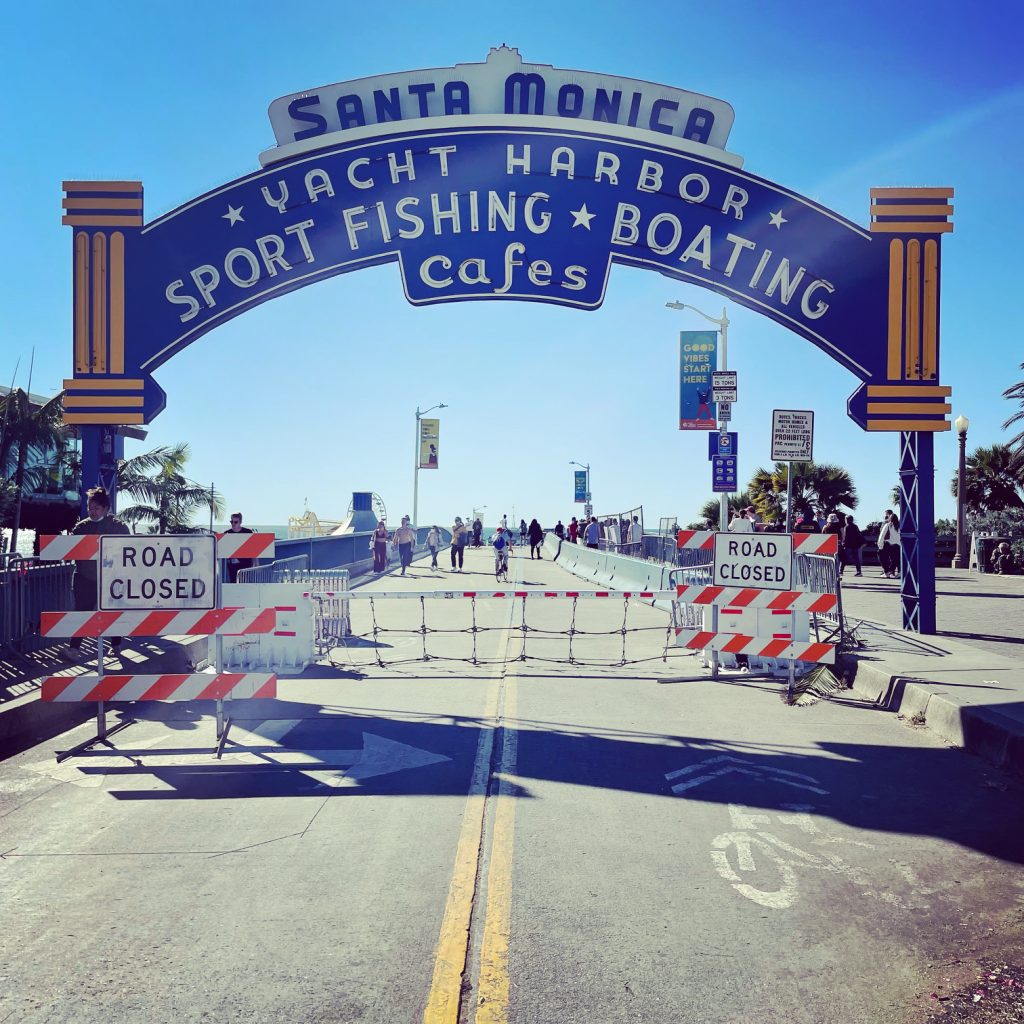 IMAGE OF THE WEEK: Entrance to Santa Monica Pier.
QUOTE OF THE WEEK: "Any kiddie in school can love like a fool, But hating, my boy, is an art."
—Ogden Nash
LISTENING:"Framed," Ritchie Valens. February 3 was the Day the Music Died, and I always make sure to blast this song. The soundtrack to La Bamba was the first English-language tape my dad ever bought, and probably the only one. Great jangly guitar, languid beat, rebel-yell lyrics — and I just realized this is a song that snarls against corrupt police, which makes it THAT much better.
READING: "The Last Wild Lions of Europe": The online publication Sapiens consistently puts out great pieces about archeology, linguistics, and other high-falutin' humanities in a way that's accessible and a delight. This particular story tackles myth, sexism, persistence, and skepticism — gracias, compa Adam, for turning me on to Sapiens!
SHOUTOUT TO: David, who kindly donated 50 tacos to sponsor a full month of MailChango! "Please plug your wife's store, because it's amazing." Will do!
Gustavo in the News
"Get That Pick Away from my Brain!": My colleague compa Gabriel San Blogman shouts out my canto in his newsletter, which all of ustedes should subscribe to.
"Latinx Files: How a butterfly sanctuary became a victim of the border debate": One LA Times newsletter you should subscribe to plugs a columna of mine.
"Letters to the Editor: Confronting racism in school with an 'is that all you got' attitude": L.A. Times readers discuss my writings.
"California Playbook": Politico's Golden State newsletter plugs my columna.
"Real Estate newsletter: A Victorian with a blood-red pool": And still yet even another LA Times newsletter you should subscribe to plugs the podcast.
"✨ Dan Taberski ✨ bush boys 🌲 jumpin' Tom Cruise 🛋 should I cancel my Disney cruise? 🚢": A newsletter plugs the podcast .

"Breyer Will Retire: Harold Meyerson; Gustavo Arellano: the OC; & Ellen Schrecker: the '60s": I go on UCI professor Jon Weiner's radio show to talk A People's Guide to Orange County.
Gustavo Podcast
Latest roster of episodes for "The Times: Daily news from the L.A. Times," the podcast that I host. Listen to them, and SUBSCRIBE. Don't let me become the Poochie of podcasts!
"Home was where the freeway is": Santa Monica tries to make right by its racist wrongs from the past.
"Tet, today and yesterday": The Vietnamese Lunar New Year in the United States.
"Mexico's murdered journalists": The disgrace that doesn't stop….
"No freedom gold medal for you, Olympics": And here comes Los Angeles 2028.
"When cars on autopilot crash — and kill": Self-driving cars…aren't.
Gustavo Stories
"Grítale a Guti, Ep. 156": Latest edition of my Tuesday night IG Live free-for-all brings on the DESMADRE.
"Some anti-maskers are preventing OC school district from meeting": My latest KCRW "Orange County Line" talks about the PANDEJOS among us.
"At the L.A. site of an old cease-fire, looking for peace in an impolite society": My latest Los Angeles Times columna talks about the Campo de Cahuenga, and a missed 175th anniversary. KEY QUOTE: "But the promise of peace is one we should all take to heart because it's so fragile. So what happened at Campo de Cahuenga took on an outsize role in how Southern California remembered its history."
"Liberal Santa Monica versus the street vendors": My next latest LA Times columna goes to the beach city, where a crackdown on taqueros licensed and not is beyond much. KEY QUOTE: "But in the famously bleeding-heart city, there are no more tears to give for unlicensed vendors."
You made it this far down? Gracias! Follow me on Twitter, Facebook, and Instagram while you're down here. Don't forget to forward this newsletter to your compadres y comadres! And, if you feel generous: Buy me a Paypal taco here. Venmo: @gustavo-arellano-oc