Gentle cabrones:
If you worked at OC Weekly in the early 2000s to mid-2000s, you knew about The Training.
It was some self-realization program that the boss swore by, and tried to get anyone who'd listen to join.
Literally.
He'd go to employees and urge them — repeatedly — to join him in The Training. That it would change their lives for the better.
His pitch worked for many in the sales section, and some in design. But we in editorial thought the The Training was little more than a cult, and talked among ourselves about how bizarre it all was.
Everyone in editorial rejected him — including me.
It didn't matter. The boss made multiple pitches to me. When that didn't work, he enlisted other employees. When that didn't work, he even listed the head of sales, a man who looked like Ned Flanders incarnate, except whiter and with some more pounds.
In retrospect, all of this was wildly inappropriate — but the boss was my mentor, and I wanted to please.
So around 2005, I decided to do The Training. What's the worst that could happen?
**
First time reading this newsletter? Subscribe here for more merriment! Buy me a Paypal taco here. Venmo: @gustavo-arellano-oc Feedback, thoughts, commentary, rants? Send them to mexicanwithglasses@gmail.com
The Training happened over the course of three days, 8-6 or something. All-day affairs, but not into the late nights. It happened in the basement of the Hilton off Bristol and Paularino in Costa Mexico.
It was…interesting.
All lectures, games, listening circles — self-help gobbledygook — led by a guy
who looked like Pat Sajak mixed with a young Kirk Douglas. Day One was him tearing us apart, making us feel miserable about all of our faults, and angering us in the process.
Day Two was about making us feel miserable. On that day, the climax was everyone in a darkened conference room sitting on the floor. We paired up with with someone, as we took turns asking each other the same question, with an intensifying tone: "What do you want?"
"What do you want?"
"What do you want?"
I never realized such a simple question could unleash such emotions. People began bawling and moaning in pain, while Kirk Sajak went around the room to each team, screaming at the top of his lungs, "WHATDOYOUWANT WHATDOYOUWANT WHATDOYOUWANT WHATDOYOUWANT WHATDOYOUWANT."
At the end, he asked us to let out the loudest yell imaginable — a primal roar.
I imagine this was how John Lennon's sessions with Janov went. The pain, the anger, the frustrations was real.
It was time to heal.
For the rest of Day 2, Pat Douglas built everyone back up. Sad tears turned to happy tears turned to breakthroughs. Day 3 was all smiles and people dressed up because we were graduating. At the end, we all gathered in a circle, closed our eyes, then someone pinned a bauble on our chest.
For me, it was my boss.
The Training was done, and he never brought it up again, even though The Training itself bugged me multiple times in the next couple of months to do their next-level retreat in the San Bernardino mountains.
Yeah, no.
I never told anyone at work, because the last thing I needed them to think was that I succumbed to The Training. Nothing changed — it was around 2005, so I continued trying to figure out what ¡Ask a Mexican! was, finished up my stories on the Catholic Church sex-abuse scandal, and got into historical journalism.
The Training came and went and that was that…and yet I still think about it.
It didn't change anything with me. My life, my trajectory, my principles and friends remained the same. The only big change — I finally told an ex vaya con Dios — was already about to happen.
But I did see lives transformed by The Training. People who came in meek and insecure emerged ready to take on the world. So any time I scoff at people talking about self-care this, and therapist that, I remember The Training.
If you need something like that to feel better about yourself, go for it.
But I think about The Training more as a memory about the man who got me into journalism.
We had a split when he and others left OC Weekly in 2007, and have spoken only a couple of times since. Most of us alumni had a rapprochement in 2015, when we had a party to celebrate OC Weekly's 20th anniversary, but he proceeded to alienate nearly all of us over the years as his politics went from left-libertarian to a rightward bent toward pandejismo that Old Guillermo would've ridiculed.
It sucks, but what can one do except learn? And so I remember The Training's ultimate question. What do I want? The answer is the same as always — WERK — and I let the past continue to crumble, compost for my future.
GRÍTALE A GUTI
This is the column where I take your questions about ANYTHING. And away we go…
From one Guti to another, why does education in America suck for Chicanos, and yeah Chicanas too?
Does it? When my tías attended Anaheim High briefly in the 1960s, school officials made them clean floors. When I attended Anaheim High in the 1990s, my counselor was a stuffy gabacha who suggested I enroll in a carpentry class to have a future. Today, the principal is a guy from Jerez who graduated a year before me and has all sorts of College Bound Puente GATE programs to get kids on the college track — and my sister is a fourth-grade teacher at an Anacrime school where the principal there is my cousin's wife.
We've got a ways to go before we're that high school in the San Fernando Valley that always wins the Academic Decathalon, pero #ahívamos
Got a question for Guti? Email me here.
**
Enough rambling. This was the semana that was: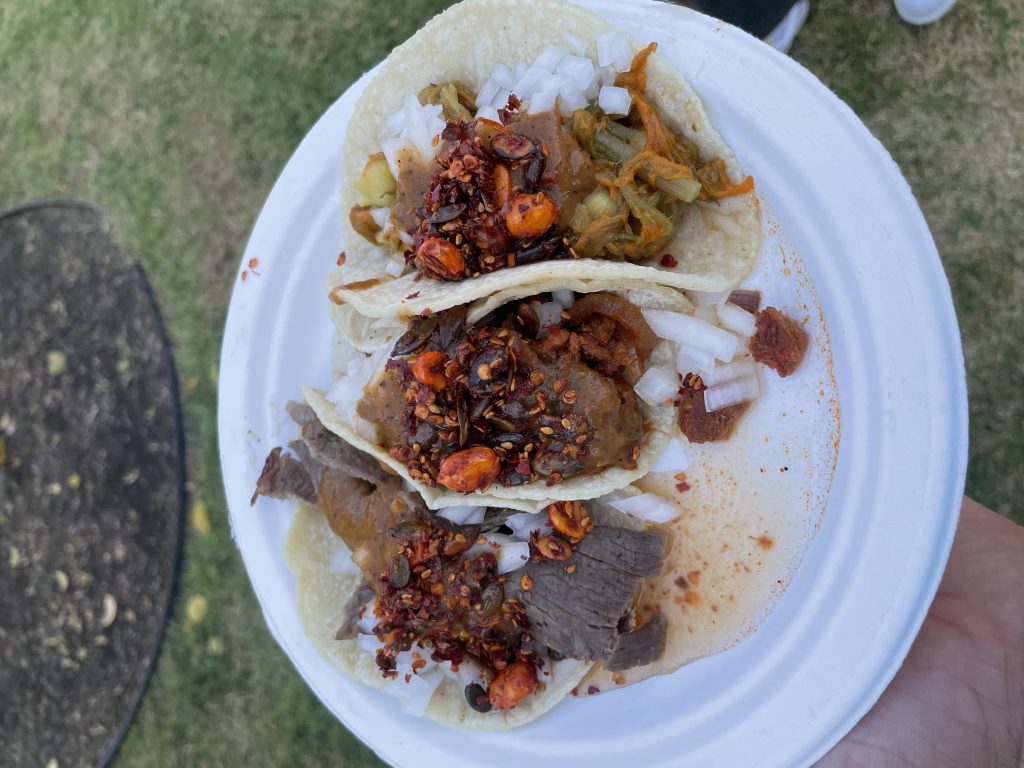 IMAGE OF THE WEEK: Bad photo of GREAT tacos from Eastside Tacos, the catering arm of La Princesita Tortillería in Eastlos.
QUOTE OF THE WEEK: "I wasn't born to be a fighter. The causes I have fought for have invariably been causes that should have been gained by a delicate suggestion. Since they never were, I made myself into a fighter."
—Margaret C. Anderson
LISTENING:"Quiet Storm," Smokey Robinson. America's greatest poet getting into the 1970s sex-as-salvation Olympics? Makes Al Green, Teddy Pendergrass, Isaac Hayes and Marvin Gaye seem as collectively chaste as a Shaker. Man, I miss hearing this song every weekday at 11 at night on the old KACE-FM…
READING: "Four Moptop Yobbos": Come for the London Review of Books take on the Beatles, stay for the conclusion — and laugh at the Rolling Stones trash-talk along the way.
SHOUTOUT TO: Anonymous, who kindly donated 100 tacos to sponsor TWO full month of MailChango! They write: "Shout out to 2 locales – AGAVE – great mole! – and Charro Negro – mexicano seafood taco truck! Sonoma County & UCLA in the house!"
Gustavo in the News
"Nothing against the "Death Star," but the LA Times thinks its new daily news podcast can go where the biggies can't": Nieman Lab says of my hosting capabilities, "Arellano speaks quite a bit faster than Barbaro, is funnier on air, and brings more of himself to the hosting duties."
"California Playbook": Politico's Golden State newsletter plugs the podcast.
"How Los Angeles Can Govern Street Vending With the Respect It Deserves": Zócalo Public Square plugs my Taco USA: How Mexican Food Conquered America book.
"Tortilla incident shows that intent doesn't matter": The San Diego Union-Tribune publishes an op-ed that references a columna of mine.
"Un tamalero sonorense en medio de la guerra, y cómo México conquistó EU": El Sol de Hermosillo plugs my work on tamaleros in the U.S..
Gustavo Podcast
Latest roster of episodes for "The Times: Daily news from the L.A. Times," the podcast that I host. Listen to them, and SUBSCRIBE. Don't let me become the Poochie of podcasts!
"Daniel Ortega's Nicaragua revolutions": I talk about the Sandinista turned dictator with Los Angeles Times reporter Julia Barajas and an exiled Nicaraguan cartoonist.
"QAnon disrupts the yoga and wellness worlds": Color me not surprised.
"Illegal marijuana floods California's deserts": I'm all for legalization and against people who poison wildlife in the name of profit.
"Eugenics in our own backyard": I speak with California Assemblymember Wendy Carrillo about a bill she pushed to give reparations to victims of forced sterilizations.
"El Salvador wants to be a bitcoin paradise": I turn the mic over to my awesome colleague Kate Linthicum.
Gustavo Stories
"Grítale a Guti, Ep. 57": Latest edition of my Tuesday night IG Live free-for-all.
"Some low-level misdemeanors are dropped in exchange for your DNA in Orange County": My latest KCRW "Orange County Line" talks about OC District Attorney Todd Spitzer's flip-flop on a secretive database.
You made it this far down? Gracias! Follow me on Twitter, Facebook, and Instagram while you're down here. Don't forget to forward this newsletter to your compadres y comadres! And, if you feel generous: Buy me a Paypal taco here. Venmo: @gustavo-arellano-oc