Gentle cabrones:
This one's going to be short because, well, it's Christmas, and I overloaded and potatoes au gratin, of all things.
A couple of months ago on Twitter, I told someone that my glasses were from Warby Parker, the ultra-discount hipster store, and I was going to order some more because I needed a new prescription and I liked what I got.
That's when a woman who work for an optometrist in Orange kindly suggested that I should walk the small-business walk I have espoused for so many years, but especially this one.
I was gratefully embarrassed, and vowed to do so. Then I forgot her name and the name of the store.
Earlier this month, I mentioned the story to a friend, and said the only I remembered about the woman was that her name started with an L. By some miracle of God, my friend knew who it was – and by some miracle of God, I found the woman on Twitter.
So last weekend, I went to my appointment at Orange Circle Optometry.
**
First time reading this newsletter? Subscribe here for more merriment! Buy me a Paypal taco here. Venmo: @gustavo-arellano-oc Feedback, thoughts, commentary, rants? Send them to mexicanwithglasses@gmail.com

A husband-and-wife team run the small shop, and I got the husband. Alex is a young Cuban American who is by far the best optometrist I've ever had —and I've been seeing them ever since my mom would take me to the Southern California College of Optometry in Fullerton because we couldn't afford anywhere else.

Alex was funny, knowledgeable, a total music geek, and never pushy. About the only red mark I give him is that he still does that air-puff thing to check for glaucoma instead of having a pen to put on my eyeball – that's how much I'm familiar with optometrists ha ha.

Turns out I didn't need a new prescription; turns out my Warby Parker glasses were shitty AF. Lo barato cuesta, as the dicho has long said. Cheap costs a lot.

I placed my order with the kind lady who hit me up on Twitter, and will get my glasses in a couple of weeks. Right now, they're only allowing one customer in at a time. He and his staff are definitely not PANDEJOS, and represent everything wonderful about small businesses.

And although the glasses are not as cheap as Warby Parker, the money will be going to far better people.

Did you get what you want for Christmas? I sure hope so. So next year, challenge yourself by getting them from local and small business as much as you can. They're more than just restaurants, you know?

And talk your walk ALWAYS — otherwise, you're pure squawk.

Orange Circle Optometry, 227 E. Chapman Ave., Ste. C, Orange, (714) 538-6424; orangecircleoptometry.com

GRÍTALE A GUTI

This is the column where I take your questions about ANYTHING. And away we go…

Your 8/29/20 read was fun and interesting.  Most interesting was the reference to wab.  Que es eso?  I can guess.  I even read the article you linked to. You mention wab but don't define. I grew up in Azusa so I don't have the OC lingo down.

Not only did I answer your query in my first book, but I also just discussed it in my latest Grítale a Guti, which you can find below. Sorry, gotta eat more potatoes au gratin!

Got a question for Guti? Email me here.

**

Enough rambling. This was the semana that was: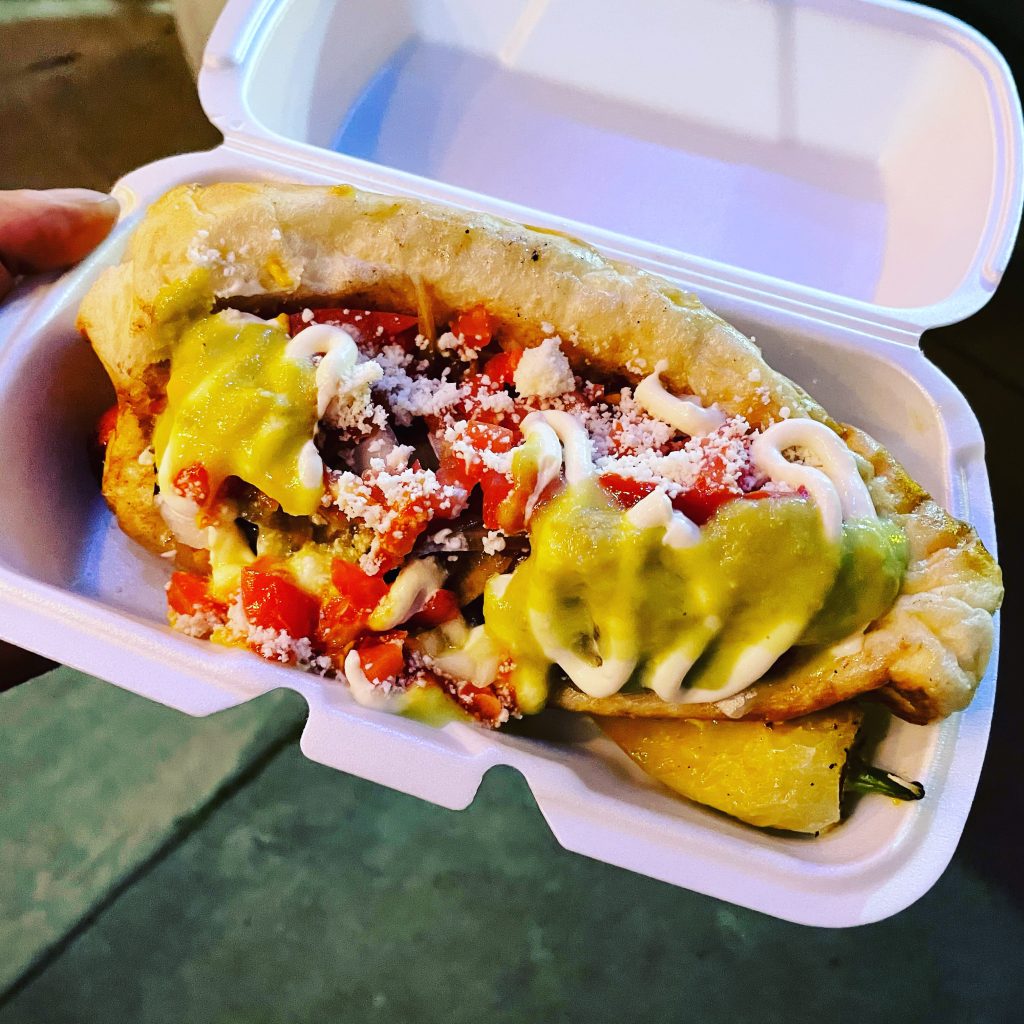 IMAGE OF THE WEEK: INCREDIBLE Sonoran dog from Dogos Yaqui in La Puente. Mexican-style bacon-wrapped hot dog — what else do you need?

QUOTE OF THE WEEK: "The objector and the rebel who raises his voice against what he believes to be the injustice of the present and the wrongs of the past is the one who hunches the world along"

–Clarence Darrow

LISTENING:"Deportee (Plane Wreck At Los Gatos)," Dolly Parton. Everyone loves the pride of Pigeon Forge, Tennessee, but, no, seriously: She's down. The fact that she recorded this Woody Guthrie classic at the height of her crossover career (for her album 9 to 5 and Odd Jobs) shows the heart and humanity and politics of the woman. I prefer the version by the Byrds — but nevertheless, #respect to the legend.

READING: "Keeping time – the Tunisian clock monuments that tell of a bygone regime" and "Mohamed Bouazizi: the faded icon of Tunisia's Arab Spring": Rare I read articles about Tunisia, rarer that I get to read two in a week — and two great ones? Happened this week gracias to Apollo and The New Statesman — read them both for two different-but-related takes on a very fascinating country.

SHOUTOUT TO: Chris, who kindly donated 50 tacos to sponsor a full month of MailChango! He writes: "Next time you are in the San Fernando Valley, check out Salsa and Beer…We live in Reseda and hit up the original location, but they also have a great location in North Hollywood (full bar!). I would love to hear your thouights on the food. Thanks! I just had the Zacateca Carnitas yesterday and can't stop thinking about them. Luckily, I have leftovers."

Gustavo Community Office Hours!

I'm rebooting my stint as scholar-in-residence at Occidental College's Institute for the Study of Los Angeles! Every Tuesday, from noon-3 p.m. people can book half an hour with me and we can Zoom (over a secure line, of course) one-on-one about WHATEVER. Interested? Email me to book your time NOW!

Gustavo in the News

"Ketchup on Tamales: Harmless Topping or Culinary Abomination?": A website that once unceremoniously fired me is now citing me on the regular!

"Letters to the Editor: Anti-Newsom 'maskholes' are putting people's lives at risk": Los Angeles Times readers react to some of my columnas.

"California Playbook": Politico's Golden State newsletter gives another of their regular plugs of my stuff.

Gustavo Stories

"Grítale a Guti, Episode 26": My latest Tuesday-night IG Live free-for-all where I take your questions about WHATEVER.

"A cancer patient needed critical care. Because of the COVID-19 surge, she died without it": My latest Los Angeles Times columna tells a sad tale from Joshua Tree. KEY QUOTE: "The facility didn't have the equipment to take care of Kim, he said. So the attending doctor began to call hospitals across the Inland Empire to see if Kim could be transferred to them. None could accept her. They were swamped with COVID-19 cases."

"For the Pied Piper of La Puente, no COVID-hit business is too small to tout": My latest LA Times columna profiles a guy who's profiling mom-and-pops in Bridgetown. KEY QUOTE: "When the COVID-19 pandemic first shut down Southern California restaurants in March, Joe Bautista had an epiphany that all of us should have."

"The bittersweet victory of Alex Padilla, California's first Latino U.S. senator": My latest LA Times columna pontificates on what the historic choice actually means. KEY QUOTE: "Padilla's move doesn't prove that Latinos have finally fulfilled our political potential. It's a reminder that we have so much further to go."

You made it this far down? Gracias! Follow me on Twitter, Facebook, and Instagram while you're down here. Don't forget to forward this newsletter to your compadres y comadres! And, if you feel generous: Buy me a Paypal taco here. Venmo: @gustavo-arellano-oc