Gustavo note: This story was funded by the generosity of readers like ustedes and is part ofn a weeklong series of original content for my website. Check in every day this week for something new! Gracias, and do support independent journalism wherever you may be…
Tom Petty said it best: The waiting is the hardest part. As a borderline millennial, I had to wait for things as a kid. Download songs off of Kazaa? Come back in 6 hours. Did you rent Home Alone 2 from Blockbuster and are ready to settle in for a movie night with a nice cheese pizza? That's going to have to wait because some horse's ass forgot to rewind the movie once they were done watching it.
But, that's what we did. In today's Fastpass society, we've been spoiled when it comes to waiting for things. Remember midnight showings? I mean the real midnight showings of new theatrical releases where there would be multiple lines of nerds waiting to rush to get a seat to see what happened to Frodo and Sam when the theater doors opened. You'd stand in line with other geeks striking up conversation and there was a small sense of community for a couple hours. The world didn't seem as distant and divided. It also sort of made the movie itself seem worth it…evil elves in Thor 2 and all.
Remember that? Now, you reserve your seat, go with your friends, and you go home.
Waiting shows patience, dedication, and a sense of accomplishment. That's what happens when you go visit Daniel and Brenda Castillo, purveyors of Heritage Barbecue in San Juan Capistrano, where the barbecue is as close to Texas style as you can get without book a flight on Southwest.
Attracting a cult following after two years of doing pop-up barbecue events at local breweries, Heritage finally opened their long-awaited restaurant across from Mission San Juan Capistrano mission. If you're going to open up a restaurant mid-pandemic, it helps that A) you're outdoors, and B) you're expecting to wait in line, whether it be six inches apart or six feet apart, you're still waiting.
At Heritage, you have both. But at least you have the sounds of Hank Williams and Asleep At the Wheel to help make your wait a little easier. Also, getting there early means you're on property grounds while you wait, instead of crowding onto the cursed sidewalks of downtown San Juan Capistrano, and since you're on property grounds, you can sip suds from one of the outstanding offers from Capistrano Brewing Company.
I went on easily the hottest day of autumn thus far, and the beer tenders were walking back and forth in the sun collecting glasses, carrying trays of beer, and all the while trying to make your wait as comfortable as possible. If you're thinking of getting there early while the rest of your brisket-loving friends join you in line later on, essentially "cutting" the throng of people behind you, don't even think of it.
One person? Sure. Two? Pushing it, but generally ok, just make sure it's all on one order.
More than three? Nope.
This is Texas barbecue, folks, and that means you wait. The general rule of thumb is that you find a seat after you've ordered. You're fine. Really. Wear a hat, bring a chair, lather up that SPF 30, strike up a conversation with the other lovers of smoked meat around you, buy a stranger a beer.
And wait.
Heritage Barbecue is Central Texas-inspired: Dry rub, smoked low and slow—12 to 16 hours— over a fragrant wood such as mesquite, pecan, or oak, and served on a plate or tray. Brisket is God. Juicy and tender on the inside, the rub crusted perfectly on the outside, sealing in all of that beefy flavor that gets trapped inside when it sits in the smoker. If you get a piece that's part fatty brisket-part meat, consider your wait worth it. That's barbecue gold.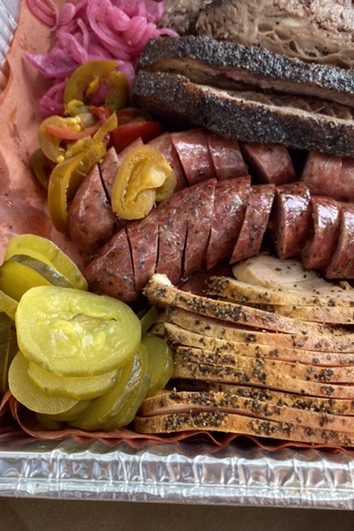 Want to know if your brisket has been properly smoked? Look for the dark pink smoke ring between the rub and the rest of the brisket. That ring shows that the juices of the meat have been sealed in throughout the smoking process.
All of this Heritage Barbecue does with as much ease as Willie strumming his guitar.
Taking the time to prepare and smoke the forgotten and much-derided turkey, shows that you've found good barbecue. Some places may have it on the menu as an afterthought, just to offer a "healthy" option. Not Heritage. Their turkey is brined in sweet tea and slow smoked for hours, imparting the juiciness and flavor lost when done by the wrong hands. I could easily have put it between bread with some mayo the next day to make a sandwich, but it was so good just by itself that I devoured like a first-timer at Medieval Times. (Pro tip: the turkey is usually one of the last things to go, so gorge on other things and take that one to go.)
The sausages are made in-house, and the butcher loves to experiment with the different types that they put out there. On this particular day, there were beer brats and a "cheeseburger" sausage — a beef cheese link that contained a peppery, smoky, flavor and a faucet of gooey cheddar with every piece of sausage link that was pulled away. They've also done chorizo, jalapeño cheddar, garlic pork…they're all excellent. The beef ribs are a weekend treat, and they're bigger than one of Dwayne Johnson's biceps. Also, watch out for special offerings such as KC Burnt Ends (meat candy) and smoked salmon steaks.
And the sides! When you first go, Heritage advise first-timers to "try a little bit of everything" and you should if you can. However, if your budget doesn't allow for that, my personal favorites are the jalapeño cornbread muffins made by Capistrano bakery Fkn Bread, another soon-to-be Camino Capistrano resident, macaroni and cheese (chicharrón topping!), creamed corn, and potato salad with pickled egg—a cool, refreshing accompaniment to all the hot dishes you're getting that helps when sitting in the hot South County sun. Did I also mention that they use pickled egg?
Dessert? Banana bread pudding. Sometimes, it has pralines and chunks of banana bread; other times, it's whipped and has banana chips and vanilla wafers. Either is spectacular.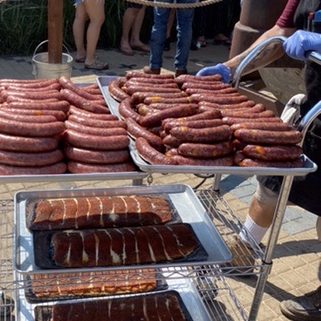 Full yet? Smash burger start-up Kevin Hammons and his Hammer Burgers open on Sundays after Heritage closes. If you're lucky, they'll have some brisket chili for your burger. If not, you'll still have crispy, juicy, flavorful smash burgers that come with homemade pickles.
Is it risky opening up a barbecue spot, with no ordering ahead, no phone or online orders, no spot saving or table saving, in a culture now used to the complete opposite? Of course. But Heritage relies on the reputation that they've rightly earned over the last two years hauling out their smokers to breweries for pop-ups, and fans are showing up in legion.
They're the ones who know that they can easily get quick barbecue from a Phil's or a Dickey's, or even via DoorDash. They're the ones who know the wait is the best part.
From the author: A former teacher that couldn't land a full time gig. At approaching 40, looked to find a new path in finding, talking, and writing about food in and around Southern California (even further if I have the funds to do so!). They say that those that can't teach. Hopefully that means I can do this. I have a blog that I need to do a better job of updating: www.seaneats.com