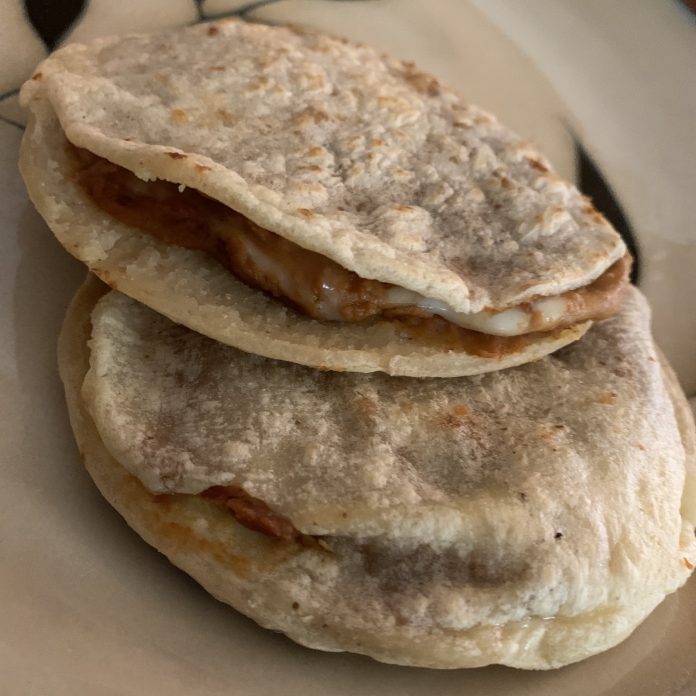 Out of all the maíz marvels of Latin America — from the Central American pupusa to South America's arepa to tamales throughout — one that often goes unsung is north-central México's humble gordita.
The culinary cousin to the taco, these girthy masa marvels reign supreme in the central plateau states of the Sierra Madre Occidental. I was fortunate to be raised by a long line of matriarchs who lovingly patted these beauties out by hand — expertly twirling the gorda on their palms and using their index finger to gently form its thick perimeter with a repetitive tapping motion. After laying it over the comal, they would carefully slice open the cooked gorda, creating the perfect pouch to stuff with all sorts of sabrosuras.
These mujeres learned the art from generations of women who woke up at the break of dawn to tortear their gordas over the comal and stuff them into the morral of their husbands before they went off to la labor—long days of arduous field work in the milpa. Sturdy gorditas were the preferred foodstuff of the poor campesino: they were satisfyingly filling even when meat-deprived diets meant they were simply filled with nopales con huevo, frijoles molidos, rajas con queso or papas con chile. Easy to pack and reheat out in the field, sometimes over dried cow dung (how's THAT for organic!).
And on the rare occasion that there was carne to go around? That meant guisos. My childhood favorite was carne deshebrada, a stringy, spicy beef that made the most comfortingly juicy filling.
Now, thanks to the centenarian tradition of migration from this region, you can revel gordita glory at Los Paisanos in Fontana — al estilo Zacatecas as their unassuming marquee proclaims.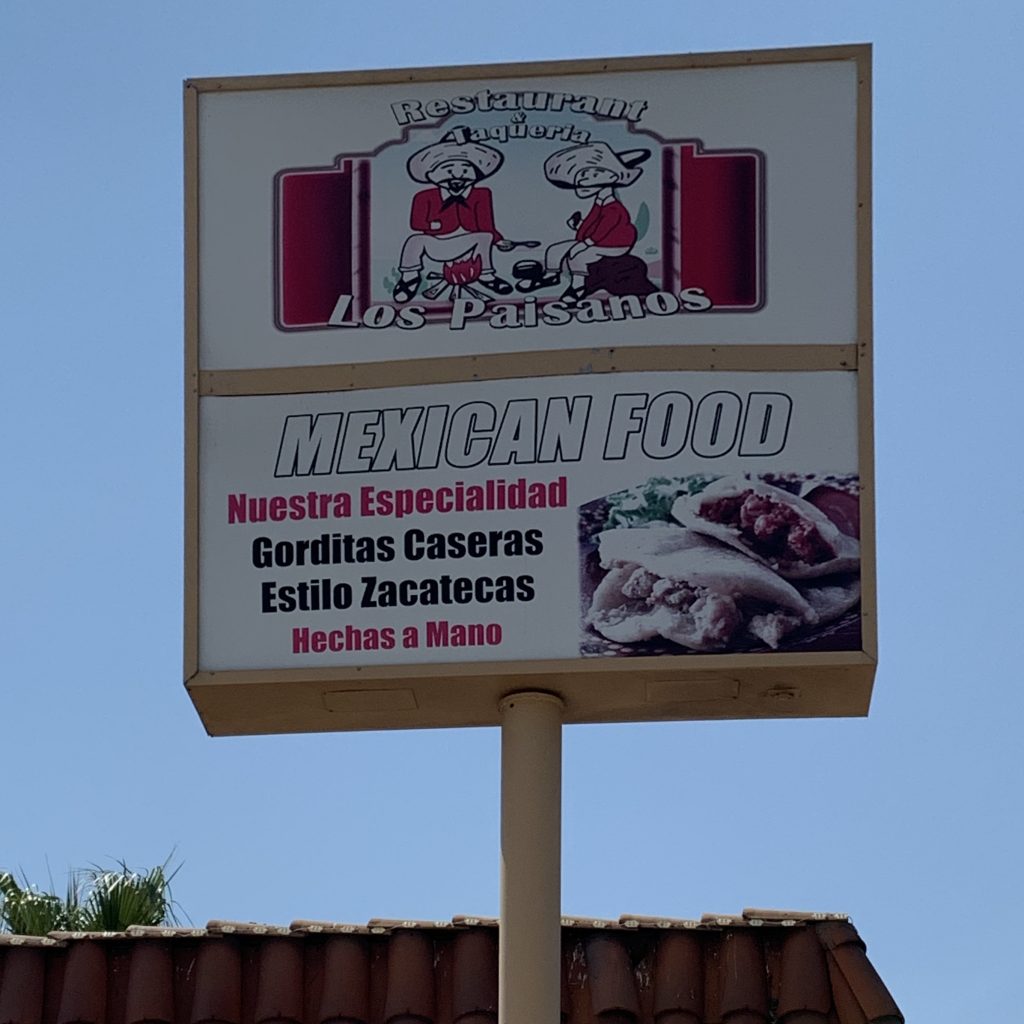 The trek to the paisa periphery is well worth it — regional rarities abound in the communities that rim Los Angeles, replenished by generations of migration waves priced out of the L.A. Basin. But despite a diaspora that numbers in the hundreds of thousands, zacatecano-style food — pipian, birria de res, acualaistas and more — remain surprisingly few and far between. As Gilberto Diaz, who owns Los Paisanos with his wife Sonia, said to me with a pinch of pride, "Our paisanos come to us for the gorditas."  
Not all gorditas are created equal. There are variants even in Zacatecas, with the folks from the southern part of the state partial to frying their gordas, rather than simply cooking them on the griddle as we do in Jerez (to say nothing of the vast array of sweet gorditas which are more like dessert cookies).
Mexican president AMLO himself knows better than to get into this gordita debate, astutely declaring in a tweet an empate (a tie) between the gorditas of the neighboring states of Durango, Zacatecas and San Luis Postosí (shout-out to Gorditas Durango in the San Fernando Valley, that other edge of the paisa periphery where I was reared. Their chile pasado guiso was a revelation but their real secret the last time I visited? They had Central American señoras patting out their fine masa discs!).
Allow me to be less diplomatic than AMLO. Los Paisanos are culinary legends in our ancestral hometown of Jerez, coming from a pioneering family of taqueros from the village of La Gavia, a rancho with a strong migration history to Chicago, that other Mexican migrant metropolis in the Midwest.
The family set up their taqueria in Joliet, Illinois, Chicago's version of the paisa periphery. Los Paisanos' carniceros in Jerez are also popular, known for their chicharron prensado—pork rinds wrung of all the excess fat that produce a chewy, jerky-like pork product. Not surprisingly, the highlight of Los Paisanos in Fontana is their gorditas de chicharrón.
While you can now find Zacatecas-style chicharrón in the Southland — thanks primarily to the chingones of Burritos La Palma who wrap their fiery pork rinds in their enigmatic flour tortillas — Los Paisanos is not only the full experience, it's pork perfected. Their chicharrones consist not only of the glistening pork rind, but the layer of carne under it, providing a gelatinous surface to the drier, chewier sediment of meat attached beneath.
Their gorditas de frijoles con queso (light on the cheese for me, por favor), are no less delicious. Theirs are frijoles molidos, refried with chile rojo, giving the earthy beans the red hue of the rain-deprived yet mineral-rich soil of Zacatecas. And while they don't serve deshebrada, you will find comfort in Los Paisanos' gorditas de nopales and rajas con queso, cactus or roasted chile strips fused with melted cheese.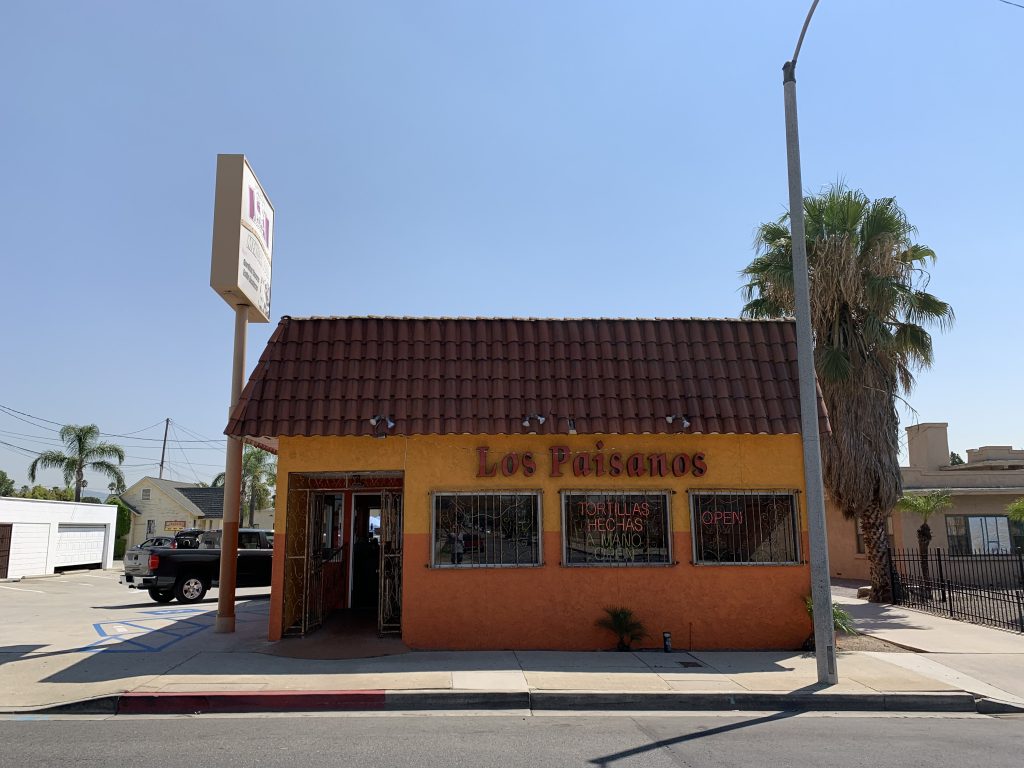 Los Paisanos serve seasonal specials too. When I visited during Lent, shortly before the coronavirus pandemic made dining-in a memory, I arrived to a packed restaurant and noticed a hand-scribbled sign announcing their cuaresma classics: bolitas de camarón con nopales and capirotada. I ordered their last remaining slice of capirotada and was overcome from the first bite by how perfectly sweet, moist and downright divine it was.
Having recently lost my abuelita, who generously satisfied the gordita cravings of generations of grandchildren, biting into a gordita from Los Paisanos in these times of coronavirus, fascism, populism and mass morbidity is about the only experience that feels grounding, restoring and real.
Thankfully, coronavirus has not slowed this Fontana fondita. You can order takeout from a tiny but convenient window on the side of the restaurant or enjoy their outdoor taquizas en la terraza in their shaded terrace, if you can weather the IE heat.
And to the paisanos who run this gem by the same name, I leave them with this recipe for success, in the words of our legendary poet Ramón López Velarde, lest their gorditas get lost in a menu of more mainstreamed Mexican meals:
Patria, te doy de tu dicha la clave:
sé siempre igual, fiel a tu espejo diario…
Los Paisanos, 9097 Sierra Ave., Fontana, (909) 822-8245
Adrián Félix is Associate Professor of Ethnic Studies at UC Riverside and is the author of the award-winning book Specters of Belonging: The Political Life Cycle of Mexican Migrants