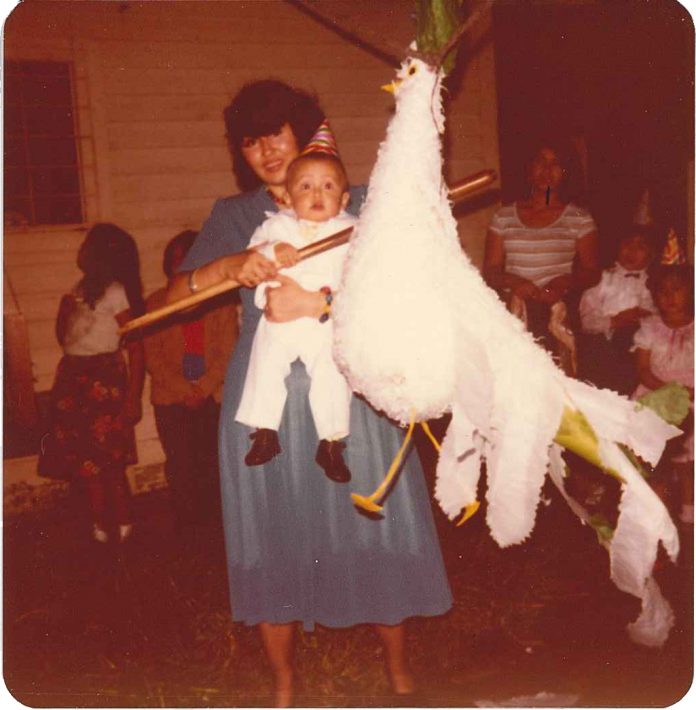 Gentle cabrones:
This Tuesday, April 28, marks the one-year anniversary of my mami passing away at 67 from ovarian cancer, and I don't even know how to mourn.
My family can't gather together in a proper way due to pinche coronavirus. I couldn't even bake her capirotada this year because I have to stay away from my family as much as possible due to my job.
I can't even bring myself to write the 10,000-word opus I wanted do to in honor of this sad date.
So, instead, I'm going to take my own advice.
Months ago, a college friend of mine wrote to tell me how much my cantos on the grief I've felt over the death of my mami helped him deal with his mother's passing. And I replied in part with this:
The best advice I can give you is to let your emotions run free whenever you need them. Cry. Scream. Laugh. Reminisce. And then get back to living the life your mom wanted you to live. This way, you'll never forget, but you'll also remember that she wanted you happy.

That approach has helped me a lot–the grief will never lessen, but it also won't subsume me, because that's how my mami would've wanted it.
The tears…nowhere near enough.
I've teared up at least once a day since Mami died. Lágrimas drip on my cheekbones maybe once a week — but I'm a macho, so I hold them in.
But when I can't bear to keep them dammed up anymore, I'll put on the JuanGa and let them flow.
That happens at least twice a month.
I'm not ashamed. I'll always love my mami. Her passing isn't fair.
She didn't deserve to die so young.
The only solace I find to deal with this tragedy is to cry.
Because it's the fuel I need to keep on keeping on.
**

First time reading this newsletter? Subscribe here for more merriment! Buy me a Paypal taco here. Venmo: @gustavo-arellano-oc Feedback, thoughts, commentary, rants? Send them to mexicanwithglasses@gmail.com
I'll share with ustedes my two ugliest cries.
The first one was straight-up cruel.
On March 17 of last year, I was home for a bit before going back to visit my mami at our family house. By then, the doctors had sent her home to hospice.
Throughout her illness, I recited the prayer of St. Bonaventure, patron saint of stomach ailments. It's a beautiful meditation, but one I can't bring myself to read ever again.
All because of March Madness.
On March 17, I turned on the television at my house to CBS. And who do I see but the Saint Bonaventure University's men's basketball team with a lead over the St. Louis University Billikens.
Sign from God, right? All the Bonnies had to do was win, and they'd clinch the Atlantic 10 conference title and a berth in the tournament.
They lost. St. Louis staged a last-minute comeback (never underestimate the Jesuits).
Those tears were of rage. My God is the one of the Old Testament — a capricious, omnipotent being who'll mess with you just because he can (ask Job). And it's not past Him to make me see the very saint my mom and I spent months praying to for her health lose to a school whose mascot is a early 1900s-era doll.
But those tears were droplets compared to what I spilled because, of all things, Doctor Zhivago.
Before my mami went into surgery, Kaiser had her fill out a sort of last will where Mami got to dictate her final wishes. I can't remember much of it — my sisters handled it, because of course they did — except for the music. She specifically requested no banda, because she knew my dad would try to sneak it in, God bless his tamborazo-loving heart.
Mami wanted a mariachi. And she also requested that whatever mariachi we contract play a song I hadn't heard of before: "Tema de Lara."
I pride myself on knowing the Mexican songbook…and I had never heard of it. I remember asking her cual canción era esa, and all she ever said was that it was bonita.
And for some reason, me — he of the reporting career, who questions everything — didn't press on.
In fact, I didn't think of the song again until the last week of her life. I don't know how, but I remembered "Tema de Lara" and finally looked it up on YouTube.
The first violin and trumpet notes didn't register with me, and then it did: it was the mariachi version of "Lara's Theme."
And I cried like I'll never cry again.
It's a beautiful song — the original one, of course, is haunting and heartbreaking (especially if you've seen the David Lean classic). But the mariachi version is even better: hopeful in a way all mariachi is, yet filled with saudade the way all great mariachi is.
I was able to play "Tema de Lara" to my mami on her final day on Earth.
"Tema de Lara" (listen to this version by Los Camperos de Nati Cano) best encapsulates Maria de la Luz Arellano Miranda. She was a fragile but strong beauty not meant to live long, because this world didn't deserve her. She was a saint in the most literal sense — nowhere near perfect, with faults.
But it's in her totality that she set an example for those who loved her, an example they'll never forget and weep over forever after.
I love you, mami. I'll forever cry for you. But I'm still working. I'm still living. I go on, and I won't suffer over losing you.
Because I know that's how you'd want me to live.
I'm going to take another piece of my own advice, which I heard first from my compaTony Garcia of Su Teatro in Denver.
He sent me a very kind note a couple of weeks after my mom passed away. I wish I remembered it all, but I'll never forget his closing line: "Stay strong, because that's how your mom made you."
And so, I cry.
GRÍTALE A GUTI
This is the column where I take your questions about ANYTHING. And away we go…
I live in Rancho Santa Margarita (RSM for those who are too lazy to say it with all the meaning and accent with each word), and a lot has happened down here with an addition of a brewery, small-batch distillery shop and bar, and food.

I'd like to believe I've seen most of the ugly of South County—mostly Lake Forest, Mission Viejo and RSM (too lazy to write it out). But, slowly, I've seen a lot of changes that are shifting toward different electric and younger tastes rather than the traditional, bland and generic. Don't get me wrong, the latter is still dominant here, but, since I've chosen to live out my adult life down here, after a sojourn in Long Beach for college, it would be great to see such changes noted in an updated edition of your book.
First off, there ain't going to be no updated version of Orange County: A Personal History — like most prophetic tomes, it was a massive flop, both in its own land and nationwide.
More importantly, you can get all sorts of ethnic diversity in South County, and Democrats in elected office, and it won't change what the area is: a bubble that refuses to believe there's life north of the Tustin Marketplace, that quickly turns recent immigrants into NIMBY pendejos, and wants to dump all its homeless onto SanTana.
But what do I know? I just wrote the book on OC…
Got a question for Guti? Email me here.
**
Enough rambling. This was the semana that was:
IMAGE OF THE WEEK: Rose almost as big as my head, from my garden. Mami loved roses…
LISTENING: "La Guaracha del Trenecito," Los de Akino. Some DEEP-TRACK sonidero here, it's a chopped-and-screwed remake of Compay Segundo's classic "El Tren." And they say Cubans and Mexicans don't get along…
READING: "Freedom in Solitude": Now, while we're supposed to shelter in place, learn from the hermit monks of the past about how being alone can mean being more connected to your community than ever before — if only you allow yourself that possibility. Another winning Commonweal article.
Gustavo Community Office Hours!
I'm rebooting my stint as scholar-in-residence at Occidental College's Center for the Study of Los Angeles! Every Tuesday, from noon-3 p.m. people can book half an hour with me and we can Zoom (over a secure line, of course) one-on-one about WHATEVER. Interested? Email me here!
Coronavirus in California: Stories from the Front Lines
This is my latest project for the Los Angeles Times, a 15-minute podcast that appears Monday through Friday. Do me a favor: Download them all, stream them, then leave me a five-star review on Apple–each one helps!
"COVID 19 Comes for Communities of Color": I speak to L.A. councilmember Marqueece Harris-Dawson about how corona is affecting South L.A.
"The Pandemic Hits Prisons": I speak to a woman released from prison after more than 30 years because she's at high risk.
"When Your 90-year-old Dad is on Lockdown": A conversation with a woman whose dad is in an assisted-living facility in San Rafael.
"Stay Home, Shred Later": I talk to my brilliant LA Times colleague, coastal reporter Rosanna Xia.
"Immigrant Detainees Fight COVID-19": A conversation with Sergio Jonathan Moreno, who was just released from the notorious Adelanto ICE detention center.
Gustavo in the News
"Coronavirus Today: It's hot, but stay off the beach": My podcast gets a plug in the LA Times coronavirus newsletter.

"Newsletter: L.A.'s mayor calls for furlough of thousands": LA Times "Essential California" author Julia Wick thanks me for filling in for her (among others) while she recovered from COVID-19.

Gustavo Stories

"Surviving the Shutdown: Siblings keep the family legacy alive at Kareem's Restaurant": My latest LA Times food story highlights one of my favorite Middle Eastern restaurants in Southern California, and how it's adapting to stay afloat during coronavirus. KEY QUOTE: "We used to have a GameCube there and play while our dad and mom would do all the work. Now it's our turn."

"In OC, thousands of Disney workers lose salaries, hundreds of residents protest lockdowns": My latest KCRW "Orange County Line" commentary takes on the double-whammy in OC that was tens of thousands of Disneyland Resort workers furloughed, all while San Clemente and Huntington Beach saw hundreds of people saying coronavirus ain't no thing.

You made it this far down? Gracias! Follow me on Twitter, Facebook, and Instagram while you're down here. Buy me a Paypal taco here. Venmo: @gustavo-arellano-oc. And don't forget to forward this newsletter to your compadres y comadres!