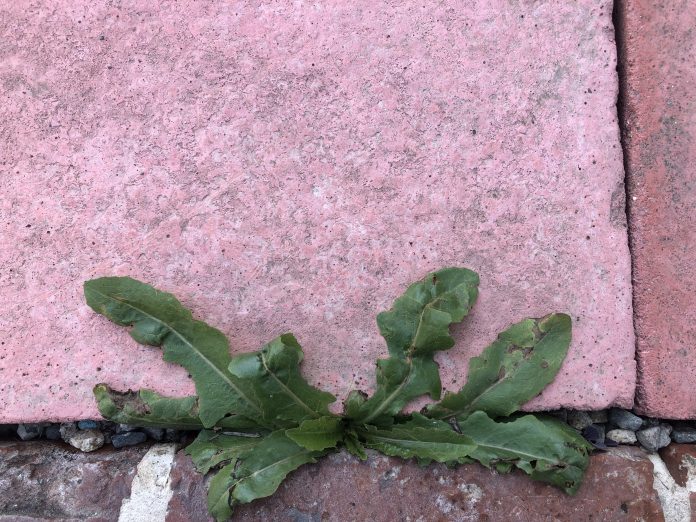 Gentle cabrones:
They call me the Whittler: the cholo nerd who reduces mountains to plains, one chipped-away pebble at a time.
Okay, only my family calls me the Whittler.
Okay, only my wife does.
Okay, only I call myself that.
But hacking away at stuff is something I've always prided myself on.
I can eat leftovers for a week without getting bored. When I used to have to read 600 pages a week for graduate school at UCLA, I broke up the process into so many subsections that I had everything memorized like an imam with the Koran.
Taking things bit by bit instead of trying to tackle everything all at once is perhaps the best lesson I can impart, because it's the best way to take on one of life's great plagues.
Weeds.
**
First time reading this newsletter? Subscribe here for more merriment! Buy me a Paypal taco here. Venmo: @gustavo-arellano-oc Feedback, thoughts, commentary, rants? Send them to mexicanwithglasses@gmail.com
"The Whittler" is the narrative I like to project of myself. In reality, like everyone else, I let the weeds win too often.
It's spring right now, a reminder that the world keeps on keeping on even in the face of bad times. Gardeners everywhere are starting their seedlings or planting crops.
I'll save for others the clichéd, the useful, metaphors of turning soil and spreading fertilizer to ensure a bountiful harvest. Because I'm too busy pulling weeds. They're inevitable, so the smart gardener pulls them out the moment they see one, so they don't choke up the soil and create a big mess.
I am not a smart gardener.
Over these past couple of months, I let them take over my garden. If I had just done a regular morning routine of pulling weeds as I spotted them, it would've only take me about 5 minutes every morning to keep things immaculate.
Instead, because I let them grow, It's taken me about six hours in total, spread out over my weekends and weekday afternoons over the past, to set my garden straight.
And I'm nowhere near finished.
THIS is the gardening metaphor we should all embrace. We get so wrapped up in things, that we allow little problems to pile up until they seem unmanageable. Then we neglect them. Then they get worse.
Then they REALLY become unmanageable.
That's how hoarding starts. That's how financial matters drown folks. That's alcoholism. That's so many other pathologies always lurking in our minds, and brought out in days like these.
But they're all solvable. All you have to do is whittle. We may not be Hercules in front of the Augean Stables, but we can all pick up one piece of popó and throw it away.
And repeat.
Identify a problem in your life. Take five minutes of your day to start chipping away at it. Celebrate those five minutes as a step in the right direction. Then devote more time to it.
One day, you will have reduced your mental mountain into dust.
And you can plant the good where bad once reigned.
Cuídense.
GRÍTALE A GUTI
This is the column where I take your questions about ANYTHING. And away we go…
This seemed inconsequential, so I never sent it, but since you're running low on preguntas, I'll ask. Growing up, did you and la familia store the bottled hot sauce (por ejemplo, Tapatío, or any other salsa of the kind), outside or inside of the refrigerator? I personally, keep it in a cabinet in the kitchen, but not finding it there, I know to check the fridge where mi novia Latina has put it. In essence, my question is, am I just some dumb gabacho disrespecting the sauce, or is she just a food safety kook (she won't eat anything past it's sell by date either)?
There are NO inconsequential questions, just inconsequential columnist answers. That said, I personally find that hot sauce in the fridge makes it flow smoother, but cold hot sauce isn't as tasty as hot sauce at room temperature. So, like that cute girl in the Old El Paso commercial that has now turned into a meme, "Why don't we have both?" Keep it in the fridge, take it out a good hour before you eat, and AWIWI.
Got a question for Guti? Email me here.
**
Enough rambling. This was the semana that was:
IMAGE OF THE WEEK: Every last Sunday of the month, my wife sells Zacatecas-style pozole rojo and Guerrero-style pozole verde at her Alta Baja Market in SanTana. It's usually a pozole pachanga, with DJs, pop-up sellers, and all that DESMADRE. You obviously can't dine in restaurants right now, but she's still continuing the Pozole Sunday tradition, so call in your order to pick up or pre-order online some family packs (some with her awesome micheladas!)
Better yet, she's now offering deliveries if you're in Central OC and do it early enough. Which means there's a very good chance I'll be your delivery driver haha.
And if you can't, order take-out from your local restaurants — you need to eat, and they need to survive…
LISTENING: "La Tísica," Los Humildes. This conjunto was huge in the 1970s and 1980s, but isn't much hailed today for reasons I can't comprehend (just like Gerardo Reyes). They had some great songs, including this cover of a 19th-century jam about a daughter who's about to die from tuberculosis — the plague of the era, and a reminder there is nothing new under the sun.
READING: "The quinceañera is another youthful casualty of the coronavirus": My colleagues at the Los Angeles Times are always amazing, but they Super Saiyan it whenever there's breaking news — and that's what they've been doing throughout coronavirus, finding every possible angle and writing it beautifully. Take this story by Brittny Mejia, whose stories are always surprising, wonderfully written must-reads.
Gustavo in the News
"Color Me Impressed": The LA Times Food section made black-and-white outlines of some of our best illustrations over the past year so people could color them in. Included among them was my mami, from my remembrance of her last year.
"What to Read, Stream and Cook This Weekend": Taste is a great online-only food publication, and kindly shouted out my Taco USA book AND my Chipotle essay I did last year for Eater.
"How Did LA Cope With The Influenza Pandemic Of 1918?": LAist shouts out my story on the same subject.
Gustavo Stories
"Orange County starts feeling the impact of coronavirus": My latest KCRW "Orange County Line" checks in OC's sorta-late response to the severity of the pandemic.
You made it this far down? Gracias! Follow me on Twitter, Facebook, and Instagram while you're down here. Buy me a Paypal taco here. Venmo: @gustavo-arellano-oc. And don't forget to forward this newsletter to your compadres y comadres!