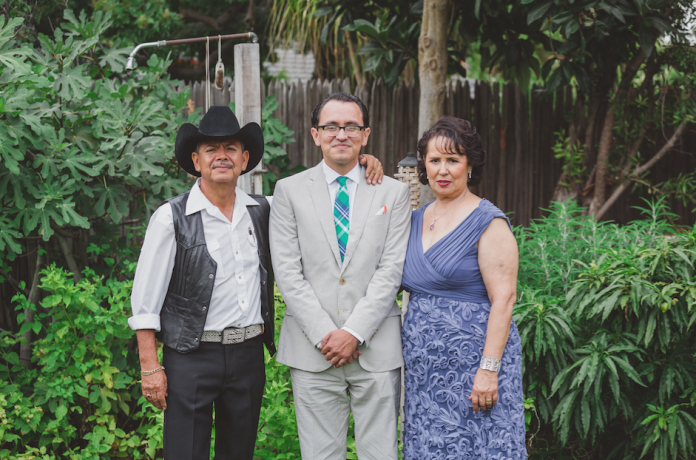 Gentle cabrones:
This might be the shortest canto I'll ever right — I'm already late with it. But it's straight from the heart.
So the big thing in my life right now — and has been for the past year — is my mom's battle with Stage 4 ovarian cancer, one that's entering its final stages as Mami gets ready for hospice.
I wrote a bit about it this week, connecting it with the Mexican Lenten dessert capirotada, for the Los Angeles Times, in an article you can read below.
I'm not going to dive into what I've learned and felt and experienced during my mami's illness — I will in a future canto. But not right now — it's too painful, frankly.
Instead, I want to say something anyone whom deals with the disease eventually realize: Gracias a la vida.
I'm exhausted from a weekend responding to hundreds of comments, emails, messages and DMs about my article — for the first time in my reporting life, all positive.
But I'm not complaining. The outpouring of support for my Mami has reaffirmed my belief that love and friends and family keeps people alive more than medicine can ever hope to.
That's all I have for now. I was going to do a whole thing about Mercedes Sosa to connect my canto's title to my ramblings — but not now. Instead, I'll just add here what I posted on Instagram this weekend:
On behalf of my family, I want to thank all of ustedes who have sent us thoughts and prayers after reading my @latimesfood essay about #capirotada and my Mami, who's dying of ovarian cancer. It's heartwarming to hear from people my mom hasn't heard from in decades, to listen to the stories of folks who have lost their loved ones to the damned disease, and to see people who were inspired by my story call their parents to tell them they love them—and even try my family's recipe! Thank you all—means the world to us, but especially my mami, who says "Gracias a todos por sus oraciones y pensamientos."
So again, gracias a la vida. Got a hilarious canto this coming week involving my Little League baseball days — EN ZERIO!!!
My parents and I, on my wedding day in 2014.
First time reading this newsletter? Subscribe here for more merriment! Buy me a Paypal taco here. Venmo: @gustavo-arellano-oc Feedback, thoughts, commentary, rants? Send them to mexicanwithglasses@gmail.com
GRÍTALE A GUTI
This is the feature where I take your questions about ANYTHING. And away we go…
I follow you on Instagram and I notice that you "like" a lot of the The Simpsons posts that I follow and like. What is your opinion about Apu and the recent call to get him removed from the show due to his stereotyping of South Asians? And what about the show's possible other controversial characters such as Groundskeeper Willie and Bumblebee Man. At what point do you draw the line?
The Simpsons is my favorite television show of all time. Back in the days when KTTV-TV Channel 11 used to show them on 6:30, 7:30 and 11 p.m. during the week, I'd see them all. I literally have them all memorized from Season One up until Yvan Eht Nioj.
I love the show so much that I once did a story show how The Simpsons is actually one of the most-Latino shows on TV, which appears in my first book in its entirety.
And never in my years seeing it did I have a problem with Apu.
I see why some Indian-Americans may have an issue with an non-South Asian voicing him. But I never saw Apu as a stereotype, or even as an Indian. I saw Apu how the show presented him: as a skinflint workaholic with a quirky sense of humor that largely disappeared once his wife got 8 kids
It'd be one thing if The Simpsons only ridiculed Asian-Americans, or a specific nationality. But the show has a Borscht Belt philosophy toward humor — no ethnic group is safe from skewering. So Bumblebee Man? Love him. White people? Ridiculed from the poorest (Cletus) to the richest (Mr. Burns) to the working class (the Simpsons themselves) to the middle (Ned Flanders). Groundskeeper Willie? Maybe the most racist comment ever uttered on the show was when Principal Skinner told him, "I see you Scotsmen are thrifty with courage, too" — something that only students of ethnic humor understood. And we HOWLED.
That's the problem with society's relationship with humor nowadays: No one believes in the Borscht Belt ethos. It's all about pwning the people you hate. Hell, only comedy nerds and Jews even know what the Borscht Belt is anymore smh.
Got a caliente question? Grítale a Guti here.
**
Enough ranting. This was the semana that was:
LISTENING: "Vuela Vuela Palomita," Miguel Aceves Mejia. A favorite of my mami, by a singer who's slowly fading away from the public consciousness, which is a damn shame.
READING: "The Tragic Mulatto Myth." This is an old academic essay, but a brilliant one that calls into question the idea of a stock character in the American imagination. BTW, I once did a paper comparing to the two fim versions of Imitation of Life that inspired a professor of mine to tell me I should apply to graduate school — and I did!
Gustavo in the News
"The Oakland Restaurant Giving Zacatecan Immigrants a Taste of Their Home": Eater SF quotes me in an article about an Oakland restaurant that serves food from Zacatecas like gorditas and nopales–YUM…
"What She Said: The Art of Pauline Kael Celebrates the Late Film Critic": My former paper references me in a story about the legendary New Yorker scribe.
"La Michoacana Premier aims to bring the style of the famed Mexican paletería to Long Beach": The fine Long Beach Post gives me a shoutout in a story about a Mexican ice cream shop.
"The Secret to Portland's Best Tacos Is This Masa Factory": Eater Portland references an insult I've done against GRUMA, the Galactus of tortillas.
"Racism Forced LA's Oldest Mexican Restaurants to Call Themselves 'Spanish'": Eater LA quotes me mucho in this good article. Eater gave me A LOT of love this week — and more to come…
"The Longreads Weekly": Longform ranks my capirotada article as one of their Top 5 longreads of the week. Good newsletter, so subscribe to it!
"The Best Recipes for Now" and "California Today": Two New York Times newsletters shout out my capirotada piece as well.
Gustavo's Stories
"I get one last Lent with my Mami. I'm using it to learn our family's capirotada recipe": Here's the story anew. KEY QUOTE: "I wish I jotted down more of Mami's recipes. I wish I could see her beam one more time as I scarfed down her food even after a day of reviewing restaurants. Yet I'm forever grateful she found the strength to help me learn how to make her most hallowed treat one last time."
You made it this far down? Gracias! Follow me on Twitter, Facebook, and Instagram while you're down here. Buy me a Paypal taco here. Venmo: @gustavo-arellano-oc. And don't forget to forward this newsletter to your compadres y comadres!