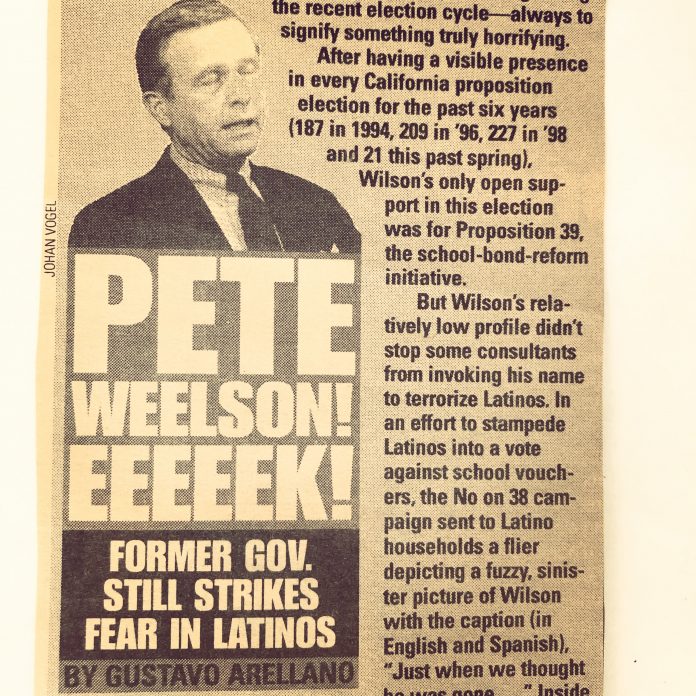 Gentle cabrones:
This Thanksgiving week will feature two ignominious anniversaries in the annals of Orange County journalism.
One marks a year since the death of OC Weekly, the newspaper where I spent the majority of my career and whose caustic love for this hell county is missed in a 2020 when it's needed more than ever.
The other is my 20th year as a reporter.
You can see my first story in the picture below, an analysis of how the Democratic Party was using the ghost of former California governor Pete Wilson into scaring Latinos away from the Republican Party and their anti-Mexican leanings.
The more things change, amirite?
I talked about the early days of my journalism in my flop of a memoir titled Orange County: a Personal History, so I won't revisit those memories here.
Because I'd rather focus on the main lessons I've learned along the way, and that continue to guide me today.
I never imagined I was ever going to be a reporter – and it sure as hell wasn't meant to last 20 years.
But here we are!
Just getting started.
**
First time reading this newsletter? Subscribe here for more merriment! Buy me a Paypal taco here. Venmo: @gustavo-arellano-oc Feedback, thoughts, commentary, rants? Send them to mexicanwithglasses@gmail.com
At the beginning of every semester when I teach journalism at Orange Coast College, I spend about an hour telling the story of my career.
I conclude by stating to my students that they're in a better place to get what I have achieved — editor of your hometown paper, columnist for the regional one, author of three books and a couple of Hollywood things, making Wally George cry — than I was when I started.
Because they have tools I could only dream of as a 21-year-old. And they are taking an actual class on journalism instead of the trial-by-fire that's been my career.
But I tell them that if they truly want make it, they're gonna have to need one attribute that almost no one can match me on:
I have essentially willed myself into everything that I achieved in my career. I'm not the most talented reporter, or the best writer.
But I sure as hell know how to work.
To bust out ideas like a monsoon throws down rain. To speak up when I have to, shut up when I need to — yet always work to better yourself and los buenos.
That's what I like to tell myself.
Really, I've lasted this long in journalism because I long ago realized that my success isn't just mine — it's of my mentors and the people I help pull up whenever I level up.
The sources that trust me with their stories. The readers that, well, read me (whether they like or hate what they find is inconsequential as long as they do it). The bosses that stood by me when others wouldn't.
No reporter is an island unto themselves, amirite?
But what has also gotten me this far in journalism is knowing that what I do is not work.
What my parents did — a tomato canner and a truck driver — was work. What I've done and do is FUN.
And the fun can end at any moment. So value the fuck out of it, and don't take it for granted.
I've never lost sight of that, and I'm forever grateful of what I have. Because if I didn't get into journalism, I shudder to think what I would've become.
Probably a bitter screenwriter. Most likely a college professor at some small school far away from home, hoping to earn tenure only to leverage it as a springboard to return to California and the people I love.
A lawyer? Librarian? Manager at a collection agency, which is what my last non-journalism bosses wanted me to become?
Would've been one of Thoreau's men of quiet desperation.
So here's to 20 years. But best of all?
The fun has just begun: I'm going to be the host of the LA Times' upcoming daily podcast.
More news on THAT very soon. In the meanwhile, who's buying me a Good Ol' Chico today haha!
Because I deserve one day off, amirite?
GRÍTALE A GUTI
This is the column where I take your questions about ANYTHING. And away we go…
Just a quick note that I'm happy for you moving up to the big leagues (LAT) but like a fan of the local minor league team, I'm sad for us.

Who am I going to fight with now that Larry Agran is back on the Irvine City Council? Can you believe it? How did Larry do it without any big corporate donor e.g. Irvine Co., FivePoint, etc? Even more crazy, the big developers spent thousands on his opponents and they still lost.

How 'bout that Tammy Kim winning the top vote count? Her opponents sent around a glossy flyer showing Irvine in flames while she's hugging that Commie Bernie Sanders. That must have cost a penny or two, eh?

Anyway, I know you're busy doing LA stuff so I'll stop here.
Trust me 20ftjesus: I miss those days as much as you do. But you and others deserve to miss the Weekly. The paper was a prophet in its own land, yet only now is acknowledged as the jewel that it was. You know how much I hate ingrates, so OC deserves the shrill activists who now pass themselves off as diggers, and the corruption that blooms all around.
I remain the Three-Eyed Raven of OC, folks: Don't think I don't know what continues to fester in this fetid land.
As for your questions about Irvine politics: no surprise on Tammy Kim. Voters also went for Farrah Khan as mayor, showing how progressive Asian candidates are finally making headway after too many years of Steven Chois and Anthony Kuos. And no surprise on Larry Agran. You really surprised Irvine brought back from the grave a guy who can't seem to find any other job except Irvine's pretend potentate?
Got a question for Guti? Email me here.
**
Enough rambling. This was the semana that was: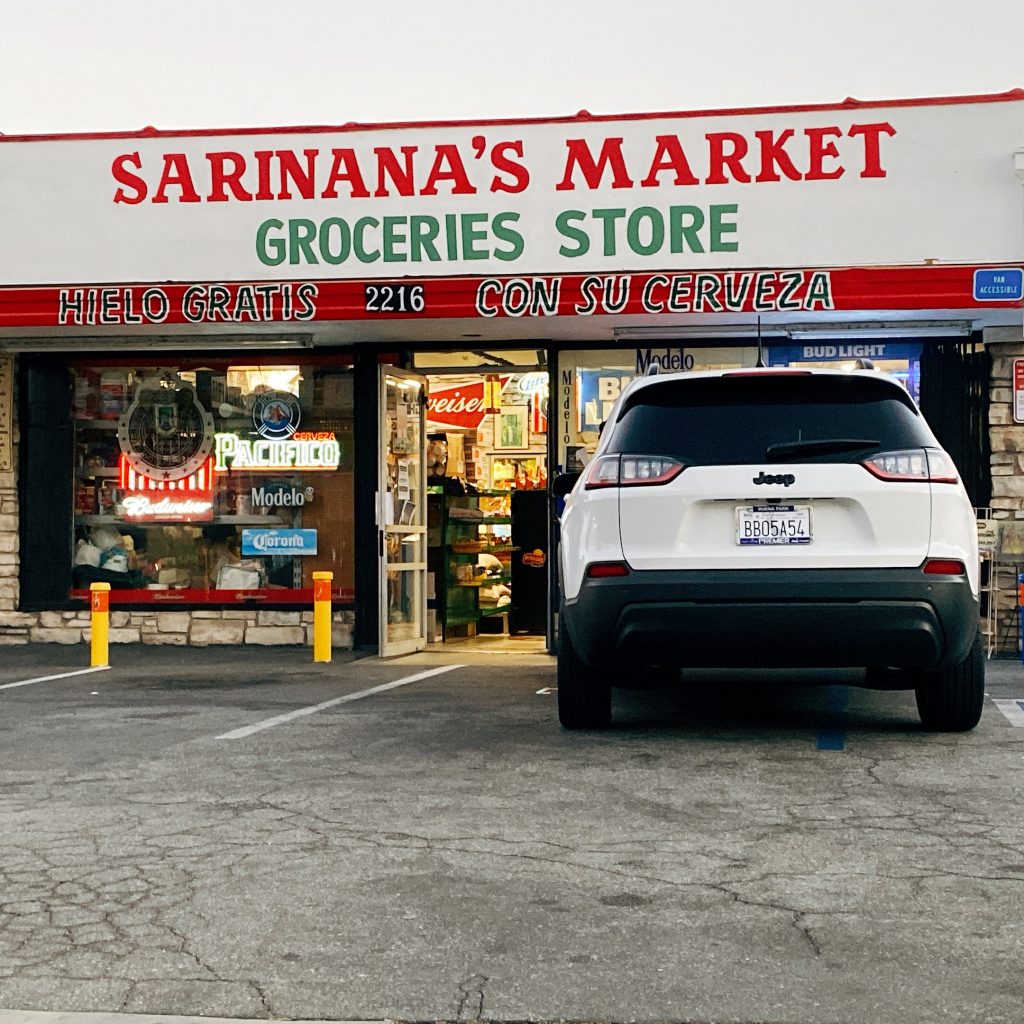 IMAGE OF THE WEEK: Sarinana's Market in SanTana, which plays a role in an original article for my website, which you can read below…
QUOTE OF THE WEEK: "The only people who really dislike the second season are white people. People got mad that they moved it out of the hood. And look, there might be an element that the character is annoying, but there's that feeling of familiarity too. That the blue collar worker might hit a little close to home rather than the projects of East Baltimore. Ziggy is more like a family member you might have; there's not this cognitive dissonance. You're much more likely to know someone like Ziggy than to know someone like Omar.
And Ziggy is a very castrated white male. And when people see that there's no room for social mobility, I think it reflects back on themselves: their own delusions about their own social mobility."
–The actor who portrayed Ziggy on The Wire, on the hipster haters
LISTENING:"I'm Your Venus," Shocking Blue. So you ever see that lady's razor commercial that keeps shouting "I'm your Venus! I'm your fire"? Pretty annoying and sexist. But I never knew it's an actual song by an actual group — and a HELL of a song and group. Organ, husky-voiced female lead — a psychedelic rock paean. How the HELL did I just find out about Shocking Blue…
READING: "What the Sofa Said": New York Review of Books always brings it, but this review about a book on the history of home decor was particularly great, and threaded in Zora Neale Hurston, of all people.
SHOUTOUT TO: Amber, who kindly donated 50 tacos to sponsor a full month of MailChango! She wants me to shout-out a tweet that commemorate the work of Hannah Colton, a New Mexico-based radio reporter whose life ended far too soon. The tweet challenges reporters to take up Colton's good work, so get to it, folks…
Gustavo Community Office Hours!
I'm rebooting my stint as scholar-in-residence at Occidental College's Institute for the Study of Los Angeles! Every Tuesday, from noon-3 p.m. people can book half an hour with me and we can Zoom (over a secure line, of course) one-on-one about WHATEVER. Interested? Email me to book your time NOW!
Original to Gustavo Arellano's Weekly
"The Mercaditos of Santa Ana Proudly Serve Their Barrios. Gentrification Threatens Them": Write Cynthia Rebolledo does a quick overview of corner stores in SanTana barrios. This article was kindly funded by the Aztlán Journalism Fund — gracias, anonymous donor!
Gustavo in the News
"The White Elephants In The Room": NPR's ever-awesome Code Switch podcast shouts out one of my LA Times columnas right from the start!
"Essential California: New COVID-19 restrictions may loom for L.A.": So does one LA Times newsletter you should subscribe to, Essential California.
"Latinx Files: Is this housing policy discriminatory?": And so does another LA Times newsletter you should subscribe to, Latinx Files.
"Today's Headlines: Trump resists transition, despite risks": And so does another LA Times newsletter you should subscribe to, Today's Headlines.
"California Playbook": And so does Politico's Golden State newsletter, to which you should also subscribe!
"Danny Trejo Has A Great Explanation For Why He's Not Interested In Kamala Harris' Senate Seat": My Danny Trejo-for-Senate push from last week gets play on Uproxx…
"Hollywood star Danny Trejo to fill Kamala Harris' Senate seat?": …and also in an English-language newspaper in Bangladesh.
"Danny Trejo for U.S. Senate? Before you rolls your eyes, consider the upside": …and also in the blog of a director.
"Boyle Heights preservation dilemma | New homes for Lincoln Heights | 74 units proposed for Rampart Village": The Eastsider L.A. mentions one of my LA Times columnas.
"Affirmative Action Goes Down to Defeat in Deep Blue California": So does a really cool website, the History News Network.
Gustavo Stories
"Grítale a Guti, Ep. 22!": Latest episode of my weekly Tuesday-night IG Live free-for-all.
"You still can't go to the happiest place on earth during the happiest time of year — the holidays": My latest KCRW "Orange County Line" talks about how OC politicians and Disney execs want Disneyland to open — but it ain't happening.
"CA's COVID Crackdown, Also: The Real "Latino Vote" Story": I appear on Capitol Radio's new-ish podcast "California State of Mind" to talk about the second subject.
"Latino Republicans Trying to Turn Orange County Red Again": I appear on Spectrum's L.A. Times Today to talk about Latino Republicans."
"Column: In L.A., not every moral crusade over real estate is Darth Vader versus Luke Skywalker": My latest LA Times columna examines the real-estate fight over the former Boyle Heights campus of a legendary non-profit. KEY QUOTE: "Can you have a case where everyone is right and everyone is wrong? When it comes to historical real estate in Southern California, almost always."
"Column: Remembering Juan Gómez Quiñones, Chicano studies legend and professor to all of L.A.": My latest LA Times columna remembers my former UCLA graduate advisor. KEY QUOTE: "And he also set an example for ethnic studies that everyone in the discipline should follow: Build a quiet, unassuming legacy not by how many people you can cancel on social media, but by inspiring thousands to fight for civic good instead of personal glory."
You made it this far down? Gracias! Follow me on Twitter, Facebook, and Instagram while you're down here. Don't forget to forward this newsletter to your compadres y comadres! And, if you feel generous: Buy me a Paypal taco here. Venmo: @gustavo-arellano-oc