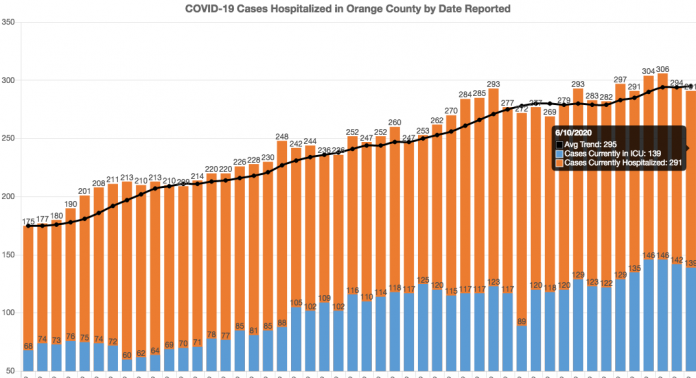 Gentle cabrones:
The instructions were simple.
Stay in my car.
Expose my nose, but keep the mask on my mouth.
A wire up one nostril, then another.
The feeling was like a super-concentrated version of water going up your nose — not fun, but not really painful.
The coronavirus test was quick.
The Black nurse asked why I wanted a test if I wasn't experiencing any symptoms. I told her I went to rallies against police brutality in SanTana and Anaheim attended by thousands about a week earlier, although I didn't say I was a reporter.
She smiled, sympathetic.
"Protest in place," she said as she left.
And then came the wait.
Never leave a man to his thoughts, you know?
**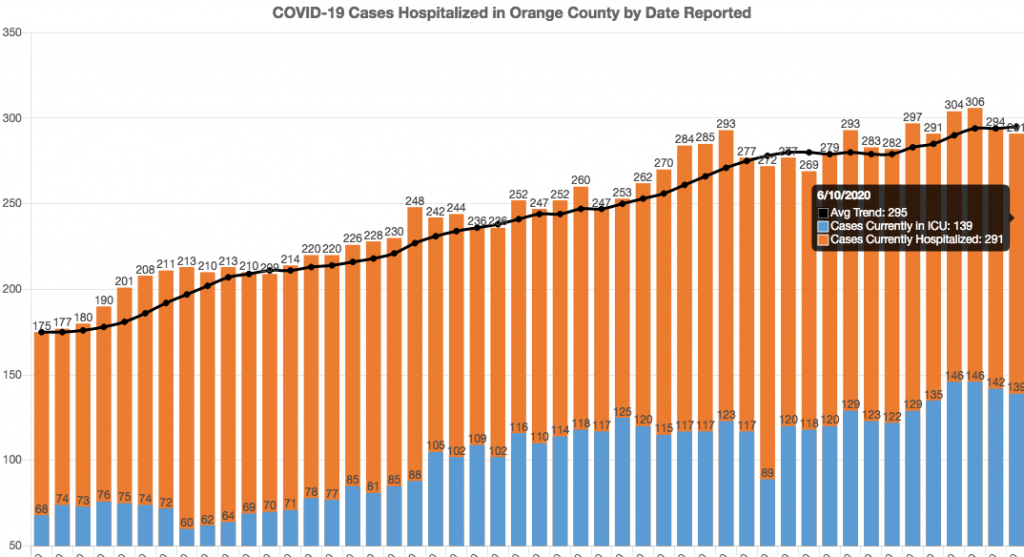 First time reading this newsletter? Subscribe here for more merriment! Buy me a Paypal taco here. Venmo: @gustavo-arellano-oc Feedback, thoughts, commentary, rants? Send them to mexicanwithglasses@gmail.com
It's been three months since coronavirus upended everyone's life.
How you doing?
I'm good.
My family is fine. My wife's business is hustling. I still have a job, still pumping out stories.
I'm disappointed.
I really thought coronavirus would unite this country in a way we haven't seen in decades.
I remember being in a dive bar in Catalina in mid-March reporting on a story, and seeing the working-class patrons watch a small television on which Donald Trump talked about how serious this pandemic was.
There was a hushed tone in the bar, a realization that if Trump was concerned, so should we.
People cared for like a week — then the same partisan games popped back up, wackier than ever.
I'm amused.
In Orange County, the Board of Supervisors just rescinded a mandatory mask order because…well, ask them.
Ask Supervisor Michelle Steel, who on April 30 in a press release announced COVID-19 "hospitalizations are decreasing" and the curve was "flattening" and hence people should be allowed to go to the beach.
Average new daily cases of coronavirus on April 30: 79.
On June 10: 162.
Average hospitalizations on April 30? 192.
On June 10? 295.
I'm resigned.
We Americans think we're invincible. We Americans forget history.
We Americans don't want to see the obvious:
Coronavirus is deadly. It's not going anywhere.
And in the face of it, we act like impervious gods.
The rallies against police brutality were just as risky as the ones in early May that demanded states open up. Yet each side of the political aisle tries to justify its cause as righteous and immune to the dangers of a generational pandemic while castigating the other as stupid.
Convenencieros, the lot of them.
I wish I could say I was optimistic.
But for one of the few times in my life, I'm not.
More deaths will happen, more lives will be ruined. Yet more people will pretend coronavirus was all hype, and tell me with a straight face the media blew it out of proportion even though, you know, I'm the media.
We just don't care about the commonweal — we never actually did.
And that's why I'm hopeful.
If you lose hope, then you lose everything. And, contrary to the alt-losers who mock people who raise concerns about the pandemic as snowflakes who live in fear, all I see is hope.
The world isn't going to go back to what it was — it's only going to get better, because people will make it that way. We've gone too far in this American experiment to just let it wither, you know?
Besides, my coronavirus test came back negative.
Time to get busy living, or get busy whining.
GRÍTALE A GUTI
This is the column where I take your questions about ANYTHING. And away we go…
My company and show is based out of Hollywood and performs all over the country. I have been considering adding a Mariachi costume to my variety of stage apparel, even though I am neither Mexican, nor a musician. I do like mariachi music and have been reading for many years about its particular culture. I want to represent it well, even if I'm a non-traditional performance in a non-traditional setting. I have been looking at ordering from a company who specializes in traditional Mariachi outfits. My lovely fiancé (who is of Colombian descent – 1st generation born in America), says this may be cultural appropriation. I am not sure, and would appreciate your opinion.
It's TOTALLY cultural appropriation — and? Those trajes aren't cheap, so you ordering one will give a tailor hundreds, if not thousands, of dollars at a time when mariachis aren't performing due to coronavirus. And I'm all for helping out small businesses, especially those that keep folklore alive.
But are you going to own your purchase — that's to say, if people hit you up about your choice, are you going to explain it in a thoughtful way? Or will you hide behind the weak-salsa excuse of you can do whatever the hell you want? The latter is cultural appropriation — which is to say, cowardice. And more weak-salsa than Del Scorcho sauce.
Got a question for Guti? Email me here.
**
Enough rambling. This was the semana that was: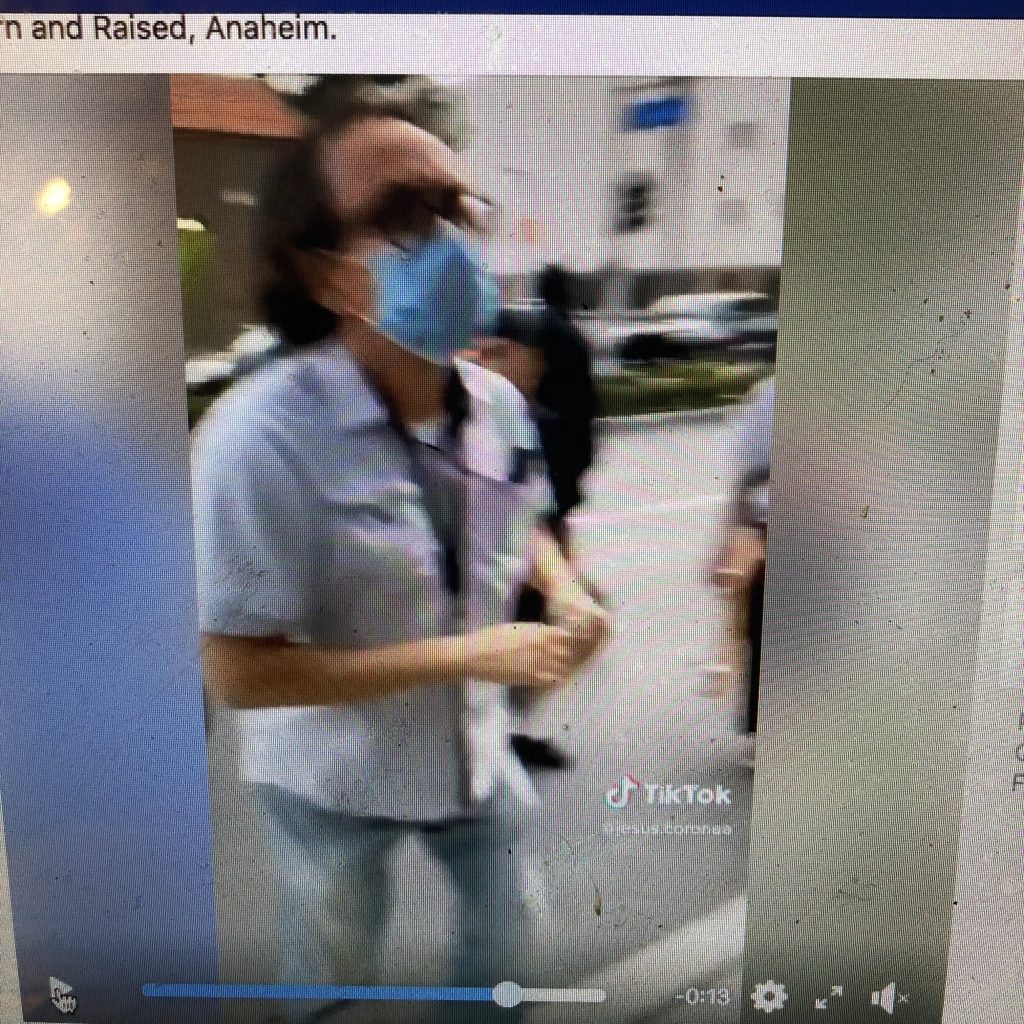 IMAGE OF THE WEEK:  Blurry, half-second proof that I practice what I preach when it comes to masks. From an Anaheim protests captured on a TikTok video that got mucho play — hey, I'm now a star!

QUOTE OF THE WEEK: "Wait until both my hands are paralyzed before you rejoice."

–Charles Philipon, the French cartoonist who legendarily drew King Louis Philippe I as a pear.

LISTENING:"Bonito," Jarabe de Palo. Severely underrated rock en español group from the late-90s/early aughts, and while they were pretty poppy, there was a wistful optimism to them that grows on you over the years. It's all centered on the soulful voice of Pau Donés, who died too soon this week due to cancer #respect #fuckcancer.

READING: "The Incredible Story of Bhut Jolokia: From Rural India to Dumb YouTube Stunts." Food journalism at its finest: taking a trend — in this case, the notorious ghost pepper — then tracing its history to elevate the people who live by it and denounce the bros who fuck it up. Also highlights a region — the northeast states of India — that rarely get any play here in the States.

Gustavo Community Office Hours!

I'm rebooting my stint as scholar-in-residence at Occidental College's Institute for the Study of Los Angeles! Every Tuesday, from noon-3 p.m. people can book half an hour with me and we can Zoom (over a secure line, of course) one-on-one about WHATEVER. Interested? Email me to book your time NOW!

Gustavo in the News

"Recognizing the History Behind the Bernal House": A 2010 article I did on a criminally unknown civil-rights case in Fullerton gets a shoutout in the city's ever-pertinent indie newspaper, Fullerton Observer.

"The "Lost Cause" Goes West: Confederate Culture and Civil War Memory in California": I get a photo credit, of all things, in an academic article for Boom California, a publication of UC Press.

"Father's Day 2020": Prospect Park Books plugs its excellent L.A. Mexicano by Bill Esparza, for which I wrote the inro.

Gustavo Stories

"Orange County: Power of police unions, whether funding will shift away from law enforcement": My latest KCRW "Orange County Line" explains why #DefundThePolice probably won't be happening in OC anytime soon.

"Protegieron los barrios contra el saqueo. "No vengas aquí para vandalizar estas paredes, 'homie'": My Los Angeles Times article from a couple of weeks ago about youngsters protecting a T-shirt shop in Anaheim gets translated into Spanish.

You made it this far down? Gracias! Follow me on Twitter, Facebook, and Instagram while you're down here. Don't forget to forward this newsletter to your compadres y comadres! And, if you feel generous: Buy me a Paypal taco here. Venmo: @gustavo-arellano-oc