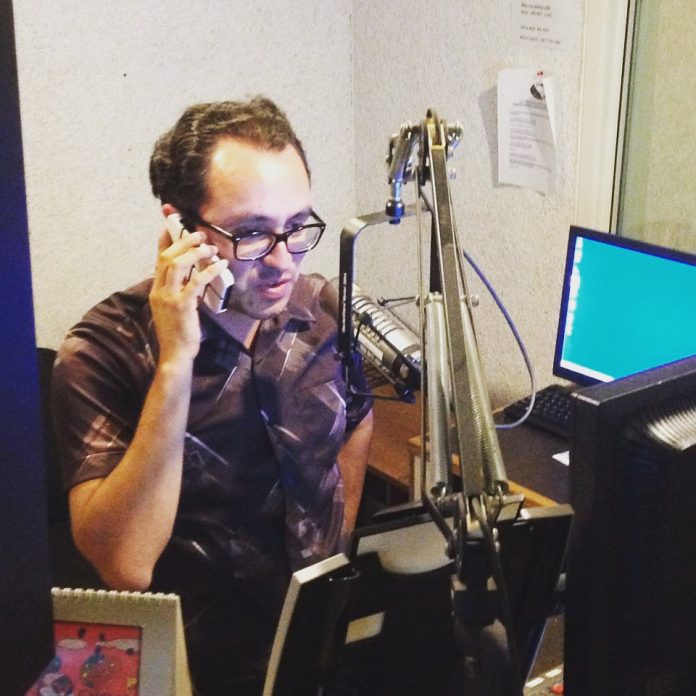 Gentle cabrones:
The biggest transition I've had to make so far in my professional career is that I'm not a professional columnist anymore.
From 2002 until the end of 2018, I had to do at least one weekly column in one form or another. The original was "This Hole-in-the-Wall Life," where I did a weekly review of mom-and-pop spots around Orange County. The most famous one, of course, was ¡Ask a Mexican!
Last year, I had a weekly column about California for the Los Angeles Times.
And now, this (mostly) weekly canto.
I always tell audiences that I like to answer questions people have, because it makes me sharper, gets me to go investigate, and challenges me. That's what a columnist does, on the regular.
I'm not a regular columnist anymore, tho, so let's have YOU prompt me to do so again.
AMA — Ask a Mexican (with Glasses) anything!
Me answering questions on Bakersfield radio while taking questions from another reporter on the phone in 2015 or so. Man, I miss that shirt…Photo by Matt Muñoz, bossman of Bako
First time reading this newsletter? Subscribe here for more merriment! Buy me a Paypal taco here. Venmo: @gustavo-arellano-oc Feedback, thoughts, commentary, rants? Send them to mexicanwithglasses@gmail.com
Confession: A question-gathering session is NOT what this week's canto was supposed to be about. I had something far more profound thought out, which I was going to type out in a blaze of Kermit glory this morning.
But then something came up — nothing bad, but something that needed my immediate attention (damn roofs is all I can say haha).
But an AMA session with me was something I had been thinking about for a while. Why not? Some of ustedes have questions for me — where to go eat, professional advice, writing tips, and God knows what else.
I always get them on Twitter, or IG, or FB, and it's always fun to answer.
So have at it. Over the next two weeks, I'll prompt ustedes to ask me questions about ANYTHING, so that I can answer some of them in a future canto.
There's no guarantee I'll answer them publicly (who the hell know what the freaks will ask), but I will answer those privately one way or another, even if it's just a "BOOM" or a "HA!"
So have at it. Email me your questions at mexicanwithglasses@gmail.com
Fuller canto next week. Zion Williamson has a hell of a name and even better game. Still, fuck Duke.
**
Enough ranting. This was the semana that was:
LISTENING: "Minimum Wage," They Might be Giants. For some reason, I thought this song was four seconds long, not 40-some. It's all good — still love the weirdo group.
READING: "'BlackKkKlansman's' Spike Lee and Jordan Peele in Conversation: Inclusion, Influences and Family Histories": Celebrities interviewing celebrities is always an exercise that's far more illuminating than you'd think (see: Interview), and this back-and-forth is proof. PS, Hollywood Reporter is one of the most underrated publications out there.
Gustavo in the News
"The Fight Over a School Named for a Brea Pioneer Who Happened to Be a Klansman": My former colleague Gabriel San Blogman quotes me extensively on a great story involving the KKK, an elementary school, and Brea babosos who don't want to acknowledge their city's racist AF past.
"Tacos Árabes, One of LA's Best Street Vendors, Gains a Shiny New Truck in Boyle Heights": The homie Bill Esparza shouts me out in a story about a Puebla-style lonchera.
"Los Angeles Times Will Revive Its Separate Food Section": New York Times tells the world the good news coming out from the Los Angeles Times. Except at least one dispatch from me a month from food — profiles, mostly, but also trips and reviews!
"When spa food means a sauna and a bowl of galbi jjim": LA Times food chingona Amy Scattergood does a great piece about great food in and near Korean spas, and plugs my plugs for the best breakfast burrito in Southern California: Athenian Burgers #3 in Buena Park.
"The Libertarian Party State of the Union: 'Americans deserve better' than 'Republicans and Democrats careen[ing] toward socialism and fascism'": The libertarian homie Matt Welch shouts out my first front-page story for the LA Times on…well, keep reading!
"Essential Arts: Destination Crenshaw, a bold outdoor museum plan inspired by black L.A.": LA Times culture chingona (and union mami) Carolina A. Miranda shouts out my Nacho Nava obit in her weekly arts newsletter, to which you should subscribe.
Gustavo's Stories
"Can this Riverside County Libertarian make a fringe party mainstream?": My FIRST A-1 (front page) for the LA Times highlights Riverside County supervisor Jeff Hewitt, the most powerful Libertarian EVER elected. KEY QUOTE: "His rise has thrilled Libertarians nationwide, who feel their man can bring respectability to a party long dismissed as being a group of free-market-loving Ayn Rand fanboys with little chance of ever winning anything important."
"A Novel Bookstore Settles Down": My latest piece for Alta Journal profiles Sarah Rafael Garcia and her wonderful LibroMobile bookstore in downtown SanTana. KEY QUOTE: "But the centerpiece of LibroMobile remains its original manifestation: a converted planter cart where readers can find $1 specials and that Garcia moves around town for community events."
"Margarita Avila, co-founder of Avila's El Ranchito restaurants, dies at 93": For the LA Times, I talk about the matriarch of a beloved Orange County Mexican restaurant chain. KEY QUOTE: "But Mamá Avila remained in charge of the kitchens: She would christen each one by cooking a batch of rice."
"Warming Up to Vegan Pozole": My latest (and last, for a while!) article for the New Yorker tells a story of assimilation, amor and alimiento through the vegan pozole verde that my wife sells at her Alta Baja Market in SanTana the last Sunday of every month. KEY QUOTE: "But Delilah has always found creative ways to express Mexicanidad on her own terms, and it was no different with pozole"
You made it this far down? Gracias! Follow me on Twitter, Facebook, and Instagram while you're down here. Buy me a Paypal taco here. Venmo: @gustavo-arellano-oc. And don't forget to forward this newsletter to your compadres y comadres!