Gentle cabrones:
This past week, I went to my other alma mater—UCLA—to lecture at the humor class of Chicano Studies professor Otto Santa Ana. He's another legend who has long supported me during my career. For the past couple of years, Profe Otto has taught my ¡Ask a Mexican! book as a Swiftian approach to the ever-thorny issue of raza in this Republic.
As the popuar paisa meme goes, "No, pos 'ta cabrón."
I always love speaking to college classes, because they bring an energy that other audiences don't. The talk went great—students asked questions, and those who I identified as thinking me problematic warmed up by the end.
But I'll always remember Profe Otto's Spring 2018 class, because I finally got asked a question that shut me up (for a moment).
A young man, in the front, asked the following out of nowhere: "Are you ever sad?"
HWUT.
"No," I immediately responded. I began babbling that I used to be back in the day, when I was reading too much Camus and spinning Pet Sounds after one too many broken hearts. But depression, I started to argue, was a privilege that I didn't have time to waste on.
But just as I said that, I realized my machismo was going to help no one. And that I was a big, fat liar.
So I told the truth: Of course I suffered from depression—it's part of the human condition. But I always made sure to express my feelings, to ensure my thoughts didn't become worse. And yeah, I cry.
"Don't suffer in silence," I concluded. The room was quiet, but their eyes were hopeful and happy. It's what many people—especially the young men—needed to hear, and I didn't even know it.
This was two days before Anthony Bourdain committed suicide.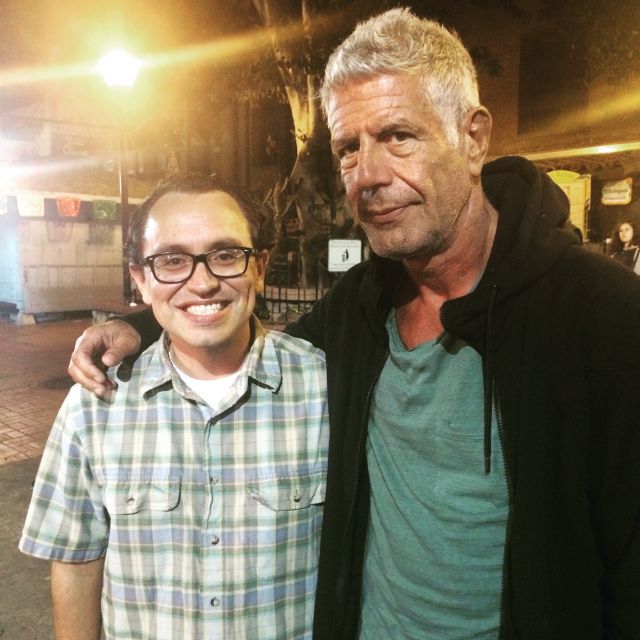 As you'll soon see (and hopefully click), I've written and said a LOT on Bourdain's passing in just the past 24 hours. I won't add more here. But I will take the newsletter space here to double down on the point I emphasized to Profe Otto's UCLA.Don't suffer in silence.
It was something I always emphasized to my colleagues at OC Weekly. If something bothered you about work, speak up. If I wronged you, tell me. If you feel bad, express it. Letting frustrations and sadness and bad thoughts fester helps no one, least of all you, and usually leads to far bigger problems.
Easier said than done, of course, but I always smiled when my colleagues would tell me their issues, and I'd respond with a "What do I always say?" and we'd both respond with the same answer ala O-Ren Ishii and The Bride.
I did it not to express my superiority, but to express relief that they finally spoke up, and that they learned a lesson. It's a lesson I took to heart, I told the UCLA class, when I suffered through the darkest time of my life—when I left my Weekly job.
I consciously tried to stay away from alcohol in the months following that episode, because alcoholism runs in my family and would've been too easy a temptation. But the loss hurt.
And it led to one especially bad day, which I shared with the class: I blacked out and fell in a way where I could've easily been paralyzed for life but instead just suffered a bloody nose and a concussion (and an AMAZING list on son huastecothat I deleted in the haze that followed–FUCK).
I suffered in silence.
---
But what saved me were ustedes. Longtime fans who had never written to me before but expressed how much they appreciated my work. Acquaintances who took me out to lunch, just because. Friends who would line up job opportunities for me. And a group of angels who got my texts and calls at my lowest point, and pulled me from the pits of darkness.
Yet for many, such a support system is still not enough. It wasn't for Bourdain. That's why it's important to check on your kith and kin at all times. The throwaway nice line you give someone just might be the sunshine they needed.
I'm happier than I have been in months. But I still have my bad days—we all do. And whenever that happens, I remember:
Don't suffer in silence.
---
Enough ranting. This was the semana that was.
LISTENING: "Try a Little Tenderness," Otis Redding. Most hopeful song I know, a song that never stops upping its joy. Even Vivaldi's "Spring" can't compare.
READING: "In a Day's Work: The Fight to End Sexual Violence Against America's Most Vulnerable Workers," Bernice Yeung. Just bought this book by one of my reporting heroes, whom I got to meet last night at a Capital & Main fundraisers. Buy the book TODAY.
Gustavo in the News:
Anthony Bourdain coverage: Got cited and interviewed in a few spots, from my appearance on Parts Unknown with Bourdain at Cielito Lindo in Olvera Street to an interview on my old radio home, Airtalk with Larry Mantle about Bourdain's legacy, and to my Twitter eulogy, and even Telemundo.
Gustavo's Stories:
Busy, busy week!"Anthony Bourdain was the eternal compadre of overlooked Latinos." I had three (!) California columans this week for the Los Angeles Times Opinion section. This one will appear in print Sunday, but got published online just hours after news of his passing shocked the world. KEY QUOTE: "But Bourdain transcended the culinary bubble in ways no one else has. People like my cousin never gave a lick about foodie culture; still, they revered Bourdain."
"The GOP can dominate in Orange County and beyond — by making Asians 'white'": Stating the truth: That OC's Republican Party does a better job on diversity than the Democrats. KEY QUOTE: "Meanwhile, in this vital election year, the local Democratic Party is still relying on — there's no way to put this nicely — tired old men."
"The Zoot Suit era is when white America learned to stereotype young Latinos as threats": This was my regular Wednesday California columna for the Times. KEY QUOTE: "But to remember them as a singular event masks the riots' most disturbing legacy: how the Los Angeles press, including this newspaper, created a hate template used against young Latinos ever since — including by the Trump administration today."
"Why Americans should root for Mexico this World Cup": I wrote an article for The Magazine a decade ago, and here I am again! KEY QUOTE: "Wake up and smell the tacos. With the U.S. out, El Tri are the only team that should matter to anyone who bleeds red, white and blue."
"Alebrije's Is My Taco Truck and Also My Office": My debut for Bon Appetit sings the praises of SanTana's renowned pink taco truck. KEY QUOTE: "So, America: If you ever want to meet me, just look for Santa Ana's pink taco truck. I even take my laptop there. Because who needs a corner office with a view when you have tacos acorazados?"
"'I Had Never Heard Puebla Being Talked About With Such High Regard' ~ L.A. Taco Writers Bid Farewell to Anthony Bourdain.": I join my colleagues in remembrance of Toño.
"Why Everyone In the Country Was Watching the Congressional Races In Orange County": I got to do something for L.A. Taco that I rarely do nowadays: Write in-depth about OC politics. KEY QUOTE: "But the outsider press corps doesn't know the bigger stories behind each district and candidate. And as it stands, the GOP will probably easily win the Big Four races, making talk of a blue wave taking over OC premature (just as I predicted)."
"Do You Know How to Read Tacos? Steven Alvarez Does, and He'll Be at UC Irvine This Week": My compa Steven Alvarez and I hit up UCI this past week to talk tacos in front of a sellout crowd. For L.A. Taco, we went in-depth about his revolutionary taco literacy course at St. John's University. KEY QUOTE: "For taco literacy, this also implies how different languages come into contact through food, and how we can understand these power dynamics cultures through foodways."
You made it this far down? Gracias! Follow me on Twitter, Facebook, and Instagramwhile you're down here. Buy me a Paypal taco here. Until next week! And don't forget to forward this newsletter to your compadres y comadres!