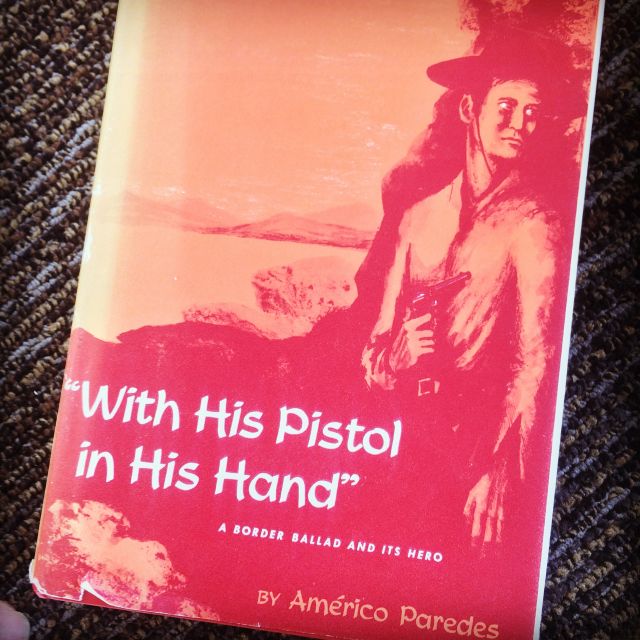 1996, junior year at Anaheim High School, Mrs. Noriega's Spanish class. She's trying to get her overwhelmingly Mexican class to watch
The Ballad of Gregorio Cortez
, but it wasn't happening. She tried to impress us with his story—a Tejano who inspired corridos for shooting a sheriff and
rinches
dead, and whose story we were about to watch with Edward James Olmos, that guy from
Stand and Deliver
. But why should we students care (a
chingo
of us from Jalisco and Zacatecas) when we we grew up with Lino Rodarte, Gabino Barrera, Lamberto Quintero and other
valientes
?She still put on the film, and I don't remember any of it. I think I read Bill Plaschke in the
Los Angeles Times
, instead.
Flash forward to last Friday. I was at Powell's in Portland, the legendary bookstore in one of the most insufferable towns in America (to the two bartenders at Clyde Common who ignored my friend and I because we looked like two nebbishes from Southern California? Slag off). I always try to visit a city's iconic bookstore, and I always try to buy one book reflecting local history, so I scored an old book of Oregon place names. But as I dug through Powell's Western section, I found the first edition of With His Pistol in His Hand: A Border Ballad and its Hero.
It's about Gregorio Cortez.
The two decades since Mrs. Noriega's class had made me change my opinion of Cortez dramatically. I discovered the book during college, learned about the author (Américo Paredes) during grad school, and finally bought my own copy about a decade ago. Paredes was one of the godfathers of Chicano studies, and he was a hell of a writer. But it's that title—taken from the corrido's classic line, "con su pistola en su mano"—that has stayed with me all these years.
The corrido describes Cortez as such as all of gabacho Texas is searching for him. The state considers him a murderer; Cortez shot the sheriff only after the sheriff shot his brother in a case of bad translation. He'd get eventually convicted yet pardoned, then passed into legend, an early case of someone taking on corrupt law enforcement. A true hero.
******
Where was I? Yes: Gracias for signing up for my newsletter. If you've signed up, it's most likely because you know about my writings. You know that I left my dream job—editor of OC Weekly, the alternative weekly of Orange County, California, the land where I was born and raised and continue to live in and plan to forever—nearly five months ago rather than lay off half my staff. You know that I've written like a locoever since. I do it because I've got ideas a'plenty (noted sportscaster Beto Duransaid I was born to be a freelancer), but I also do it because I'm on the run.
That Gregorio Cortez cover image (which even the people who run the Instagram account for the University of Texas Press, which published With His Pistol in His Hand, had no clue about) strikes me as a freelancer incarnate: always shooting, always running, never resting, always wary and wiry, forever in the battle to defend his name.
Con su pluma en su mano. With his pen in his hand. This is me now.
Okay, enough melodrama. What can you expect in this newsletter? At the very least, I'll compile the articles I did in the preceding week and add others I liked. Enough people have signed up so for so that I'll write something meaningful with each newsletter (next week, I'll talk about my experience on David Chang's Netflix series Ugly Delicious). The more people sign up, the more I'll add: food reviews, profiles, photos, all that stuff. After that? The dream is my own news outlet, where I can pay good people a living wage—but that's a LONG ways to go.
This is the first step toward that.
******
So tell me what you want to see from me in a newsletter. Photos? Reviews? Rants? Raves (someone PLEASE tell me how to make this more visually interesting—I'm all text, all the time haha). Email me your ideas mexicanwithglasses at gmail dot com, or respond to this newsletter. And if you're so inclined, throw some pesos my way.I'd eventually like to have contributors—would be good to pay my fellow homie freelancers something so this newsletter can be more than just my meanderings, you know?
Oh, and the title, Gustavo Arellano's Weekly? It was always a joke I had with my former colleagues: if I ever lost my job, I'd just open up my own two-page newsletter and give it that name, in homage to I.F. Stone's Weekly, a legendary muckraking mag. We would always laugh, because I also would always say that the only way I'd leave OC Weekly is in handcuffs, or on a gurney.
And here I am.
Anyways, stories!
Gustavo's Stories This Week
Weekly California Columna for the Los Angeles Times
I have a column about California for the Los Angeles Times that appears every Wednesday. This week, I took on the 50th anniversary of the East L.A. Blowouts, the legendary walkouts led by Chicano high school students in East Los Angeles to protest bad schools. KEY QUOTE: "You rarely hear about this momentous event outside of ethnic studies classes. And that's a shame, because it isn't just a Chicano story, it's a California story that deserves the same lionization as that of Mario Savio, Cesar Chavez and all the other rabble-rousers of our past who pushed the state forward. It also serves as a lesson for today's youth on how to challenge authority."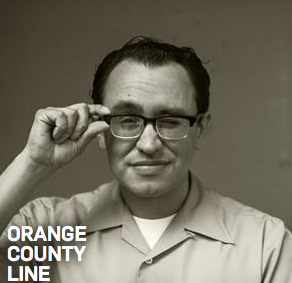 Weekly "Orange County Line" Commentary for KCRW
Every Monday around 6:40 p.m., I do a commentary on Orange County life for KCRW-FM 89.9 with
All Things Considered
host Steve Chiotakis. This time, we talked about the winners and the losers in the recent
Santa Ana River homeless sweep.
The East LA blowouts of 1968, mapped
More Blowouts. For Curbed LA, I found 15 spots that proved crucial to the East LA blowouts. Best discovery: that legendary teacher Sal Castro went to the old Pabst Blue Ribbon brewery to celebrate!
The Forgotten Foodways of the East L.A. Blowouts
Even more Blowouts. Perhaps the unlikeliest story I've ever done, I talk about how food served as a linchpin for the East LA Blowouts. KEY QUOTE: "[Students] realized then what many are just figuring out now: that a taco isn't just a taco but rather a crossroad of identity, history, and nutrition."
How a Jewish Youth Camp Birthed the 1968 East L.A. Chicano Student Walkouts
Still even more Blowouts. For The Tablet, I dive into Camp Hess Kramer, the Jewish camp in Malibu that served as a training ground for Chicano activists for decade. KEY QUOTE: From Castro: "Indeed, one might say that the cradle of the Chicano Movement in L.A. was to be, ironically, found here in the Malibu mountains."
The 2018 Oscars are Woke, But Hollywood Can Get Woker by Recalling Its Past
I go back to my film studies roots for the awesome progressive website Capital and Main to argue that Hollywood can get more progressive in its films if it only paid attention to the old studio system, which knew social-problem movies sold well. KEY QUOTE: "Imagine a ride based on Get Out? Actually, you don't have to: it's called South Orange County."
You made it this far down? Gracias! Follow me on Twitter, Facebook, and Instagramwhile you're down here. Until next week! And don't forget to forward this newsletter to your compadres y comadres, gentle cabrones.