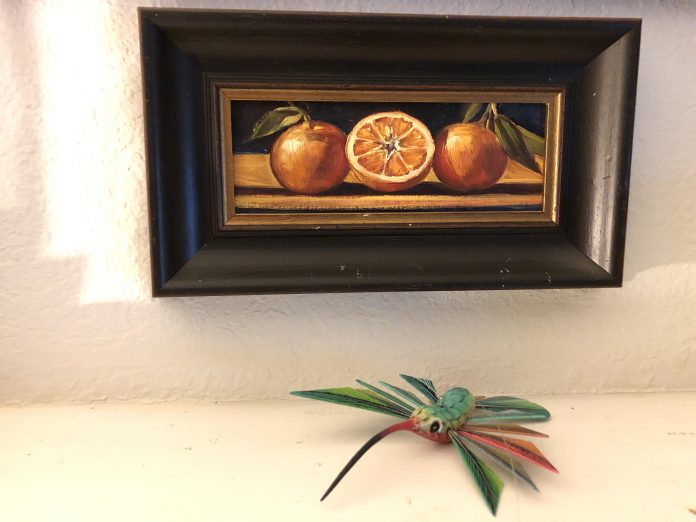 With apologies to Luis Alberto Urrea…

Gentle cabrones:
I was in my backyard, trying to prune my massive chiltepín, when I heard the familiar thrum.
Then, I saw from the corner of my eye a quick zip off to the heavens.
The hummingbird was back.
It's always been one of my favorite birds – a small, mighty, indefatigable jewel of nature that's so pretty! The Aztecs believed that slain warriors returned as them; Christian folklore says they signify our dearly departed.
The hummingbird was my mom's favorite bird.
I've always had hummingbirds in my yard, because I grow a lot of things. But ever since my mom's passing, I've seen them way more — and it's not that I'm looking out for them more than usual to confirm a preconceived narrative. Or that I've put in more plants.
Simply put, chuparosas are coming around my house more than ever before.
And especially since Thanksgiving.
I've seen them in the cold and the heat. After rain, and in the middle of fierce winds.
The hummingbirds knew I needed them during this holiday season.
After that hummingbird zipped off, I thought about my mother. And then my neighbor two houses down, a nice middle-aged pocho who's more into R & B than anything paisa and who never plays music loud enough so that you can hear it outside of his home, started blasting Juan Gabriel.
Which just so happen to be one of my mami's favorite artists.
I texted my siblings, and heart emojis bloomed across our iPhone thread.
**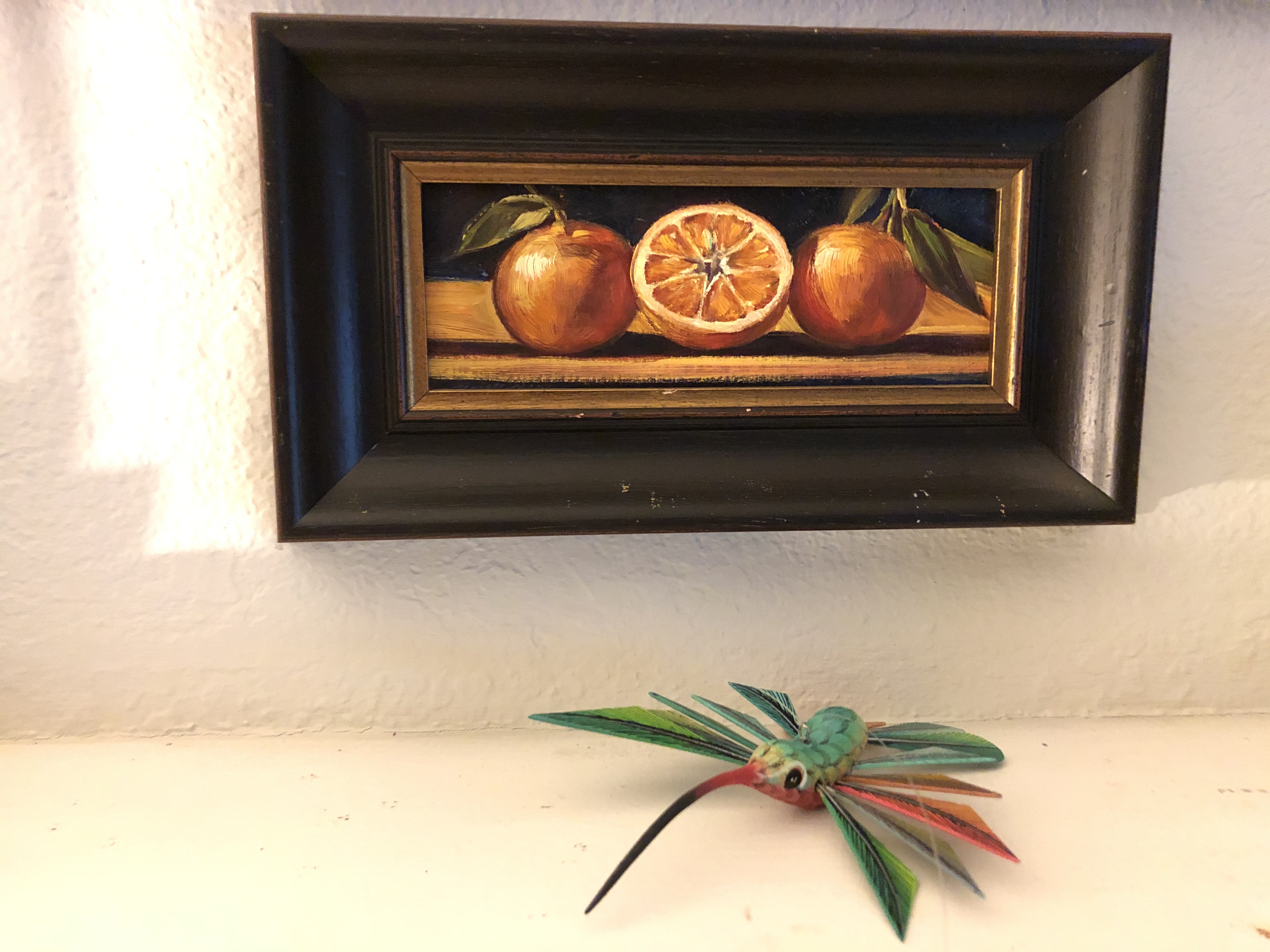 Hummingbird alebrije at our house, below a painting of oranges
First time reading this newsletter? Subscribe here for more merriment! Buy me a Paypal taco here. Venmo: @gustavo-arellano-oc Feedback, thoughts, commentary, rants? Send them to mexicanwithglasses@gmail.com
I never liked celebrating holidays, and still mostly don't. But I had to this season – it's the first our family has celebrated without our mami.
We spent Thanksgiving at the house with my dad's oldest brother, mi Tío Gabriel who has always been kind to us, and especially likes to talk to me more than ever before because he discovered I love gardening as much as him.
Christmas Eve was with los deTia Maria, a large, boisterous clan of which 8 of her 11 living kids own houses on the same street as ours.
And we celebrated New Year's day with bowls of my mom's pozole, which my wife sells at her store the last Sunday of every month…and which she advertises on her wall menu with hummingbirds.
I never asked my mami why she liked hummingbirds so much — I don't think children, even as adults, ask their parents about themselves enough. So now all I can do is speculate.
Mami loved roses and nature and the cuter side of the world. But the hummingbird ain't no wimp, but ain't no aggressor. It only appears when you've created a caring atmosphere for it, or when you need to see one to lift your spirits and stare in awe at something.
When you need a reminder that there is something out there bigger than all of us.
I hope ustedes have a wonderful 2020. And if you don't? May hummingbirds surround you ever step of the way to remind you about the beauty of life, and how fast it can flit off…
GRÍTALE A GUTI
This is the feature where I take your questions about ANYTHING. And away we go…
If you could have dinner and a conversation with 5 people, from the past and present, who would it be and why?
I'm going to assume you want me to talk about me not related to me, so let's go with that:
*Carey McWilliams: Longtime editor of The Nation, but also the best chronicler of Southern California EVER. Would want to ask him about where he got the bravery to tell inconvenient truths at a time when no one wanted to hear them.
*Nellie Bly: Legendary reporter who I've been fascinated with ever since I read a biography of her as a kid. I'd want to know how she handled being a female hard-news reporter at a time where there were too few.
*John the Baptist: The voice in the wilderness. Where did he get the wherewithal to do a job where he knew he was a mere pretender?
*Luisa Moreno: Legendary labor activist in Southern California whom the American government booted from this country. How did a rich girl become such a revolutionary?
*Malcolm X: African-American icon. What was next for him?
Got a question for Guti? Email me here.
**
Enough rambling. This was the semana that was:
IMAGE OF THE WEEK: A jar of Mazapan de la Rosa, perhaps my all-time favorite dessert. May your 2020 be full of them!
LISTENING: "The Laws of My Administration," Groucho Marx. Anti-imperialist, anti-war, anti-tyrrany — there's a reason why I've always considered myself a Marxist of the Groucho variety, and Duck Soup the second-funniest film in human history after Blazing Saddles.
READING: "The story of Notre Dame icon Rudy Ruettiger? It's almost too good to be true": You've seen the movie; now read a great ESPN profile that seems to go one way, then sacks your thinking.
Gustavo in the News
"Decade in dining: How Los Angeles became America's best and most exciting food city": I get quoted in my Los Angeles Times colleague Bill Addison's summation of what the title says.
"Los Angeles Times Food covers of 2019": I did two longforms for the LA Times Food section in 2019 — read them!
"On the Demise of OC Weekly": My former colleague Joel Beers shouts out one of the truest things I've ever said.
"POLITICO Playbook: Why holding the impeachment articles might not matter": Politico's California-themed newsletter always kindly shouts me out!
"Will Butler of Arcade Fire's Favorite Book of the Decade is…": And here's the article that inspired this entire canto — HWUT.
"California's Humanitarian Sikhs": The ever-excellent California Sun newsletter plugs my latest Los Angeles Times article.
"History, Orally Speaking": Another Joel Beers kind-words to me.
Gustavo Stories
"In newly blue Orange County, Democrats struggle over how far left is too far": My latest front-pager for the LA Times is also the first time I've covered my forsaken homeland for the LA Times. KEY QUOTE: "To outsiders, the rift is befuddling. After decades in the political wilderness, why risk the Orange County Democrats' historic wins?"
"A Journalist's Welcome to Sustainable City News": I write an intro to a new newspaper covering Whittier. KEY QUOTE: "So I salute the founders of this paper on their mission to spread the gospel of Whittier, at a time when we need to comfort the afflicted and afflict the comfortable more than ever before — and at a time where too many want to comfort the comfortable and afflict the afflicted."
You made it this far down? Gracias! Follow me on Twitter, Facebook, and Instagram while you're down here. Buy me a Paypal taco here. Venmo: @gustavo-arellano-oc. And don't forget to forward this newsletter to your compadres y comadres!