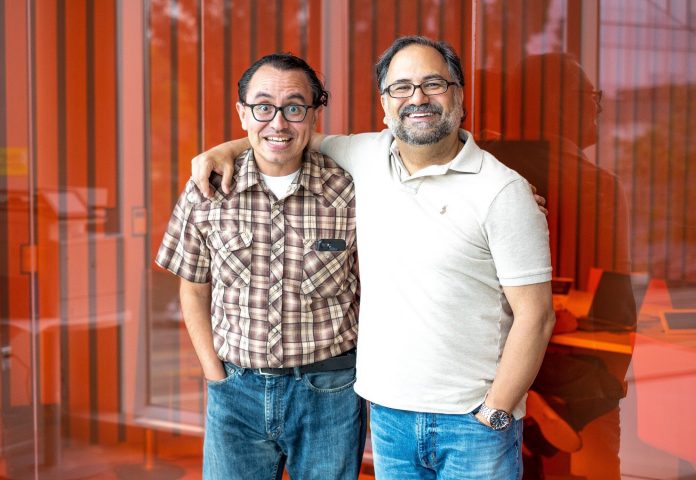 Gentle cabrones:
Every Monday (unless it's Tuesday), I have a weekly commentary for KCRW-FM 89.9 called the "Orange County Line" — but you knew that, right?
Because you read all the stories I include in my cantos at the bottom, right?
Because you read each canto all the way through, right?
Right?
Anyways, on this past week's "Orange County Line," I was waiting to get on when I heard a snippet of the guest before me. She was sounding great — anecdotes, analysis, short and quick. Then I realized it was my brilliant Los Angeles Times colleague Brittny Mejia.
She was talking about her recent story on COVID victims trying to get their sense of smell back. After I did my spot, I texted her that she did a great job. She thanked me, then admitted she gets nervous before interviews.
"So do I," I replied.
Then Brittny said that she wants to improve, like all great reporters (really, people) do. She said she should hear her interviews to see where she can get better.
I replied she should read this canto, where I would offer not just a lesson to her but one for everyone about LYFE.
Man, I'll try ANY gambit for more subscribers haha. But what I'm about to share is one of the most important lessons I've learned.
So you're going to read it all the way through, right?
Right?
**
First time reading this newsletter? Subscribe here for more merriment! Buy me a Paypal taco here. Venmo: @gustavo-arellano-oc Feedback, thoughts, commentary, rants? Send them to mexicanwithglasses@gmail.com
I began my Orange County commentaries back in 2004 on KPCC-FM 89.3's "AirTalk with Larry Mantle," on a biweekly segment called "Orange County Roundtable" that also featured reporters from the Orange County Register and Los Angeles Times. I was all of 25, with no experience in radio whatsoever.
I guess the producers liked me enough, because I'd go on to stay until about 2012 or so before jumping to KCRW. But I remember about three episodes into my AirTalk gig thinking I sounded rather bad.
So I decided to listen.
I was horrible.
So I listened again.
I was terrible.
One more time.
I knew what I had to do.
The problem was that I sounded like a human talks — a bunch of filler words. Um, uh, basically, essentially, I mean, I think, like, you know — to paraphrase the legendary George Carlin, the eight dirty words you SHOULDN'T say on radio.
It's fine to say them in real life. But when you're on the radio? It distracts — um, basically like, A LOT, you know?
Radio (and, obviously, podcasts) is a game of seconds, so you need every word to count. Filler words makes you waste valuable seconds.
But how to not use those words?
I figured it out.
Before every AirTalk appearance, I'd get a piece of paper and write, "Don't say "Um,""uh,""basically,""essentially,""I mean,""I think,""like," and "you know"!"
Quotation marks around each word. Then, I'd circle each offending word, and underline said words thrice.
Every. Single. Appearance.
Until it worked.
17 years later, not only do I have a weekly segment about OC, I'll soon be hosting a daily podcast for the LA Times.
To get there, I had to be ruthlessly honest with myself, acknowledge I wasn't good, then go out to fix that.
I still slip up, sure. But I trained myself enough so that I know when I mess up. When that happens, I mentally flagellate myself, then don't do it for a while.
So if you want to improve on your media interviews, Brittny, listen to yourself, as cringe-worthy as you may think it is (honestly, you're good right now). Figure out what you can improve in.
Then get to WERK.
As for everyone else? We all have our faults, things we can improve on. But you won't improve until you're ruthlessly honest with yourself, then set out to fix it.
So you're going to do it, right?
Right?
GRÍTALE A GUTI
This is the column where I take your questions about ANYTHING. And away we go…
I came up with these questions and the thoughts related to them when I was in the middle of a 5 AM feeding and changing of a newborn. I guess there's a lot to think about in the early hours while holding a baby to burp.

Within the past year the country has experienced a global pandemic, political insurrection and more-than-an-existential-threat to American democracy.

Yet, culturally, I cannot think of a current figure or form of artistic representation to capture the mood of this country.

During the '60s there was Bob Dylan, The Byrds and to a lesser extent The Beatles ("All You Need is Love"?). Moreover, the rise of the auteurs of film in France (e.g., Godard and Truffaut and their response the riots of May 1968) and the American mavericks (e.g., Hopper, Scorsese and Coppola) brought social conscience to the viewing public.

Will this generation have its documentarian? Rather than artists, will the general public and the access to social media better document and expound on the mood of these times?
This generation's documentarian is this generation — think about it! Between social media, smartphones, and media galore, there is more proof of this era than any other era in human history. Too bad so much of it is ephemeral — but I digress.
Voices of the generation? Ta-Nehisi Coates called Black Lives Matter. Nikole Hannah-Jones has her pulse on the wokoso milieu. No Latinos, though — we're too busy pulling ourselves back into the bucket. And the beat goes on…
Got a question for Guti? Email me here.
**
Enough rambling. This was the semana that was: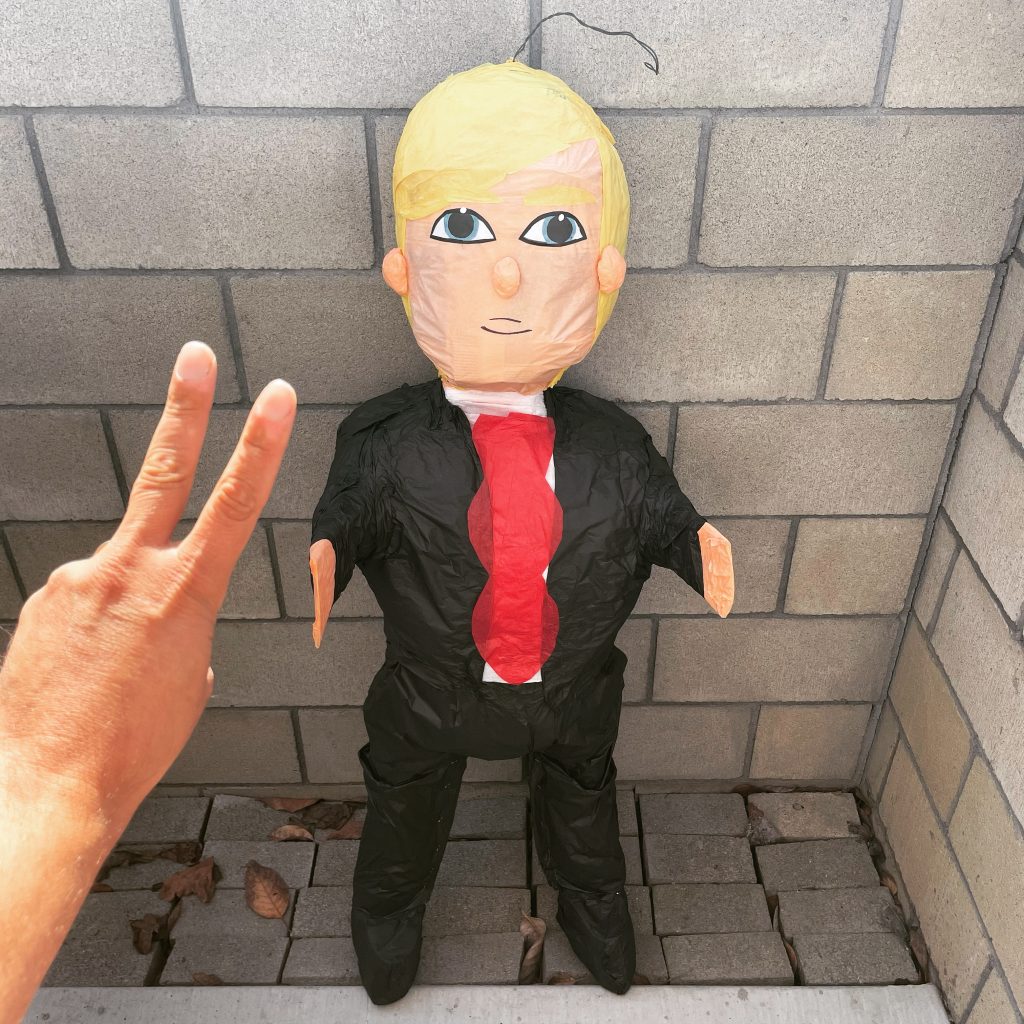 IMAGE OF THE WEEK: Me flashing a peace sign to a Donald Trump piñata.

QUOTE OF THE WEEK: "This is precisely the time when artists go to work. There is no time for despair, no place for self pity, no need for silence, and no room for fear. We do language. That is how civilizations heal."

–Toni Morrison

LISTENING: "I Can Help," Billy Swan. Swirling organ with '50s doowop vibe, jangly guitar, and rushed-out double-entendre lyrics with a drawn-out ending — a JAM.

READING: "When The Prison Banned Board Games, We Played Chess In Our Minds": One of my favorite columns is "Life Inside," a weekly essay coordinated by the Marshall Project that has convicts write about, well, life inside — the tragic, the titillating, and the transcendental. They're all great, but this one was a damn delight.

SHOUTOUT TO: Patty, who kindly donated 60 tacos to sponsor a full month of MailChango! She writes: "Use this to pay any of the new writers you are promoting." Don't mind if I do!

Exclusive to Gustavo Arellano's Weekly

"How Cal-Mex Classic La Chiquita Restaurant in Santa Ana has Weathered COVID-19": Cynthia Rebolledo highlights a beloved restaurant in the latest original funded by the Aztlan Journalism Fund — gracias, anonymous donor!

Gustavo in the News

"Christopher Kimball's Milk Street Radio": I appear on a repeat of the food podcast to talk about my 2018 Chile Highway road trip story for Eater, which just won a major award.

"SGV 012: David & Bigot Goliath after El Monte's church bombing": I appear on SGV Weekly's podcast to talk about what the title says.

"LA Times' Columnist On Convincing Latino Father To Get COVID-19 Vaccine": I appear on Weekend All Things Considered to talk about my papi.

"How Times Columnist Gustavo Arellano Convinced His Father to Get Vaccinated for COVID-19": I appear on Los Angeles Times Today to talk about my papi.

"Why Latinos Are So Hard Hit By The Pandemic": I appear on Rise Up with Sonali Kolhatkar to talk about my papi.

"Let's taco 'bout Pueblo cuisine: Mexican food expert describes love for Pueblo-Mex dishes": The Pueblo Chieftain interviews me about my love for the food of the underrated town.

"The Seven Best Events on the Culinary Calendar This Week": Denver's legendary alt-weekly Westword plugs my Pueblo-Mex and Den-Mex love.

"Historic images from the "Borderlands of Southern Colorado" explore daily lives of people who have called the region home": A small Colorado newspaper plugs my Pueblo-Mex and Den-Mex love.

"Today's Headlines: Trump on trial, again": An LA Times newsletter shouts out one of my columnas.

Gustavo Stories

"Why are older Latino men so vaccine hesitant? Denialism and machismo, says Gustavo Arellano": My latest KCRW "Orange County Line" talks about my papi.

"Grítale a Guti in Exile, Ep. 2": My latest Tuesday-night free-for-all, usually on Instagram Live but currently on YouTube because IG is being a CHAVALX.

"Instagram, cultural cluelessness and my Trump piñata": My latest Los Angeles Times columna talks about how Instagram has blocked me from using IG Live because I uploaded a video of me throwing away a Donald Trump piñata head. KEY QUOTE: "My Trump piñata head was not a case of Kathy Griffin holding a bloody, lifelike Trump mask that looked so real that his son Barron reportedly believed it was his father. Nor was it a case of me hanging or burning it in effigy. My Trump piñata head looked like, well, a piñata."

You made it this far down? Gracias! Follow me on Twitter, Facebook, and Instagram while you're down here. Don't forget to forward this newsletter to your compadres y comadres! And, if you feel generous: Buy me a Paypal taco here. Venmo: @gustavo-arellano-oc